Outdoor adventure provides life lessons and endless career possibilities
Ecotourism and outdoor leadership program combines environmental stewardship, critical thinking and problem solving
Nadia Moharib — Mount Royal University | Posted: March 13, 2023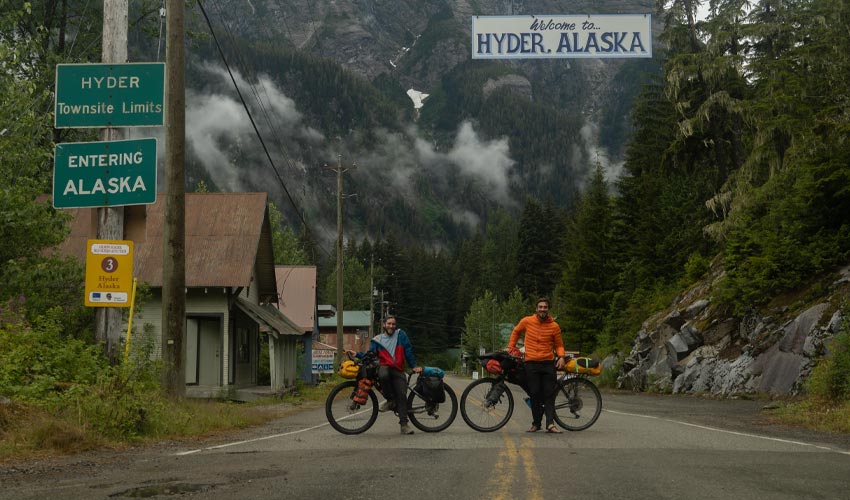 Ecotourism and outdoor leadership student Teegan Neame (right) and bikepacking companion John Moreland (left), who he met in Grand Teton National Park, celebrate their arrival to Alaska.
---
A few years back, Teegan Neame's longest bike ride was a 37-kilometre outing with his mom.
Now, the Bachelor of Health and Physical Education — Ecotourism and Outdoor Leadership (ETOL) student has an epic bike-packing odyssey under his belt.
Neame spent more than 70 days on the road last summer, travelling some 7,000 kilometres along the Great Divide Mountain Bike Route with a final stretch up through Alaska. He then pieced everything together into a digital production and showcased his adventures at the 2022 ETOL Film Night.
The trip was a graduation requirement of a self-planned and executed expedition longer than seven days. It not only whipped the Calgarian into shape, but gave him perspective, too.
"I think it really instilled that belief that you just have to go for things. Just jump on it and commit fully to what you are doing," he says.
"I didn't train for this and I'm not out here breaking records, but I am out here," he said in the midst of the gruelling adventure. "The only way to know if you are actually capable of doing something is to give it a shot."
Not the first, not the last
Neame's supportive parents were, perhaps, relieved when learning about his biking plans given his prior big trip was quite the sailing adventure with a friend.
"Neither of us knew how to sail," he says. "We drove to Vancouver, bought a sailboat and just sailed north."
The sailing trip was not part of ETOL requirements, but the resulting production (Windward) did take home the Esker Award at the 2021 ETOL Film Night and was recently featured in the Fernie Mountain Film Festival.
He and his sailing partner encountered whirlpools and angry ocean rapids, all in a 22-foot (6.7 metre) sailboat. At one point, the pair were caught up in high winds in the Johnstone Strait, with the boat heading straight towards massive rocks.
"We thought there was a good chance one of us might die," Neame says. "Seven seconds before we hit the rocks the currents changed and we steered the other way.
"And we had a shipwreck," he adds. "Things going wrong is just an opportunity to learn and grow and experience more. One day I'll tell that story to my grandkids."
The bike trip also had its challenges.
Black widow spiders, flat tires and a 170-kilometre stretch in the desert without water … not to mention the physical exhaustion that comes with pushing pedals seven hours a day.
"My legs hurt everyday and I was tired and would think, 'I can't do this,'" Neame says. "I cried many times."
But the beauty encountered along so many miles and near-daily exchanges with generous strangers eased the ride. Some offered meals while others allowed them to camp on their properties. And there was that musician in a pub who wouldn't let them leave without taking all his tips.
"He said, 'I just want to support you somehow,' and wouldn't take 'no' for an answer. It was like trying to say 'no' to a grandmother giving you more food," he says. "That is probably my greatest takeaway. People are kind wherever you go."
ETOL the perfect fit
Growing up in Alberta, it's no surprise that Neame became obsessed with nature.
Whether backcountry skiing in the Rocky Mountains, surfing in Santa Cruz or competitive birdwatching (yes, that's a thing), the outdoors is at the core of what brings him joy.
"Adventure is my life," he says. "It's all I think about."
That said, his thinking has shifted. Now it's not so much about the endgame, but about the experiences.
"It's about what I think is going to make me feel the most alive and most fulfilled," he says. "Getting to Alaska was great but the journey was the awesome part.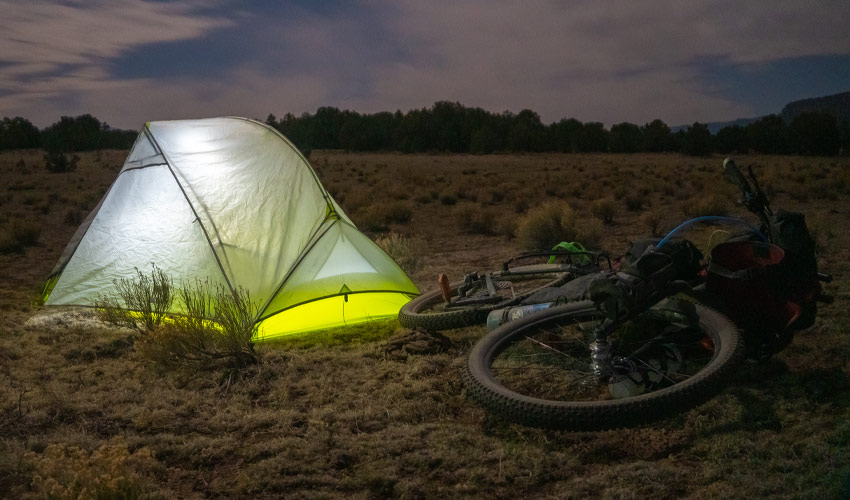 Neame spent more than 70 days on the road last summer, travelling some 7,000 kilometres along the Great Divide Mountain Bike Route with a final stretch up through Alaska.
---
"I don't even need to achieve the goals as long as I am pursuing them. I'm just so grateful to be living and breathing and experiencing the world."
For Neame, the ETOL program, which teaches ecotourism and outdoor leadership while arming students with a four-year university degree, is the answer.
"I knew I needed a post-secondary education and knew I wanted to have fun getting it," he says.
While a portion of the degree consists of outdoor adventures, (many students take part in a month-long ETOL field study in Norway), Neame says about 80 per cent is academics and acquiring the necessary skills.
"It's just the coolest thing," Neame says. "The best thing about ETOL is the community. Everyone is so supportive and just wonderfully fascinating. People who spend time outdoors are generally good-vibe, happy people."
Ready for anything
In the summer, the fourth-year student and former park ranger will work as a Parks Interpreter in Kananaskis Country.
After graduating, he could carry on with that, sign up with Parks Canada or the National Parks Services in the U.S., or look for safari-based or whale-watching ecotourism positions — all opportunities to support people, wildlife and the ecosystem.
Whatever he does, the adventure photographer and filmmaker says sharing it all is a top priority.
"Hopefully, I'll be able to do that through conservation and education and inspiring people to be outside more and teaching people about the outdoors and wildlife," he says. As for his future adventures, Neame has a bucket list of about 60 he wants to experience.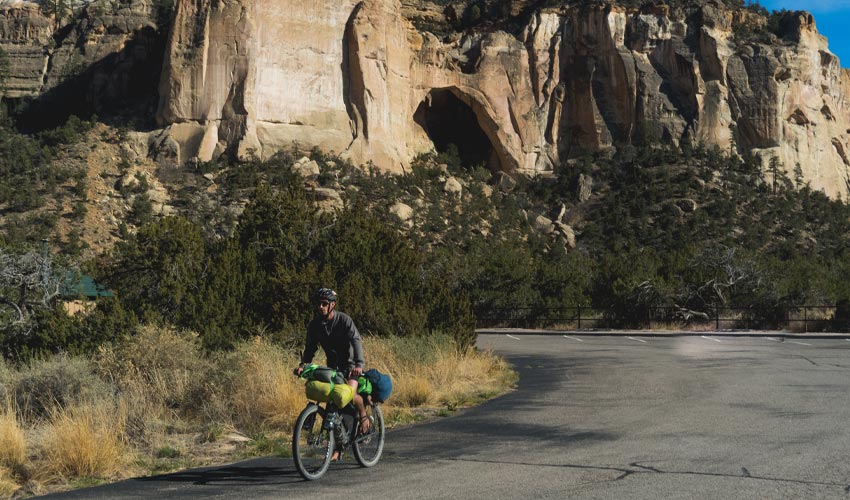 The kindness and generosity of strangers helped ease the strain of gruelling days on the road and pathways, Neame says. 
---
Two courses away from becoming an ETOL grad, he is excited about the possibilities the degree will leverage.
"I want it to take me to a lot of different places," he says. "I don't just want to do one thing with my life. All the options are overwhelming. But that's a great problem to have."
Find Neame on Instagram @teegan_neame and check out his biking adventures here.
Read another story of an ETOL grad who survived 78 days in the wilderness to win the History Channel's hit series Alone.