Opening Minds and Changing Lives
Mount Royal University
Strategic Planning Framework
2021-2026
Mount Royal University is located in the traditional territories of the Niitsitapi (Blackfoot) and the people of the Treaty 7 region in southern Alberta, which includes the Siksika, the Piikani, the Kainai, the Tsuut'ina and the Îyârhe Nakoda. We are situated on land where the Bow River meets the Elbow River. The traditional Blackfoot name of this place is "Mohkinstsis," which we now call the city of Calgary. The city of Calgary is also home to the Métis Nation.
Opening Minds and Changing Lives is MRU's strategic planning framework for 2021 to 2026: a roadmap for our future. This framework captures what is core to MRU — our vision, mission and values — and provides the strategic direction we need to build and update all other University plans. Unlike traditional strategic plans which were often presented as both final and finite, Opening Minds and Changing Lives is just the beginning.
Opening Minds and Changing Lives is aspirational, and I hope you find it inspirational as well. As we establish a new way of planning at MRU, this planning framework will remain our touchstone, where we return again and again.
Tim Rahilly Ph.D.
President and Vice-Chancellor
Introduction
At Mount Royal University, we actively prepare for the future, in recognition that our success depends on proactive preparation today. After 110 years Mount Royal remains ideally positioned to thrive.
Opening Minds and Changing Lives renews our commitment to strategic planning and charts a fresh and relevant path forward, setting out a new vision and a focus on the core values of transformation, belonging, boldness, inquisitiveness and authenticity. Five strategic directions will inspire and inform how we will come together to meet the challenges that lie ahead, as we reaffirm our enduring commitment to academic excellence, student success and inclusion for all.
Vision
Opening minds and changing lives
Mission
To provide meaningful and engaged learning opportunities that create individual transformation and societal benefit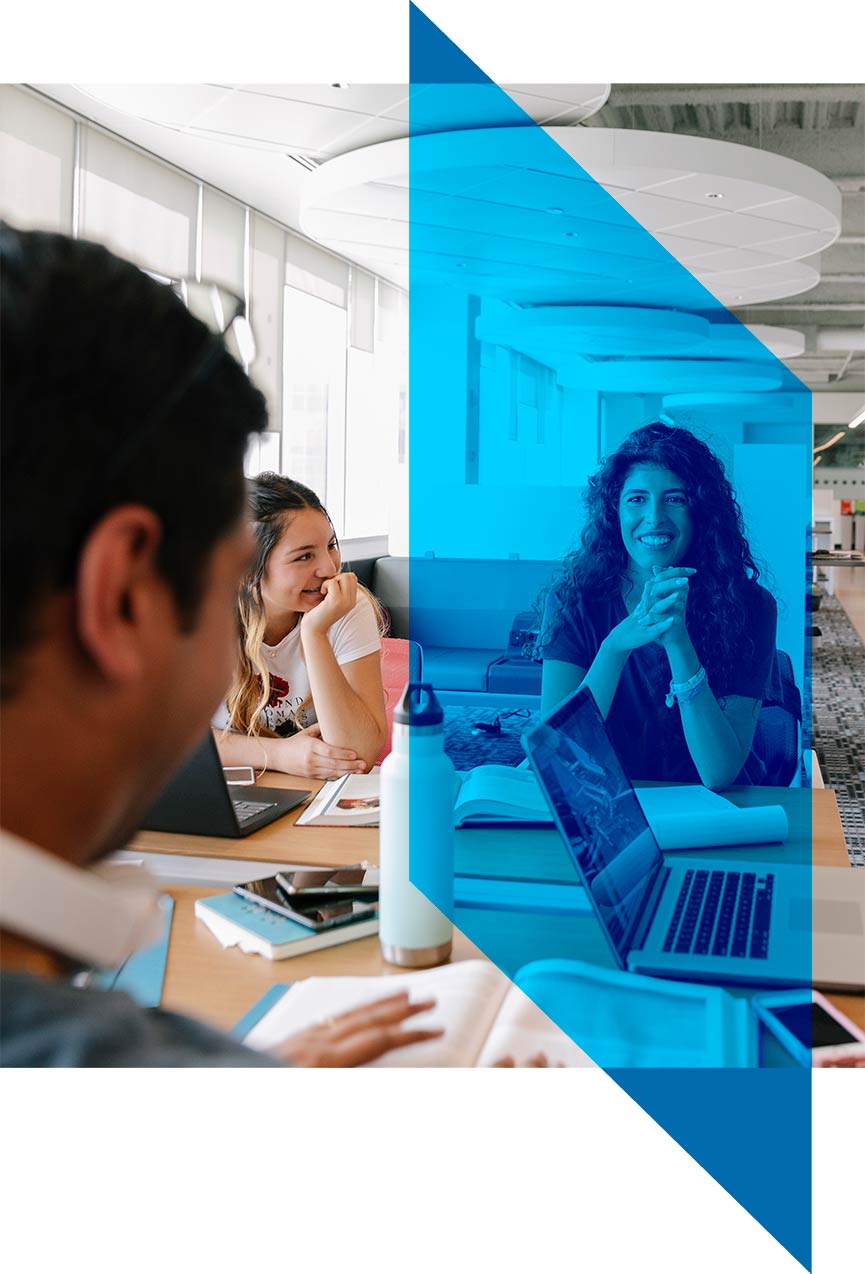 Values
Mount Royal University recognizes the importance of creating an aspirational culture with shared, deeply held community values to support the achievement of our mission and vision. Shared values serve as guiding principles or beliefs that shape our decisions and actions. We are committed to fostering a safe and healthy environment that empowers our campus community to live by our shared values as we work to fulfill our mission and vision.
Transformation
We are positive and future‑focused with the energy to create and lead
We face changes in the world with courage, connection and capability
We provide an educational experience that empowers students to succeed and have an impact in an evolving world
Belonging
We celebrate the diversity of people, culture and ideas by fostering a safe and inclusive campus
We meet students where they are, providing an education and experience accessible to all
We support people to become who they want to be, through academic and personal growth
We are rooted in the Calgary community and we welcome the world to experience MRU
Boldness
We are risk-takers and changemakers: courageous, collaborative and confident
We are ambitious and comfortable challenging traditional expectations
We offer a space to enable people to become who they want to be, on their journey of self‑discovery
We view challenges as opportunities to adapt through new ways of thinking and doing
Inquisitiveness
We appreciate knowledge is limitless and continually seek to learn
We recognize critical thought is the basis of education and encourage new perspectives
We value dialogue and inquiry rooted in free expression, together with civility, mutual respect and empathy
We pursue scholarly inquiry through research and innovation to inform teaching and contribute to the advancement of knowledge and practice
We help students understand the world so they may apply their knowledge for societal good
Authenticity
We know who we are and seek to change and grow in a uniquely MRU way
We proudly pursue a path in post-secondary education that puts undergraduate students first
We admire people who, as part of their MRU legacy, are true to themselves and make a positive impact in the lives of others, in their communities and in the world
We have a 100-year legacy of service and will thrive for many years to come
Strategic directions
Taken together, our strategic directions guide our future planning and decision making. Though listed in this order, they are of equal importance and intersect to enhance our strengths while rising to meet the challenges to inspire and inform how we will fulfill our mission and vision over the next five years.
Direction:


Provide a transformative education

We will transform minds in order to transform our community and our world. We will produce the graduates our community, our city, and our province needs. Through our commitment to liberal education, students will develop the critical thinking and reasoning skills they need not only to succeed in their first job, but throughout their lives.

Through our commitment to experiential learning in all its forms, we will give students the practical experience they need to succeed in today's ever-changing world. Through opportunities like work-integrated learning, students will bring new thinking, creativity and innovation to industry, government and community organizations.

We will continue to internationalize our University, through our curriculum and growth of our international enrolment. We will provide domestic students access to international experiences, including exchange programs.
Direction:


Strengthen diverse communities

We want all students, faculty and staff to feel that they belong, and that they are accepted and valued at our University. We will provide a positive and accepting learning environment and workplace by removing barriers to learning and providing support to students and employees.

We will build capacity for intercultural understanding, empathy and mutual respect among students, faculty and staff. We will strengthen and expand our relationships with diverse communities in order to grow our knowledge and understanding and to help create equity and inclusion on our campus.

We acknowledge the genocide done to Indigenous peoples by colonization and the trauma inflicted by the residential school system and the public education system, including universities. We support the ongoing work of reconciliation, including the objectives set out in the report of the Truth and Reconciliation Commission of Canada. Through the implementation of our Indigenous Strategic Plan, we will continue to Indigenize and decolonize Mount Royal University.
Direction:


Innovate for a dynamic future

We will provide a contemporary and relevant learning environment for students by embracing innovation in all our programs. We will continue to respond to the tremendous impact of technology on our everyday lives, and prepare graduates for a future we can now only barely glimpse. We will adopt emerging technologies and delivery methods tailored to meet the future educational and professional needs of learners.

Recognizing that defining an aspirational culture is not enough, we will bring together diverse perspectives and ensure a supportive environment where boldness and responsible risk-taking are encouraged. We will ensure employees have the skills and tools necessary to thrive in an innovative workplace.

We will develop new programs, founded in our current strengths, that meet the needs of the students and employers of the future. We will explore new types of credentials that supplement degree programs in ways that students and alumni need to succeed in their chosen fields and to contribute to their communities both locally and around the world. We will continue to provide flexibility and access to post-secondary education to Alberta learners.

Recognizing the unprecedented pace of change in post-secondary education in Alberta, in Canada and across the world, we will continue to diversify our revenue sources, leverage technology and implement operational efficiencies to ensure our continued environmental, social and fiscal sustainability.
Direction:


Foster a culture of inquiry

We will expand research and scholarship and seek new opportunities for interdisciplinary research and partnerships. We will continue to strengthen Mount Royal's reputation as an undergraduate university in which students can gain valuable research experience through participation in cutting-edge faculty research.

We will build upon our success in attaining external funding, particularly through growth in Tri-Agency funding and Canada Research Chairs. We will continue to strengthen our infrastructure to support all forms of research, scholarship and community engagement taking place across our campus community.
Direction:


Enhance impact through meaningful connections

Going back to our century-long roots, Mount Royal has always been part of the broader community. We have employed community service learning as a teaching and learning practice for more than twenty years through community-based projects where students apply academic theories and processes. Through mutually beneficial connections with communities, we work together to make a difference in the community and address real-world challenges and opportunities.

We will remain true to this history by building on and expanding our existing partnerships with government, other post-secondary institutions, businesses, employers, Indigenous nations, communities and alumni. We will become even more integral to local, provincial, national and global communities, broadening our impact in addressing inequalities in our communities, creating and applying knowledge for the greater public good, and preparing students for lives of continued service.
Strategic planning framework
Our vision, mission and values appear at the centre, to show our commitment to students, faculty, staff and our broader community.
The strategic directions will lead to the development of goals, outcomes and measures.
In the fourth circle, we show the relationship between the University Strategic Plan and the three high-level planning documents for the University.
Other cross-institutional plans, whether developed already or in development, follow.
Divisional and faculty plans are on the outermost planning circle.
Governance, which is not a plan but a principle, is represented on the outermost circle. The planning framework can only be effective through good governance.
Note: Other than the University Strategic Plan at the centre, the order does not indicate hierarchy or priority, but rather the various roles the plans play. The plans must connect with one another to be effective.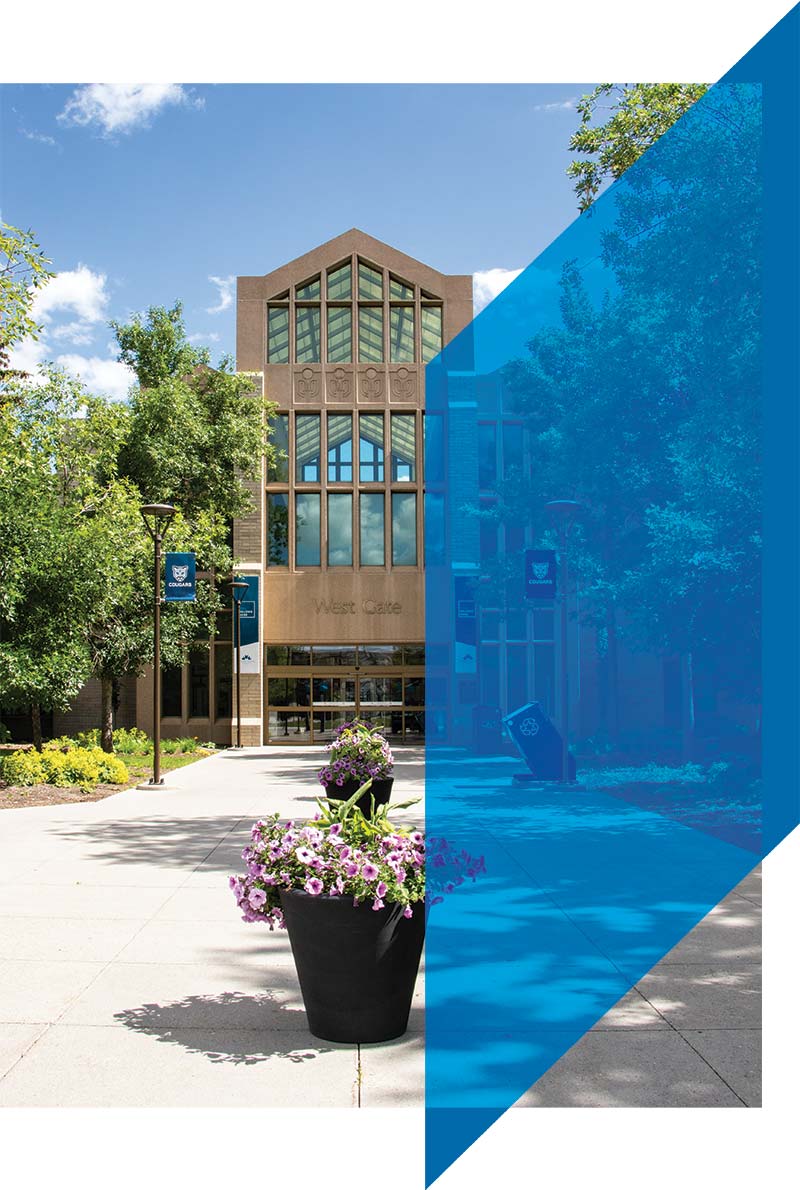 Accountability Measures
Total enrolment
International enrolment
Indigenous and under-represented students and employees
Experiential learning opportunities
Sense of belonging for students and employees
Satisfaction with overall student experience
Graduation rate
Graduates employed or enrolled in further education
Sponsored research revenue and expenditures
Donations
Community partnerships
Total revenues, expenditures and Campus Alberta grant
Opening Minds and Changing Lives
Mount Royal University
Strategic Planning Framework
2021-2026
Download PDF