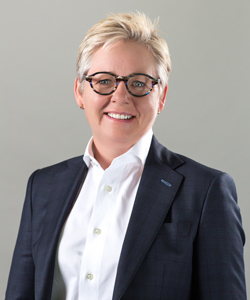 Lesley Brown, PhD, is the Provost and Vice-President, Academic. In this senior leadership role, Dr. Brown oversees all facets of educational programming and research at the University, while advancing strategic academic priorities.
Prior to joining Mount Royal in 2017, Dr. Brown compiled an exemplary record at the University of Lethbridge over 20 years, serving in leadership roles including Vice-Provost and Associate Vice-President, Academic.
In addition to being a proven administrator, Dr. Brown is an accomplished scholar in the field of kinesiology, with a research specialization in balance and fall prevention in the elderly and people with Parkinson's disease. A powerful champion of lifelong learning, she was recognized for excellence in teaching at the undergraduate level while also supervising graduate students at the U of L.
Dr. Brown holds a PhD in Kinesiology from the University of Waterloo, a Master of Human Kinetics in Biomechanics from the University of Windsor and a Bachelor of Physical Education from McMaster University. She also completed three-year postdoctoral research fellowship at the University of Oregon.
In 2019, she was named to the Calgary Herald's list of Compelling Calgarians.