Reporting suspicious emails
Malicious or phishing emails are emails that contain malicious links or attachments, are asking you for personal information or are setting the stage for fraud. Here at Mount Royal, we use the Google spam filter to filter out the majority of phishing emails. However, if you do open an email that you think will fool your colleagues into doing something they shouldn't:
D

o not

click on any links or open any attachments. 

Click the PhishAlarm button in the Gmail side panel.
Click Report Phish.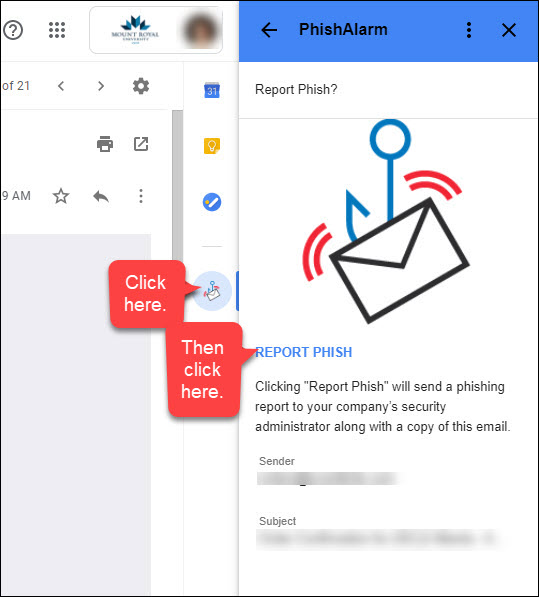 Notes:
You must be registered in the Cybersecurity Awareness program to be able to use the PhishAlarm button. If you are an employee and receive an unauthorized user notificaiton when you click the button, you have not yet been registered.  
While we would rather have you report than become a victim if an email is obviously a scam...like a request from a Nigerian prince for help, you can just delete it.  IHowever if in doubt, always choose to click the PhishAlarm button.
If you cannot see the side panel in Gmail, click the Show side panel arrow.  
Unfortunately, only employees are able to use the PhishAlarm button. Although the button appears in your side panel, you be get an unauthorized user notificaiton if you try to use it. If you find an email that you think will trick members of the Mount Royal Community into doing something that they shouldn't, we do want to hear from you. Please forward the entire email to cybersecurity@mtroyal.ca
Spam is an unsolicited email that is trying to sell you something. While annlying, it does not have malicious intent and it isn't collecting sensitive information. It may or may not contain links or attachments. If you receive an email that you think is spam, you can report it to Google by clicking the Report spam button. 


PLEASE NOTE
We are all human and we all make mistakes. If you accidentally click on a link or open an attachment that you think is malicious, please be a superhero...unplug your computer from the network immediately and contact the IT Service Desk at 403-440-6000. Your quick action could save your data.