Want to learn how to protect yourself and your family from cyberattack while keeping Mount Royal's data safe but don't have time to sit in a classroom? Try our fun and engaging online training. It includes interactive modules, videos and fact sheets that you can print off and share with those at home. Your progress is recorded so you don't have to complete the course in one sitting.
There are two types of courses available. Which type you should complete depends on if you handle payment card information or not.
All full time staff and faculty members who don't handle payment card information are registered in an online cybersecurity awareness training course. Every year the content is updated to make sure you are aware of the latest cyberattacks and how to defend against them. The course covers everything you need to know to keep yourself, your family and Mount Royal safe from cyber crime. As an added bonus, completing the course meets the requirements for annual
mandatory cybersecurity training
.
To maintain our PCI compliance, all employees who handle payment card data are required to complete the PCI Security Awareness Training course or the PCI Security Awareness for Casuals course depending on their role.The courses contain much of the same information found in the cybersecurity training but also includes information on pin pads and handling payment card data securely. These courses are mandatory and must be completed upon hire and annually.
To access the online security awareness training course(s):
1. Login to Blackboard using your MyMRU username and password.
2. In My Courses, click to select the training course.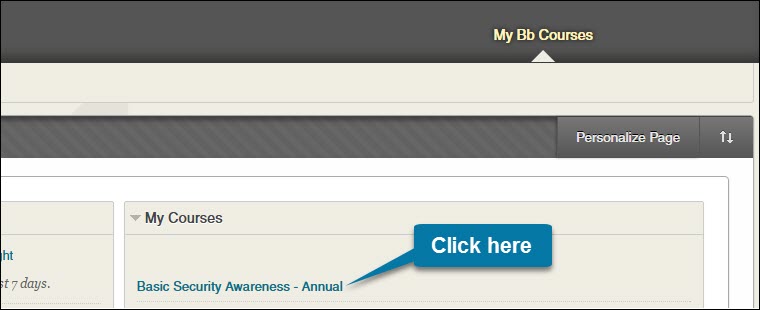 Notes:
Which courses are listed depends on what type of employee you are (see information above).
If you do not have a security awareness course listed in My Courses, you have not been enrolled in the training. To enroll, fill out the Registration for Security Awareness Training Form.
Each course only needs to be completed once, but can be revisited at any time for reference.
If you have any questions about the security awareness training, please contact the IT Training Security Analyst at 403-440-6329.