Mac OS X 10.7 - WPA2 setup
MRU offers a secure wireless network that can be accessed by WPA2 compliant cards. Please follow the procedure listed below to enable WPA2 for your wireless adapter. If you have any problems please call 403.440.6000.
Disable IPv6 in OS X
To minimize client issues such as disconnects from secure, enterprise networks, including MRsecure you may have to disable IPv6 on your Apple device.

1. Use Finder to open the Applications folder.
2. Select the Utilities folder.
3. Select Terminal.
4. A window will open. At the prompt, enter the following command to determine all of your MAC's network interfaces: networksetup -listallnetworkservices.
5. To disable IPv6 for wireless, enter the following command: networksetup -setv6off Wi-Fi.
6. To exit the terminal window, open the Terminal menu next to the Apple menu, and select exit.
Requirements
A Wi-Fi card. Most Apple computers should have Wi-Fi wireless cards built-in.
A Mac updated with the latest updates. You can use the Software Update tool or visit Apple's website.
Enabling WPA2 Authentication and Security

2. Click Open Network Preferences.
3. The Network window should now be open. Click Advanced.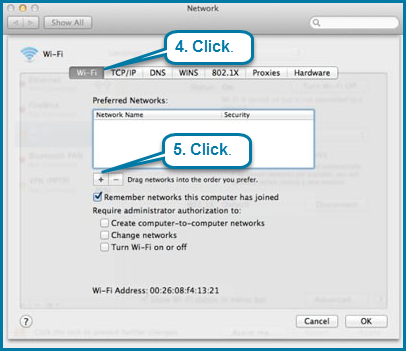 6. For Network Name, enter MRsecure. For Security, select WPA2 Enterprise. Enter your Username and Password and click OK.
7. Your status is Status: Authenticating.

8. Select Always trust these certificates. Click Continue.
9. Click OK at the advanced Network window. You should now be at the Wi-Fi tab of the Network window. For Network Name, select MRsecure then click Apply.
10. A window titled 802.1X Authentication may appear (it may, in fact, appear before you have had a chance to click Apply). Enter your User Name and Password and then click OK.
Within a few seconds, you will be connected to MRsecure network.