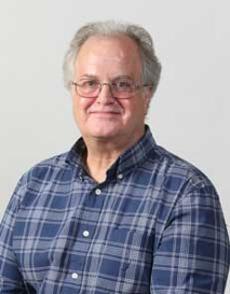 Bruce Foster, PhD
Bruce Foster joined the then-Department of Economics and Political Science at Mount Royal in 1997. He received his BA and MA degrees from Simon Fraser University, and his Ph.D. from The University of British Columbia.
Foster served as the coordinator for Non-Profit Studies, before serving as Chair of the Department of Economics, Justice, and Policy Studies from 2005 - 2010. He also served as acting chair for the Department of Sociology and Anthropology, and for the then-Department of Justice Studies.  He was also appointed as the inaugural Chair Support Coordinator for the university.
Foster's teaching areas included Canadian politics and government, the Canadian Constitution, judicial processes, elections, and political theory/thought. His research interests include right-wing political thought and activism, populist parties, and social movements.
Foster very much enjoyed and valued his Mount Royal University career, students, colleagues, department, faculty, staff, and the institution itself.
Foster retired at the end of 2019, and was awarded the designation of Professor Emeritus by MRU in 2022.