Dr. Andreas E. Tomaszewski (PhD)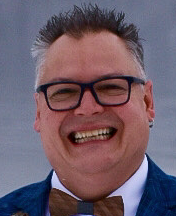 Associate Professor
Instructor & Faculty Liaison for Practicum
Office: EA 2041 L
Phone: 403.440.8762
E-mail: atomaszewski@mtroyal.ca
Education:
Ph.D., Sociology (2002): Carleton University, Ottawa, ON; Dept. of Sociology & Anthropology
'Public' and 'Private' Crimes against women in Canadian public housing: The role of collective efficacy.
M.A., Canadian Studies (1995): Carleton University, Ottawa, ON; School of Canadian Studies
Rethinking crime and criminal justice in Nunavut
B.A., Sociology (1994): Universität Augsburg, Augsburg, Bavaria (Germany); Lehrstuhl für Soziologie, Philosophisch-Sozialwissenschaftliche Fakultät
B.A., Canadian Studies (1993): Universität Augsburg, Augsburg, Bavaria (Germany); Institut für Kanada-Studien, Philologisch-Historische Fakultät
Teaching:
Race/ethnicity, class, & gender; social control; state crime; research methods

CRJS 1001 Introduction to Criminology, CRJS 2017 Corporate & White-Collar Crime, CRJS 3005 Qualitative Research Methods, CRJS 5025 Criminal Justice Capstone Practicum

I am available to supervise Honours students
Scholarship:
Social justice, social inequality, white-collar crime, Indigenous issues, pedagogy

"Professional Misconduct by Registered Nurses: A Study of Regulatory Responses to White Collar Crime in a Canadian Health Profession." (With T. Powell, C. Inglis, N. Zimmerman, S. Malenfant, and E. Guthrie). International Journal of Arts & Sciences 9, 2 (2016), pp. 403-418.
"'More than the House:' A Canadian Perspective on Housing Stability." (With S. Jakubec, T. Powell, and J. Osuji). Housing, Care & Support 15, 3 (2012), pp. 99-108.
"Shaping the Face of Transnational Crime: Exceptions Are U.S. Inc." Sociological Analysis 3, 1 (2009), pp. 81-89.
"Working Towards Social Justice in the Classroom and Beyond: The Idea(l)s of Dr. Martin Luther King, Jr. & Contemporary Criminology." Journal of Applied Social Science 2, 1 (2008), pp. 81-87.