Vettivelu Nallainayagam, PhD, Associate Professor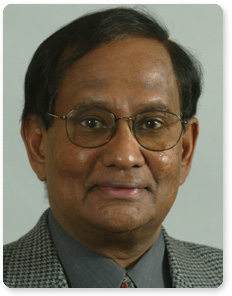 Vettivelu ( Nallai) Nallainayagam joined the then Department of Economics and Political Science in August 1987. He received his B.A.( Honours) in Economics from University of Sri Lanka, M.A. ( Economics) from University of Manchester, U.K. and Ph.D. in Economics from McGill University, Canada. Nallai served as the Chairman of the Department of Economics and Political Science from 1993 to 1997.
He  developed and taught senior level economics in Public Finance, Money and Banking, Macroeconomics and Managerial Economics. His research focused on income distribution in Canada and the role of government in the economy. He reviewed many text books, presented two research papers at the annual conference of Canadian Economic Association and developed text banks to accompany an economics text in partnership with his colleagues in the Department.
He received the Teaching Excellence Award from the Students' Association of Mount Royal University in 1999 and the Distinguished Faculty/Teaching Award from Mount Royal College in 2001.
Before coming to Canada, Nallai served in the Ministry of Finance in Sri Lanka as an Advisor to the Minister.
Nallai passed away January 20, 2020  in Calgary, Alberta.