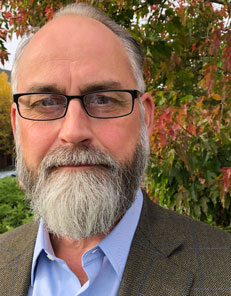 Joe Anderson, PhD
Professor

Office: EA3121
Email: jlanderson@mtroyal.ca
Phone: 403.440.8796

Academic title: Professor, History
Education
PhD - Iowa State University
MA - University of Kansas 
BA - Hons, University of Nebraska-Lincoln
---
Scholarly Interests
My scholarly interests are broad, ranging from agricultural and food history to the American Civil War and Reconstruction. A special interest of mine is public history; or history that occurs outside the classroom at museums or historic sites and in the media. This reflects my earlier career as a museum educator and administrator. The research projects I have pursued focus mainly on the history of rural America, particularly as it relates to technology and the environment in the midcontinent. My recent book, Capitalist Pigs: Pigs, Pork, and Power in America brings together my interests in food, farming, social history, environment, and technology.
Teaching
Discussion is an important part of learning in my classroom. We learn by reading primary and secondary sources and then discussing what those sources meant in the context of the time they were created. By the time students are in fourth-year courses, the class meetings consist of discussion with very little lecture. I have occasionally utilized role-playing exercises in class to help students better understanding the immediacy of events as they unfolded and to learn that outcomes are contingent rather than pre-determined.
Selected Scholarly Activity
Capitalist Pigs: Pigs, Pork, and Power in America. West Virginia University Press, 2019
"Of Conformity and Cosmopolitanism: Midwestern Identity since World War II," in Finding a New Midwestern History, eds. Jon K. Lauck, Gleaves Whitney, and Joe Hogan. University of Nebraska Press, 2018.
Selected Grants, Honours and Awards
Historic Sites and Monuments Board of Canada, Alberta Member, 2019–2024 term

President, Agricultural History Society, 2018–2019

Teaching Excellence Award, Students' Association of Mount Royal University, 2018
---