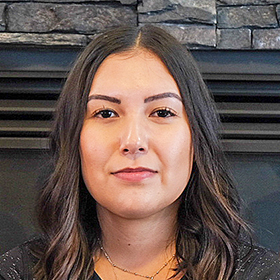 Kelsey Solway
Communications Lead, Siksika Health Services
Graduated 2016
1. Where did you do your internship?
CBC North – Yellowknife 
2. Knowing what you know now, what advice would you have liked to give yourself as you started your internship?
Internships are about growth and learning in real work environments. It's okay to ask for guidance when you need it.
3. What is something that really stands out when you think of your time at MRU journalism?
I am extremely grateful for the support and cultural inclusiveness that the instructors and program provided. It helped me excel in my studies and gave me confidence as a Blackfoot journalist. 
4. How transferable were the skills you acquired in your education?
Although I am not a journalist, the skills I have learned within the journalism program have benefitted me in all areas within my communications career. The technical skills regarding photography and videography are something I have incorporated seamlessly within public relations work, and script writing has become useful in the speeches I write for leadership and correspondence to various governments and organizations. 
5. In your career, what type of work has most excited you and why?
I am very fortunate that I have been able to build my career within my community of Siksika Nation. All work is rooted in community engagement and being able to serve my community through communications is rewarding. 
6. What is the most important but unwritten rule that you've learned on the job?
Never interrupt an Elder when they are talking- that's the highest form of respect we can show knowledge keepers.