Elizabeth Van Den Kerkhof, DrPH, RN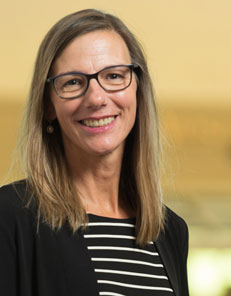 Administrative title: Director
Education
DrPH, Johns Hopkins
MSc, Queen's University
BScN, University of Ottawa
Nursing (RN) Diploma, St. Lawrence College
Contact Information
Office: Y368
Email: evandenkerkhof@mtroyal.ca
Phone: 403.440.6553

In July 2019, Elizabeth Van Den Kerkhof became Director of the School of Nursing and Midwifery. Prior to joining Mount Royal she was professor and Sally Smith Chair in Nursing at Queen's University. In her role at Queen's, she contributed to undergraduate and graduate teaching and was involved in the development of several educational programs. She also supervised undergraduate and graduate students in nursing, medicine, epidemiology, psychology, and business, as well as postgraduate trainees in anesthesiology. In her role as the Sally Smith Chair in Nursing, she mentored junior faculty members in the development of their research programs. Elizabeth also led a collaborative research program that revolved around three related themes with a focus on pain; i) understanding complex conditions, ii) using innovative technology to improve access to comprehensive clinical information, and iii) improving quality of care. See below for a selection of publications.
Selected Publications
Hroch J, VanDenKerkhof EG, Sawhney M, Sears N, Gedcke-Kerr L. Knowledge and Attitudes About Pain Management Among Canadian Nursing Students. Pain Management Nursing. 20(4); 382-389, https://doi.org/10.1016/j.pmn.2018.12.005

VanDenKerkhof EG, Stitt L, Clark AJ, Gordon A, Lynch M, Morley-Forster PK, Nathan H, Smyth C, Toth C, Ware M, Moulin D. Sensitivity of the DN4 in screening for neuropathic pain syndromes. The Clinical Journal of Pain. 2018;34(1):30-36. doi: 10.1097/AJP.0000000000000512.

VanDenKerkhof EG, Mann EG, Torrance N, Smith BH, Johnson A, Gilron I. An epidemiological study of neuropathic pain symptoms in Canadian adults. Pain Research and Management. Epub ahead of print March 2016. PMID:26583459. DOI: 10.1155/2016/9815750.

Lukewich J, Edge DS, Tranmer J, Raymond J, Miron J, Ginsburg L, VanDenKerkhof EG. Undergraduate baccalaureate nursing students' self-reported confidence in learning about patient safety in the classroom and clinical settings: An annual cross-sectional study (2010-2013). International Journal of Nursing Studies. 2015; 52, 930-938. DOI 10.1016/j.ijnurstu.2015.01.010.

Mann EG, Medves J, VanDenKerkhof EG. Accessing best practice resources using mobile technology in an undergraduate nursing program: a feasibility study. CIN: Computers, Informatics, Nursing 2015; 3(3), 122-128.