The clinical practicum applies the theory you learn in the program to the clinical environment. A one-to-one preceptor model, led by an experienced clinical instructor creates a supportive learning environment so you develop essential patient care and organizational skills for the ICU or ER. You will get support for your individual educational needs and for the learning outcomes in your specialty stream area. Students say that during clinical the pieces start to fall into place. During the pandemic, clinical practicums continue with enhanced safety protocols and procedures. These follow the profession-specific and general health care guidelines and restrictions for COVID-19.  
Taking it to the next level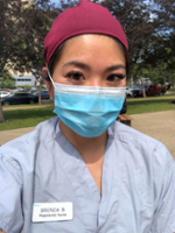 Brenda Bui, RN
First-year ACCN student
"Ever since I've become a Registered Nurse, I have always strived to provide the highest quality, most compassionate & competent care for my patients. Becoming an Intensive Care Unit (ICU) nurse was a huge milestone in my career development and a dream come true. This has been one of the most rewarding & challenging career opportunities in my life. Working during the COVID19 pandemic, I've learned the importance of adapting to the current events and learning new skills in order to adapt. The Advanced Critical Care Nursing (ACCN) program is an opportunity to build on my current foundation of knowledge, with a course tailored to critical care and emergent patients, and hone essential nursing skills such as critical thinking and problem-solving. I am very excited to embark on a new venture that compliments what I already love doing, and pushes me to improve and grow as a Registered Nurse."
Darlene Dawson, RN, BN, MN
Associate Professor, Bachelor of Nursing, MRU
"I graduated from the very first ACCN program in December 1989. At that time, the program was full-time for a four-month period and was only one stream, Cardiovascular Nursing. The program at that time was an extension of the Foothills Hospital School of Nursing. I chose to take the program to expand my knowledge and learning and to best position myself to work in the Intensive Care Unit (ICU).  Shortly after my graduation from the program, I was able to secure a position in the Holy Cross ICU, which cared for post open heart surgical patients, post angioplasty patients and was the general ICU for the hospital.  I later moved with the closing of the Holy Cross Hospital to the Foothills Hospital Coronary Care Unit.
Completing the course afforded me deeper knowledge and understanding of working in the critical care area.  It allowed me the opportunity to work within critical care areas.  But, more than that it allowed me to expand and sharpen my critical thinking, enhanced advocacy for patients and families, and opened up my capacity to practice to the fullest of my role as a Registered Nurse.
This expanded capacity of who I am as a Registered Nurse has provided me with life-long professional skills and competencies that has allowed me to move into other areas of the nursing profession.  For the past 15 years, I have been an educator in the Mount Royal University School of Nursing and Midwifery. This role allows me to share with upcoming registered nurses the passion that I have to care and the pride I have in our profession of Nursing."