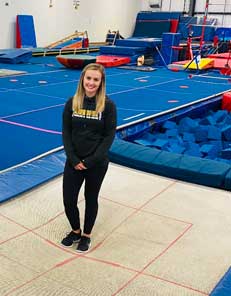 Kennedy Imler, BHPE — Physical Literacy, Class '20
All throughout university I was part-time coaching recreational and competitive programs at Airborne Trampoline & Tumbling. As I started coaching there when I was in high school, I gradually gained more and more responsibility over the years. Now, after graduating in Spring 2020, I have taken on a full-time position as the Competitive Coordinator. My roles and responsibilities include overseeing the five sub-programs within our competitive stream, coaching our provincial and national team, lesson planning and developing LTADs, athlete recruitment, parent/ athlete correspondence, registration and other administrative tasks. Majoring in Physical Literacy was a huge asset to help me succeed in this job. The Physical Literacy program helped me create holistic programs for athletes that are just learning to walk all the way up to adults.  
In addition to working at Airborne, I am also working as an independent Personal Trainer. I am so thankful that I decided to take my CSEP CPT certification within my degree. I am not sure if I would have branched out to do it on my own, but I am so thankful to have that certification under my belt. The tools and experiences I gained from that process definitely add value to my personal training client sessions, as well as to the training of my athletes at Airborne.