What do BHPE — Physical Literacy students do once they graduate?
As a Physical Literacy graduate, you have the opportunity to be a leader in health and wellness promotion in your community and beyond. This degree will allow you to educate, facilitate and promote healthy lifestyles as a champion of physical literacy.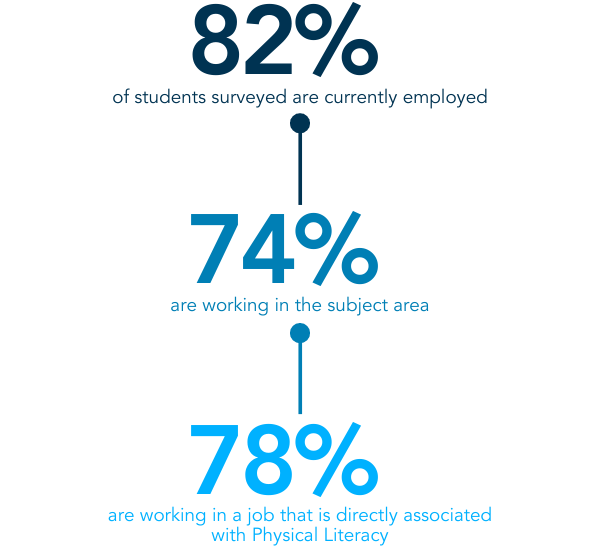 Career choices
Graduates of the Bachelor of Health and Physical Education — Physical Literacy major generally find work at recreation, sport and community facilities. There are also opportunities in health, education and other sectors. 
Your job title could be:
Physical literacy coordinator — lead children, youth, adolescents and seniors in programs that develop physical literacy
Program director — design, facilitate and deliver programming at various sport and recreation levels in the community
Personal fitness trainer — use your expertise to develop programs or activities that help people stay active and healthy
Health educator — share your knowledge of physical health and wellness to help create an understanding of its importance to people at any age
Entrepreneur/business owner — share your knowledge with private and corporate businesses through program design, consultation and evaluation
Sport consultant —

help sport teams excel with the development of programs to enhance areas such as; strength and conditioning as well as flexibility and relaxation

 

Health data scientist — 

gather and interpret data from a number of different sources to help  improve healthy living

Health policy consultant — 

review programs and policies that target public health and examine how they can be improved

Opportunities to enhance your PL degree
There are many other opportunities that are available to Physical Literacy graduates however, these will require additional education and certification. With these enhanced skills, you can pursue a career in:
physiotherapist
occupational therapist
K–12 teacher
coach
certified fitness appraiser
strength and conditioning specialist
life coach
Bachelor of Health and Physical Education — Physical Literacy statistics from the Mount Royal University follow-up graduate survey conducted in 2017–2018 within a year of graduation.