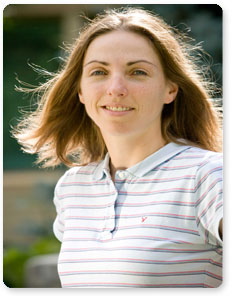 Michelle DeWolfe, PhD
Position: Professor
Office: B248 Q
Office Hours: TBA
Phone: 403.440.8945
Fax: 403.440.6333
E-mail: mdewolfe@mtroyal.ca
Instructor Profile: I joined Mount Royal University in 2008 after completing my PhD at Laurentian University in Precambrian Geology and Mineral Deposits. My PhD research focused on the hanging wall to the Flin Flon VMS deposits and was supported by the Natural Sciences and Engineering Research Council (NSERC), the Manitoba Geological Survey and HudBay Minerals.
My MSc research focused on the Kidd Creek volcanogenic massive sulphide (VMS) deposit in Timmins, Ontario and I was employed by Falconbridge Ltd. (now Xstrata Copper) during that time. In 2004 I was employed as an exploration geologist with FNX Mining Inc. in the Sudbury Basin exploring for magmatic Ni-Cu-PGE deposits.
Current research:
My main research interests include: volcanology, in particular in submarine environments, and the volcanic and magmatic controls on the location and formation of volcanogenic massive sulphide (VMS) deposits during the evolution of volcanic complexes and associated hydrothermal systems. My current research area is in the Flin Flon and Snow Lake VMS districts, northern Manitoba.
Community Service: I enjoy volunteering with the "scientist in a classroom" program, part of the Calgary Science Network, where I get to visit grade 3 classes and help them learn about minerals and rocks.