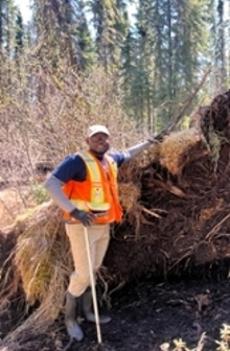 Felix Nwaishi, PhD
Position: Assistant Professor
Office Location: B246D
Phone: 403-440-5126
Email: fnwaishi@mtroyal.ca
Office Hours: Varies every semester, but feel free to stop by!
Felix joined the Department in the summer of 2018 from University of Waterloo. His approach is grounded in the belief that learning in the earth and environmental science disciplines should progress beyond theoretical knowledge by providing students with the practical skills required to address real-world environmental challenges. This is actualized through his commitment to the delivery of high quality and innovative research-led teaching, which accords students the opportunity to learn using field instruments and standard protocols to collect and analyze environmental data that are relevant to the understanding of environmental processes.
Coming from an Agronomy background, Felix's research in earth and environmental sciences explores the role of plant-soil processes in regulating ecosystem functions, especially following natural (e.g. wildfire) and anthropogenic (e.g. oil sands mining operations and other human impacts) disturbances. The long-term goal of his research in Boreal forest wetlands impacted by industrial developments is to develop a mechanistic understanding of how changing conditions associated with environmental disturbance would affect the processes that sustain ecosystem functions of wetlands (e.g. habitat provision, carbon sequestration, nutrient and water quality regulation), which is then applied to develop mitigation strategies that will inform environmental policy development for sustainable exploration of natural resources in our environment.