Every student deserves a great prof
Three professors inspire students in courses that are traditionally less popular
Forget the antiquated classroom stereotype of a teacher who stands in a lecture hall and directs knowledge at their students. While there's still a time and place for a robust lecture, professors are showing how with a few creative methods you can turn what may be an unpopular course - the one students dread seeing on their schedule - into the most adored, using technology, simulations and creative ways of teaching and learning.
Meet three Mount Royal University professors who are shaking things up to share their passion for teaching and their excitement for the learning process with their students, elevating the classroom experience and ensuring student success.
Back to the future teaching immerses students
Medievalist Kenna Olsen, PhD, says her classes are often left to the end of a student's studies ―afraid that they will be too challenging. But the professor is making English from the Middle Ages accessible to students in our modern age as a way to express the history of manipulation and challenge contemporary ideas of progress.
"Words matter, regardless of what era you're in or which medium is used," Olsen says.
Students of medieval English literature are going beyond the confines of time and space to dissect historic works as a way to reflect on popular culture today. Olsen asks her students to parse epic poems, like Sir Gawain and the Green Knight, written in the 14th century, into tweets. And while medieval poetry and Twitter seem unlikely companions, this method helps students realize that today's hot topics are nothing new. Studying a medieval reference on controversy, such as taxation and even climate change, offers a new perspective.
"I challenge the idea that a topic is brand new," Olsen says. "There is a history of manipulation using the arts ― like poetry ― to influence political movements."
Olsen also uses a non-traditional classroom to immerse students in medieval environments, which she describes as "visceral." Mount Royal's Immersion Studio projects images on all four walls of the room at the same time, creating a 360-degree learning experience. Olsen has used the room to engage students in political dialogue at a digitally immersive medieval feast, showing how the dinner party can bring rise to both tensions and new ideas alike.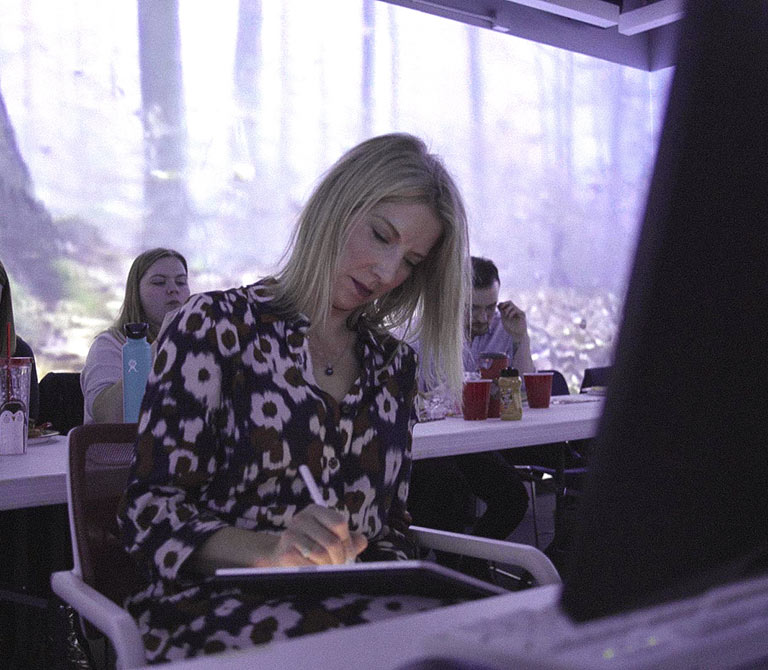 "Using immersive spaces removes barriers for learning and invests students in thinking," Olsen says. The stimulating environment connects students to the past, opens dialogue and exposes individual perspectives - a process of intellectual and personal growth she believes is enhanced because of the virtual reality-like space.
"It has bolstered their ability to learn."
And while some may question the relevance of a medieval English class in the first place, Olsen says that reflecting on texts from the Middle Ages provides students a medium to look deeply into current events. Critical thinking, the ability to be objective and form your own judgment, must be practiced to be effective.
It's a process students learn to love, who describe Olsen as a mentor with a passion, drive and genuine excitement for education. Since she started teaching at MRU in 2008, Olsen has received a Distinguished Faculty Award, the Faculty of Arts Outstanding Teacher Award, and has also been recognized with several MRU and national grants for scholarship in English literature and teaching innovation.
Teaching to recognize bias for stronger public health
There's little question that MRU's nursing program is in high demand. With entrance averages in the high 90s and a strong reputation for developing highly competent practitioners, the four-year degree attracts students from around the world to launch their careers in health care.
Despite this demand, courses in community health, which focuses on improving the health status of population groups and communities, are less popular among students who fear taking time away from mastering technical skills - like starting an intravenous or giving an injection - will slow their progress. But second-year nursing students of Professor Aliyah Dosani, PhD, are expanding their ideas about the types of skills they'll need in their profession.
"Nursing isn't just about needle pokes," says Dosani, "and learning the skills to become a nurse isn't just memorization."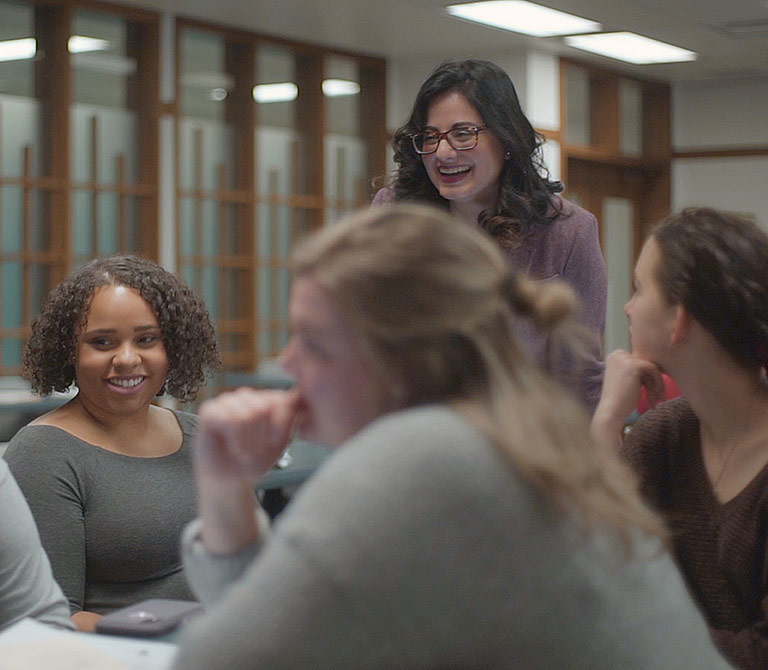 Dosani encourages her students to see community health nursing as a way of looking at themselves as future practitioners. Using a critical thinking approach to nursing, her students confront their own biases and open their eyes to social justice issues affecting communities and populations. She asks her students to question: "What are the root causes that make people unwell?"
Early in her nursing career, on pediatric and neonatal units, Dosani started to see trends among the families who needed critical care. Time after time, she noticed that maternal mental health was poor in many situations, requiring additional support in the hospital, an indication of underlying domestic challenges and larger social issues - issues addressed by community health nurses after the family leaves the hospital.
A spark was ignited in Dosani, and it's that same spark she is hoping to light in her students. Using medium- and low-fidelity simulations to recreate scenarios that students may experience, Dosani gives students a hands-on look at what they may encounter in their careers.
For example, Donsani introduces Imogene, a simulation mannequin representing an assaulted trangender sex-worker, for initial student assessment. Students are encouraged to recreate an acute-care scenario while unveiling their attitudes, values, beliefs, assumptions and biases. They are inspired to dig deeper and come face-to-face with the social determinants of health. This is where the initial link to community health is made - by uncovering root causes of ill health and then exploring what can be done about this.
"Community health nurses have an opportunity to change the path of people rendered vulnerable or those that are marginalized by societal structures," Dosani says. It's this impact that has Dosani so invested in the learning of her students, who she calls her future colleagues. "We're building a relationship for the future," she says.
It's this relationship building that helped earn her a Distinguished Faculty Award in 2019. She is known by her students for being supportive, encouraging and committed to student success.
Fostering a sense of wonder among science students
Associate Professor Alexis Morris, PhD, is tackling the too-common dislike of a subject he's passionate about - physics. By changing the teaching method from memorizing equations to telling stories, Morris hopes to inspire a sense of wonder and curiosity for how the world works.
The truth is, Morris can understand first hand why students avoid physics because he too disliked the lectures and "plug and chug" memorization that made no real sense. While Morris was studying general science, all that changed. An enthusiastic teacher who made physics more about solving puzzles hooked Morris into wanting to better understand the world. Now he's doing the same for his students of other subjects, enrolled in majors like chemistry or general science, who are required to take physics as part of their program and have the option of declaring it as a minor.
"It's important to be passionate about what you're teaching," Morris says, who has been encouraging his students to be curious.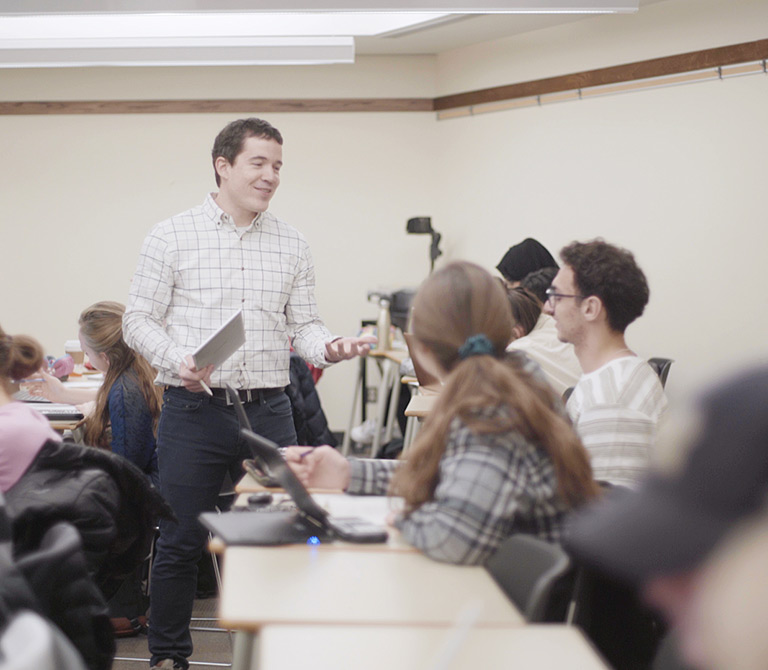 Morris splits his class into smaller chunks and divides groups for hand-on experiments or discussions as to how to implement ideas right away. He describes equations like puzzles that need to be solved, telling stories of how it snows or why spaghetti noodles always break into three pieces, not two. Morris is making physics relatable.
Tutorial sections at MRU offer even smaller class sizes and a personalized learning experience. So, even though magnetic fields, calculus and quantum mechanics have a reputation for being hard, the learning environment offers the greatest opportunity for student success.
"The tutorials provide the opportunity to really get to know my students and find out what their goals are," Morris says, who is known for mentoring his students beyond the first year and helping prepare them for future graduate studies. Students rave about his ability to make physics more "bearable," calling him an "amazing lecturer" and "inspiring."
Morris asserts that if you've ever wondered "why?", you'd make a great physicist. And although not everyone will become a scientist, he says it's important that students acquire these problem-solving skills.
"There's no shortage of problems, and no shortage of employers looking for people who will find solutions," says Morris.
Support the academic experience
Mount Royal is committed to excellence in teaching and learning and providing high-quality academic programs. Key to this commitment is a personalized learning experience for students. This means student-focused, hands-on instruction and professors making the academic success and growth of each learner in their classrooms a priority.
With your support to the teaching and learning fund, MRU will continue to enhance the exceptional undergraduate experience for students.