Jennifer Nowak's first English teaching adventure in Bolivia was in 2011. The month she spent teaching tour guides there had such an impact on her that this year, she decided to take Mount Royal's ACE TESOL Certificate, an introductory program for those interested in teaching English to adults, and then to return to Bolivia for a longer stay.
Both years, the program was coordinated by Cathie Aalders-Taylor, also a graduate of the ACE TESOL Certificate at Mount Royal. Jennifer and the other Canadian volunteers went to Rurrenabaque, "a small, relatively undeveloped town at the edge of the Amazon jungle and pampas" and "a jumping off point for tourists who want to visit these areas." Their goal was to help local people involved in the tourism industry to improve their language skills. Here is what Jennifer had to say about her initial impressions of Rurre:
"The flight from La Paz to Rurre is very exciting and impressive. It takes 45 minutes to drop from 4000 meters to 200 meters. On the way, the plane travels so closely to a snow-covered peak, you feel you can reach out and touch it. The scenery changes dramatically to verdant jungle-covered mountains as one approaches Rurre. The plane must descend so rapidly to land that you can see out the cockpit window from your seat at the back."
This year, the volunteers also taught in the small village of San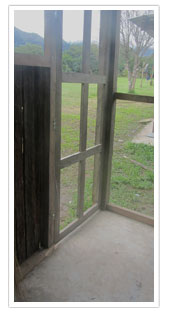 Miguel, a 45 minute boat ride up the Beni river from Rurrenabaque. There, Jennifer taught in "an open-air community hall, with a thatched roof and partial bamboo walls. This allowed the local chickens and dogs to attend class, as well as some of my students' children. I don't know why they bothered to build a door!"
Jennifer credits her teacher training at Mount Royal for helping her to "gain a clearer understanding of the general curriculum areas that are required in order to teach adult English language learners effectively" as well as methods for effective teaching.
Her most memorable moments
"Last year, my most memorable moment was cruising on the river in the pampas with our students. They were able to point out, in English, many of the birds and animals that we had taught them in class.
This year, my class in the village was interrupted by an invasion of army ants. My students (all adult men) advised me that we had to have an unscheduled break for 20 minutes. The ants would swarm the classroom and eat all the bugs, but we needed to allow them to do this undisturbed."
Next year there are plans for an exciting new project which focuses on helping Bolivian English teachers to improve their own English language skills as well as explore new teaching methods. Jennifer is contemplating returning, but she is also considering exploring new places. Her MRU English language teacher training and her experience in Bolivia have opened a world of possibilities for further adventures.

To find out more about Teacher Training Programs at Mount Royal click here.
-Silvia Rossi, August 22, 2012