Bring your whole self to university
Oki
Amba'wastitch
Danit'ada
Tân'si
Welcome
With over 100 years of history, Mount Royal continues to build upon its tradition of providing an exceptional undergraduate experience. In addition to innovative programs taught by passionate professors in small class sizes, we offer unique programs, supports and cultural experiences for Indigenous students. We are committed to the work of Indigenization and decolonization and recognize and respect the diversity of all Indigenous Peoples of Canada.
Where the rivers meet
Mount Royal University is located in the traditional territories of the Niitsitapi (Blackfoot) and the people of the Treaty 7 region in southern Alberta, which includes the Siksika, the Piikani, the Kainai, the Tsuut'ina and the Îyârhe Nakoda. We are situated on land where the Bow River meets the Elbow River. The traditional Blackfoot name of this place is Mohkinstsis, which we now call the City of Calgary, also home to the Métis Nation.
Be bold.
Be inquisitive.
Be transformed.
MRU is a welcoming community of professors, students and alumni who are making a difference in Calgary and beyond. Discover stories about ground-breaking research, landing dream jobs, succeeding in the face of adversity and everything in between.
Why MRU
Become a Mount Royal student
From preparing to apply for a program to getting ready for your first day on campus, learn everything you need to know about starting your MRU journey.
Choose
your program
Our innovative and student-focused programs are taught by passionate professors in small classes to set the foundation for your future. Find the program that's right for you.
Explore programs
Admission
requirements
When you apply to MRU, there are both general and program-specific admission requirements you must meet depending on your chosen program(s). Get familiar with applicant categories, admission requirements, competitive admission averages and more.
View requirements
Explore tuition & costs
Estimated student expenses for an academic year (8 months)
| | |
| --- | --- |
| Tuition/fees (based on 10 courses) 1 | $8,600 |
| Books and supplies | $1,500 |
| Residence/rent 2 | $6,356 – $9,006 |
| Living expenses and spending money | $4,700 |
| Transportation | Calgary Transit U-Pass included in fees |
| Total for students | $21,156 – $23,806 |
1 Based on 2023/24 fees. Additional fees may apply for specific programs.
2 Based on 2023/24 Residence fees. Not including Indigenous Housing Program bursary. Cost can vary based on circumstance, from living at home to shared accommodation with multiple roommates to independent apartment living.
View budget estimator
Explore funding opportunities
Indigenous University
Bridging Program
Need to upgrade your courses and/or boost your grades? The Indigenous University Bridging Program (IUBP) offers three levels of study to help you prepare for admission to your intended MRU undergraduate program. Benefit from advanced academic upgrading, university preparation courses and Indigenous cultural content. You'll also be supported by the Iniskim Centre with tutorial services, academic and personal advising, social events and visits from community members.
Learn more about IUBP
Attend an
information session
Register for a session with an admissions and recruitment specialist to learn more about MRU programs, the admission process and student life.
Register for a session
Applications for MRU's fall semester open Oct. 1.
Apply now!
Did you know?
When you apply to Mount Royal, you can select two programs with just one application.
Adding a second program to your application, such as an alternative entrance option, is always a good idea.
Early admission
Mount Royal's early admission is open from Oct. 1 to Feb. 1. Every application received during this time is reviewed equally and all competitively qualified candidates will receive an offer of admission. Essentially, all applicants are treated as though they submitted their applications on the same day.
Once early admission is over, applications are reviewed on an ongoing basis in the order they are received until a program is declared full. Waiting too long means your program of choice may not be available.
Admission dates & timelines
Early admission
Oct. 1, 2023 – Feb. 1, 2024
Applications continue to be accepted beyond this date for most programs based on space and availability.
Within one week of application
Receive acknowledgement email with an MRU student ID number
Feb. 1, 2024
Application and supporting documentation deadline for some programs
Ongoing:
Nov. 1, 2023 – Aug. 31, 2024
Application assessed by MRU
Ongoing:
Nov. 1, 2023 – Aug. 31, 2024
Receive conditional admission offer
Within two to three weeks of offer
Accept your admission offer and pay the $425 tuition deposit
Aug. 1, 2024
Final, official transcripts and documents due
Aug. 14, 2024
Tuition and fees due
Sept. 5, 2024
First day of classes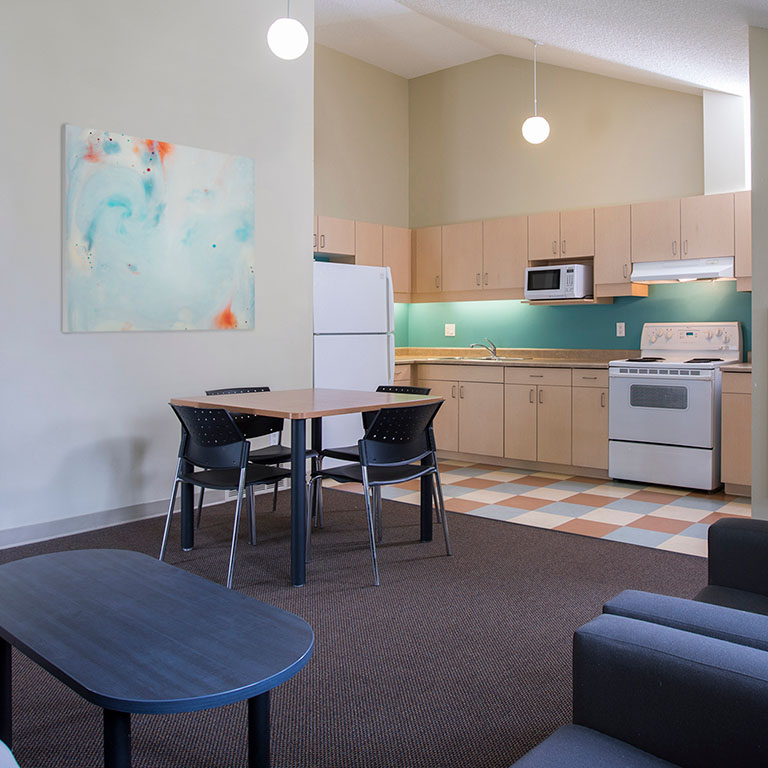 MRU
Residence
Mount Royal Residence is a great way to become part of a vibrant community, reduce time spent commuting and take your academic success to a higher level.
Live on campus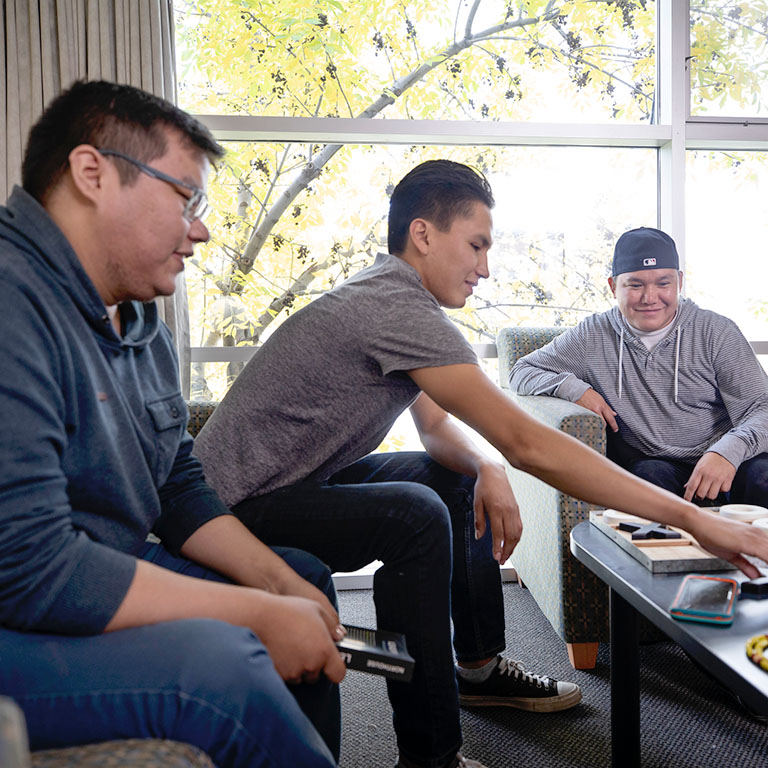 Indigenous
Housing Program
Run by the Iniskim Centre, the Indigenous Housing Program provides cultural and academic supports and affordable individual and family units for students who self-identify as First Nations, Métis, Non-status or Inuit. Participate in monthly events, meetings, cultural celebrations and ceremonies.
Learn more
If you are a sponsored student and have been approved to have your tuition and mandatory fees billed to a third party (employer/sponsoring agency - Advancing Futures/Band), please ensure all proper documentation is forwarded to Financial Services before each fee deadline.
Student sponsorship
Mount Royal offers hundreds of awards based on academic success, your financial situation and extracurricular participation. Accepted Indigenous students are eligible for both general and Indigenous-specific scholarships and bursaries.
Apply for scholarships and bursaries from Nov. 1 to March 1.
Apply for awards
If you are receiving Indigenous and Northern Affairs Canada/Band Funds, you can still apply for Government Student Loans should you require additional funding. For residents of Alberta, you can apply for government loans online at studentaid.alberta.ca. If you live outside of Alberta, look into applying for student loan assistance from your home province or territory.
Financial aid
The Iniskim Centre offers programs and services to increase the engagement and success of Indigenous students while also raising awareness of Indigenous peoples and cultures.
With any program you choose, the Iniskim Centre helps you prepare to succeed in your academic pursuits and future career.
Our dedicated staff encourages you throughout your program of study, providing resources such as academic and cultural support, academic advising, writing support and scholarship information.
The work of indigenization and decolonization at Mount Royal bears importance for both Indigenous and non-Indigenous students across campus. We continue to build a respectful and inclusive learning environment, with support services and resources, that fosters a sense of belonging among Indigenous students.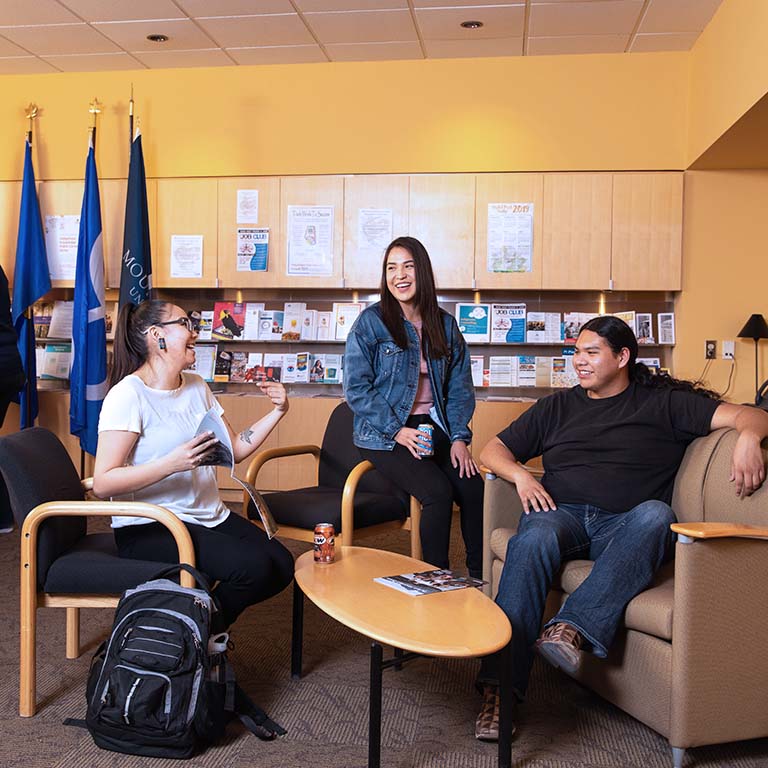 Future
Student Portal
Create a Future Student Portal account to keep track of all things admission at MRU. With an account you can:
Sign up for info sessions, events and one-on-one admission planning meetings
Check your application and transcript status
Receive your admission decision
Keep track of your conditions for final admission if conditionally admitted
View your deposit deadline
Log in
Create an account
Admission status
After you have submitted your application, you can use your Future Student Portal to check on the status of your application at any time.
Watch a how-to video
Transcript status
Use your Future Student Portal to check on the status of your transcript and any other required documents. You can also find the date when your final/official transcripts and documents are due.
Watch a how-to video
Conditions of admission
If you have received a conditional offer of admission, your list of conditions can be found on your Future Student Portal. Keep an eye on deadlines and ensure you meet your conditions for final admission.
Watch a how-to video
Admissions & Recruitment
Room B156
Mount Royal University
4825 Mount Royal Gate SW
Calgary, Alberta, Canada
T3E 6K6
Contact us