Cougar's inspired by loss of former teammate
The most important player on this year's provincial champion Mount Royal Cougars women's hockey team might be one who didn't play a single game.
Former Cougar Sash Hochlander, who graduated after last season but remained close friends with many of the players, passed away in a tragic car accident on Jan. 5, 2010.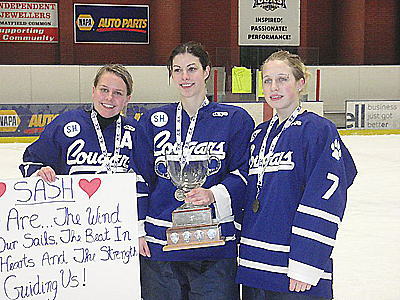 The 13 players who knew Sash Hochlander as a teammate last season found an extra inspiration with her passing in a tragic car accident this past Jan.
Her passing hit the girls harder than any body check ever could.
It also served to galvanize the team better than any pep speech.
After losing a gut-wrenching five-game series, 1-0 in Game 5 of the Alberta Colleges Athletic Conference (ACAC) final, to U of C last year, the Cougars had already set its sight on the Alberta Athletic Colleges Conference.
Chelsey Morrill, a second-year Cougars forward and the leading scorer in the playoffs (seven goals and two assists in seven games,) says Hochlander's passing made their motivation even more acute.
"We really came together as a unit after that," says Morrill.
"We started to help and look out for each other and began to have a better understanding of who we are and why we wanted to do this - for (Hochlander) and the girls who were closest to her who were really hurting."
And the effect was evident as the team won 16 of its final 18 games following Hochlander's death.
When the crowd began counting down the final seconds on the game clock at the end of the 2010 ACAC championship in Edmonton, the Cougars players looked at each other, eyes wide, smiles reaching from one ear to the other.
They had bested the NAIT Ooks under a 5-1 lead in the game and were about to add one final victory to their 2-1 lead in the best-of-five series.
They threw their gloves and sticks in the air and wrapped their arms around each other as cheers and screams filled the arena.
Bird named player of week

Third-year defenceman Brianna Bird was named ACAC player of the week after scoring three goals in the first two games of the best of five championship series.

Bird, originally of Warman SK, is currently studying Physical Education. She was also a named to the ACAC all-star team.

They had done it. They had done it for themselves, but more importantly they had done it in honour of the memory of their former teammate and friend.
Cougars head coach, Scott Rivett says that when Hochlander passed away, the resulting team unity turned out to be the Cougars main strength. "We have a very close group and a lot of depth at all positions," says Rivett.
"If we play to our potential and work hard it allows our skill and depth to take over, making us a very tough team to beat."
Looking forward, the Cougars have a strong recruit class coming in Rivett believes the team will be a threat to repeat in 2011.
That said, he's perfectly happy to sit back and enjoy this most recent victory for the time being.
"This is the third time I've coached the provincial champions and I've got to say, each time is different, but it never gets old."
- Steven Noble, March 25, 2010