From snoring, to tears; from belly laughter to unbridled optimism - Shakespearean actors never quite know what they will get from their audience.
That was the precisely the situation facing Mount Royal's Shakespeare in the Park (SITP) cast members and director Martie Fishman last week as they took an adapted interpretation of the age-old playwright on the road last week.
Fishman and a small cast created a Shakespearean montage and performed the first of three scheduled shows at Central Memorial High School Nov. 9.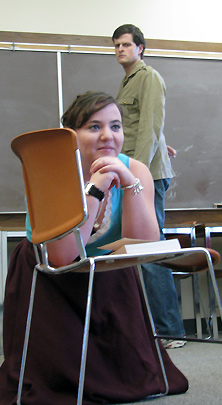 Becky Fisher and Paul Welch are enjoying the workshop aspect of taking SITP to local high schools as much as the performing.
They followed the show up by offering two days of workshops for the school's acting students.
Fishman's daughter, Becky, who is also one of SITP's leading ladies and choreographers says she expected some of the high school students would be surprised by how much they get out of Shakespeare live.
Their gratitude and enthusiasm proved her correct.
"I feel so lucky to get the chance to bring Shakespeare to high school students," says Becky.
"I think that a lot of students have a preconceived notion of Shakespeare being boring and irrelevant. But nothing could be further from the truth. Shakespeare's language, plots and characters are still incredibly relevant to every generation. I feel that everyone can find something that they love about Shakespeare."
"When I started Shakespeare In The Park, I thought it was important to give back to the community," says Martie, explaining the genesis of taking the show on tour.
"So I started a program called Shakespeare in the City where we brought Shakespeare to those who couldn't come to the park."
They played venues ranging from women's shelters to the Alberta Children's Hospital. Then last summer SITP began a relationship with Lougheed House, a popular historic landmark, which featured lunch hour performances in its outdoor gardens.
Thus, Shakespeare in Love: a mosaic of Shakespeare's greatest love scenes, evolved.
"It was hugely successful at Lougheed House so we thought let's try to take this on the road. Central Memorial bit at the opportunity right away. They were really excited about the idea," says Fishman.
"It hits most of the plays in their curriculum and the whole idea of the follow-up workshops appeals to them as well."
Fellow Shakespeare in the Park veteran, Paul Welch, who is also a part of the cast, is equally excited about this new direction Shakespeare has taken him in.
"I think it's a wonderful opportunity to try to inspire a new generation of theatre artists by sharing my passion for Shakespeare with them," Welch says.
"I know I would have benefited greatly from having some of these tools presented to me at an early age, so I think these kids are really fortunate to have the chance to explore Shakespeare in a different way.
"What's great about the tools that we present in these workshops is that it makes the text pop, and come alive - it gives the kids a chance to gain understanding of the text, to make sense of something which may, at first, seem archaic."
- Steven Noble, Nov. 18, 2009