All "four" one chance to make back it to the World Junior Curling Championship
All across Canada, when the winter chill hits our doorsteps, Canadians young and old get ready to cheer for another season of excitement on the ice.

Some of you may have pucks, sticks and skates in mind, but we're talking about the game of curling - a classic Canadian winter sporting event - one that is loved by many, nation-wide.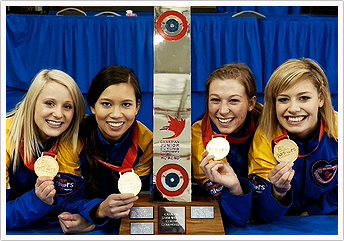 Although curling isn't two hours of jammed-packed speed and hard hits, if you don't count the rocks, the competition is just as fierce.

Just ask Mount Royal students Jocelyn Peterman, Brittany Tran and Rebecca Konschuh - three of Canada's Defending Junior Women's Curling Champions, who made it all the way to Sweden for the World Junior Curling Championships in early 2012.

Peterman, a student in the Bachelor of Physical Education - University Transfer program, Tran in the Bachelor of Science program and Konschuh, in the Bachelor of Business Administration - Sport and Recreation program have been playing together for four years.

"We we're definitely the underdogs," says Peterman who is the team's skip, the player who determines the strategy, and directs play for the team. "In Canada, playing in the juniors is 20 and under, but at the world level it's 21 and under. We were only 18 so we were pretty young for winning the Canadian Championship title and then competing at the world level."

Sweeping to the other side of the world

Getting to World's was a long journey, but the team's dedication lead the way.

From September to March the team competes every second weekend, and during the week when no games are scheduled, the girls hit the gym and ice for practice - Peterman's mother is also the team's coach.

"We practice about five or six hours a week," explains Peterman. "Three of those hours are with the full team and the other is on our own. We also train about five hours a week at the gym."

This past season (2011/12), the team won Alberta Provincials, becoming Team Alberta and proceeded to the Canadian Junior Nationals. They then won nationals becoming the Canadian Junior Champions and went on to place 6th at Junior Worlds - they intend to get the gold this year.
In addition to their many curling accomplishments, Peterman was presented with the 2012 World Curling Federation World Junior Sportsmanship Award and Tran won the SACA Brier Curling Scholarship, which was based on her volunteer work, grades and curling accomplishments.

"I have so many great memories of this past season, but when I was voted for the women's sportsmanship award, that was a great moment for me," says Peterman.

"The other players vote for the person they believe has the best skill, ability and sportsmanship. My parents always taught me to be a well-respected player and to be the kind of team mate you would want to play with."

Finding a second home at the rink

Peterman, Konschuh and Tran are no strangers to the curling rink, as their families have also been involved in curling.
"My mom was a curler when she was younger, but my interest in curling came from my grandpa," says Tran. "He was the one who put me in the sport and drove me to league every week."
As much as curling in Canada is a sporting event, it is also a social gathering and a tight-knit community. Peterman's parent's met at a curling rink and her father was the ice maker at the club she grew up in.

"My favourite thing about curling is that mostly everyone in the curling community are friends," says Peterman. "When you go away for weekend tournaments, you get to meet people and make a lot of friendships. I have made a lot of friends all over Canada from being involved in the sport."
"One of my favourite things is that curling is very different from other sports in the social aspect of it," Tran adds.

Just this past weekend, the team competed in the World Curling Tour event hosted in Red Deer where they played curling champion, Jennifer Jones.
"It was really neat playing against these big shot teams we have been watching on TV growing up," says Peterman.

Eyes on the ultimate prize

In the future, Peterman, Tran and Konschuh all plan to stay connected with sport, fitness and health through their careers and personal lives.

"I love being involved in the athletic community," explains Peterman about her career interest as a physiotherapist. "I have had quite a few injuries myself, so being in that type of environment really suits me."
"After I complete my Health Science degree, I plan to go on to medical school," Tran says.

Peterman, who is a competitive softball player, is also trying out for a spot on the Canada Summer Games team.
"As soon as I am done with the curling season, I am playing softball," she says.

No matter what goal each team member is pursuing, we can rest assured most will involve sports.

"We [the team] want to get back to the world championships and win the world title," explains Peterman. "After I am done in the juniors, I want to make it to the Scotties Tournament of Hearts and then hopefully bring home an Olympic gold medal."

With the team's drive and determination, we won't be too surprised to turn on the TV and see them in all their glory after another victory.

- Angela S., Nov. 8, 2012