Marking five years of mentorship
Harry G. Schaefer program a transformative experienceA bone-chilling Tuesday evening in January would normally entice most students to hibernate indoors.
The opposite happened on Jan. 10, when 150 Mount Royal University students, mentors and other supporters anxiously met for the first time at the annual Harry G. Schaefer Mentorship Kick-Off dinner. The evening was sponsored by ATB Financial for the second consecutive year.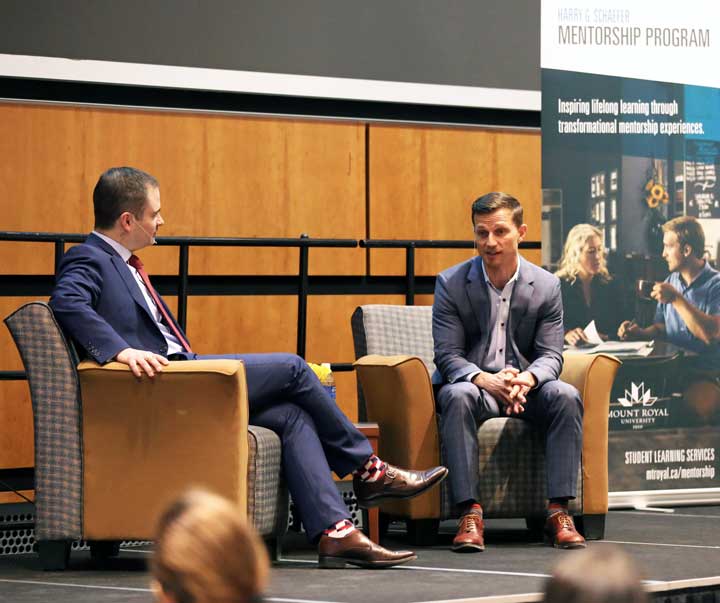 The Harry G. Schaefer Mentorship Program, stewarded by MRU's Student Learning Services, is dedicated to excellence in mentoring and was created as a legacy to longtime Calgary business icon Harry G. Schaefer.
Schaefer, born in Calgary (1936 - 2011), was a chief financial officer and important member of TransAlta's executive administration team and board. He was one of only four Alberta chartered accountants to be awarded the distinguished designation of Fellow of the Chartered Accountants (FCA). He also received the Lifetime Achievement Award for Alberta Chartered Accountants, given to those dedicated to excellence in their career and giving back to their community.
What makes his namesake program so distinctive is that it is open to every third- and fourth-year Mount Royal student, from every faculty across the University.
When it began in January 2012, there were just 30 students and 26 mentors. Today, in its fifth round, there are 114 students and 104 mentors involved, 74 of which are Mount Royal alumni. Since its inception, over 800 Mount Royal University students have been matched with local mentors.
Genevieve Ridge, a second-year aviation student and transplant from Ireland, is entering the program as a mentee for the second consecutive year.
"The first year I did it I was looking for certain needs to be filled, not just in the sense of networking. I had a lot of questions," says Ridge who recalls often wondering what would happen if flying planes didn't take off for her.
As an international student Ridge felt as though she lacked connections to the aviation world when she enrolled at Mount Royal, but was seeking knowledge that could assist with her career aspirations.
"I heard about (the program) and thought it was great," says Ridge. "I was able to meet with lots of people within the industry and got lots of recommendations and insight."
She is also quick to note that the mentorship experience acted as a guided reassurance, saying that the networking aspect program seemed to happen automatically.
Alex Slonim is a second-year mentor and Mount Royal alumni. Graduating with a Bachelor of Business Administration with a major in General Management in 2012, Slonim says he got involved with the program simply because he wishes he would have pursued mentorship more when he was a student.
"I always found in my own career that mentorship has really helped guide me in my decisions, it allows me to value input and leverage other people's experiences," he says.
Now at Suncor Energy working in Strategy and Corporate Development, to Slonim the most rewarding aspect of the program has been providing leadership to a mentee when they have that "aha!" moment.
"One of my mentees recently got a job at the U.S Consulate. He's very interested in international trade and he called to thank me for it. That was really rewarding to know in some small way I helped guide him to that goal."
The evening concluded with a keynote address from Dennis Plintz of Sotheby's International Realty, and James Chisholm, managing director, ATB Investment Management for ATB Investor Services. The pair conducted a series of mentorship-related questions and answers before offering up the floor to queries from the attendees.
To become a mentor, mentee or for more information related to the program visit the Student learning Services website.
Continued connection
The University is extremely grateful for its continued connection with the Schaefer family, who have helped Mount Royal students navigate and understand the opportunities available to them.

A case in point is Rob Schaefer, who is involved in a number of entrepreneurial endeavours with the Bissett School of Business and sits on their Accounting Advisory Committee.

Thank you Schaefer family!
Jan. 12, 2017 ― Jonathan Anderson