MRU Alumna from Mexico Initiates Ecotourism Field School from the Universidad de Guadalajara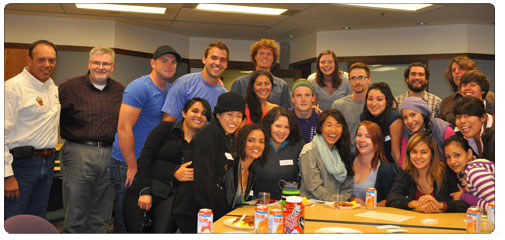 In September 2012, ten years after her graduation from MRU, international exchange alumna, Elena Carbajal, returned to MRU to initiate the first inbound Field School from MRU's partner institution, the Universidad de Guadalajara.
Carbajal says that her time at Mount Royal "opened her eyes and gave her a new vision to travel the world". Determined to fulfill this dream, after graduation from MRU, Carbajal packed up and moved to Peru to pursue a career in ecotourism. Little did she know that her ties with MRU would be reestablished in the "Land of the Incas".
In 2008, Carbajal was running a hostel in Cusco when she received an e-mail from a former MRU classmate advising her that one of her former instructors, Dr. Joe Pavelka, was going to be in Peru planning a Field School. A few months later, the two met and Pavelka asked Carbajal to assist him in leading two MRU Ecotourism Field Schools in Peru.
"The experience I had in both Field Schools was amazing, motivating and a real opportunity for self-growth," says Carbajal.
Transformed by these encounters, she returned to her home town of Guzman, Mexico with hopes of finding a way to continue to work with students in international settings. Only months later, Carbajal was approached by the University of Guadalajara to be a part time instructor in the Eco-tourism Program.
"I was surprised by the opportunity and immediately took the position. I had a lot of experience guiding groups but not teaching in a class room, so I challenged myself and slowly started to integrate Field Schools and expeditions as part of my class."
After her experiences in Calgary and Peru, Carbajal dreamed of initiating a field school with Mount Royal University. She approached Claudia Llanes, a full time Ecotourism Professor at the University of Guadalajara, with her idea and immediately the two agreed to make this opportunity a reality.
In February 2012, Elena moved to Calgary for a year to ensure all logistics were in place and the program ran smoothly. "This worked out perfectly because Claudia Llanes took care of moving things forward in Mexico and I was planning and taking care of things in Canada with Mount Royal University," says Carbajal.
After months of organization, eleven students and two teachers from the Universidad de Guadalajara came to MRU on September 8th, 2012 for a three week Field School that focused on ecotourism, Canadian culture and improving individual English skills.
At Mount Royal University, the ecotourism students from the Universidad de Guadalajara had the opportunity to learn by experience through various activities, including a day of canoeing and a three day Rocky Mountain expedition.
For many, the time in the majestic Rocky Mountains was the most memorable as it allowed the group to build a very strong relationship with students and instructors from both Universities. During this trip, the students learned survival tips for the wilderness, camped out in the mountains and attended a conference on National Parks in Canada.
In addition to these expeditions, students attended a one- week customized English language course offered by the MRU Languages Institute and conducted four research projects which were presented on the last day of class.
"It was satisfying to see how confident the students were feeling with the language after their English classes and the interaction with the Canadian students. It was a great opportunity for an exchange of culture, language, experience, a better understanding of international ecotourism and learning from the similarity of both programs," says Carbajal.
To share some of their culture with the Mount Royal Community, the students also performed a program of Mexican music and prepared traditional cuisine at the closing ceremony on September 28, 2012 where they received their well-earned MRU certificates.
- Elena Carbajal and Andrea Morrow, January 2012