You never know when or where you might find your calling.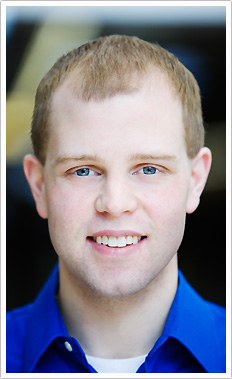 For Mount Royal Assistant Professor Tim Haney, PhD, it came when he was living and studying in New Orleans during Hurricane Katrina.
As an urban sociologist Haney had been drawn to New Orleans and studied the city's race and class issues, but he didn't know what his teaching and research specialty would be. After Katrina devastated the city he called home, Haney knew what the focus of his academic career would be - sociology of disaster.
"I was unlucky to be living in New Orleans during Hurricane Katrina, but at the same time I was lucky to be a sociologist because it gave me the tools to really see and understand what was happening," says Haney, who evacuated before the storm hit, but lived in New Orleans for nine months after.
"I realized there were all these common themes in how communities prepare for, deal with, recover from and rebuild from a disaster. I saw this happening right in front of me and I realized I needed to start talking about it, writing about it and teaching about it."
Disaster impact
to increase
A 2010 United Nations report reveals that the study of disasters will only become more important. It says that 3.3 million people worldwide have died in "natural" disasters in the past 40 years. It predicts that number will substantially increase in the next 50 years due to a combination of urbanization, drought and population growth in coastal areas.
Due to Katrina, Haney's graduate program was cancelled. He transferred and completed his PhD at the University of Oregon in 2009 and has since written papers and completed research about the sociology of disaster.
He is also currently teaching Canada's only Sociology of Disaster course, which has students study how communities experience and respond to disaster and examine how decisions can increase vulnerability to certain events and catastrophes.
"As I tell students in class, there are opportunities to do disaster planning, mitigation and recovery work through both government agencies and non-governmental organizations," says Haney.
"This sort of work will become much more important during the next 50 years, as an increasing number of people worldwide are exposed to natural, environmental, and technological disasters. In short, it's a tremendous opportunity for students to make an immediate difference in the world and to create safer communities."
Japan earthquake and tsunami
Haney's Sociology of Disaster course looks at a wide range of disaster and of course, the recent tragedies in Japan are now being discussed.

"In class I ask students to consider how our use of technology can increase or decrease vulnerability to geologic or environmental events like earthquakes. In the case of Japan, sociologists are beginning to ask how engineers considered earthquake risk in the construction of nuclear power plants."
Sure it is impossible to plan for everything, but Haney gets his students to study potential risk of implementing such technologies, as well as probability vs. cost of prevention.

"Even if an event is improbable over the short-term, societies have to consider the possibility given how damaging the potential consequences could be.
"As we say in disaster research, things that have never happened before happen all the time."

Sociologists can also help in Japan by watching for the Matthew Effect - following a disaster, the rich get richer and the poor get poorer.
"This effect has been found repeatedly in research on several disasters in several different nations. Having this knowledge will help us pay closer attention to whether aid money is being distributed equitably and to those who need it the most," says Haney.
From the heart
Haney loves to inspire his students to look at things in different ways but admits sometimes in can be a challenge to remain neutral when they ask his opinion about Katrina.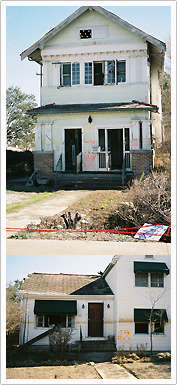 Photos Professor Tim Haney took after Hurricane Katrina.
"I saw the city I love completely ruined. Images do not do justice to the kind of devastation that Hurricane Katrina brought.
"I am doing research and teaching on something that's very very personal and sometimes it is difficult to separate the emotion and the anger you feel about an event like that from what you do in the classroom."
The upside is Haney has insight other researchers don't. For example, Haney has written about applying for disaster food stamp assistance, something most middleclass academics would not experience.
"After your city floods you don't have debit cards that work or credit cards that work … all of a sudden even if you are middleclass you are not any more. So I was able to write about navigating complex bureaucracy during a difficult time."
All about class
Class inequality is also of great interest to Haney, who comes from a family of autoworkers in Janesville, WI. He figures that is where his love of sociology was first born.
Haney is also applying for research funds to hire a student this summer to help explore the class of Canadian academics and the impact on national education.
Class of a different type is important to Haney here at Mount Royal.
Mount Royal's smaller class sizes is a big reason Haney relocated to Calgary.
"At the University of Oregon I was in classrooms of up to 600 students. During graduate school I taught a class of 70 students and that was too big for me. I really liked that here I wouldn't have to teach a class over 30 or maybe 35 students.
"I get to know students by name. As a teacher it is rewarding to see students over time develop and I get to see that here," says Haney, who teaches in the Faculty of Arts.
- Anika Van Wyk, March 24, 2011