Indian Summer's Night Event Making Connections across Cultures
When Jennifer Peepeetch-Fraser, one of the Cultural Activities Leaders (CALs) for this year's Summer Immersion English Language Program, organised a special event showcasing aboriginal culture for visiting international students, she specifically chose the title "Indian Summer's Night" as a teaching tool.
"The title, Indian Summer's Night, gives the perception of a very hot and still summer's evening in Canada," explained Peepeetch-Fraser, "but the word 'Indian' is a misused word when describing my people."
Jennifer hoped the title would evoke some interesting discussions around ignorance and misunderstanding about aboriginal people and their culture. It was a great starting point for her introduction into aboriginal culture for these students.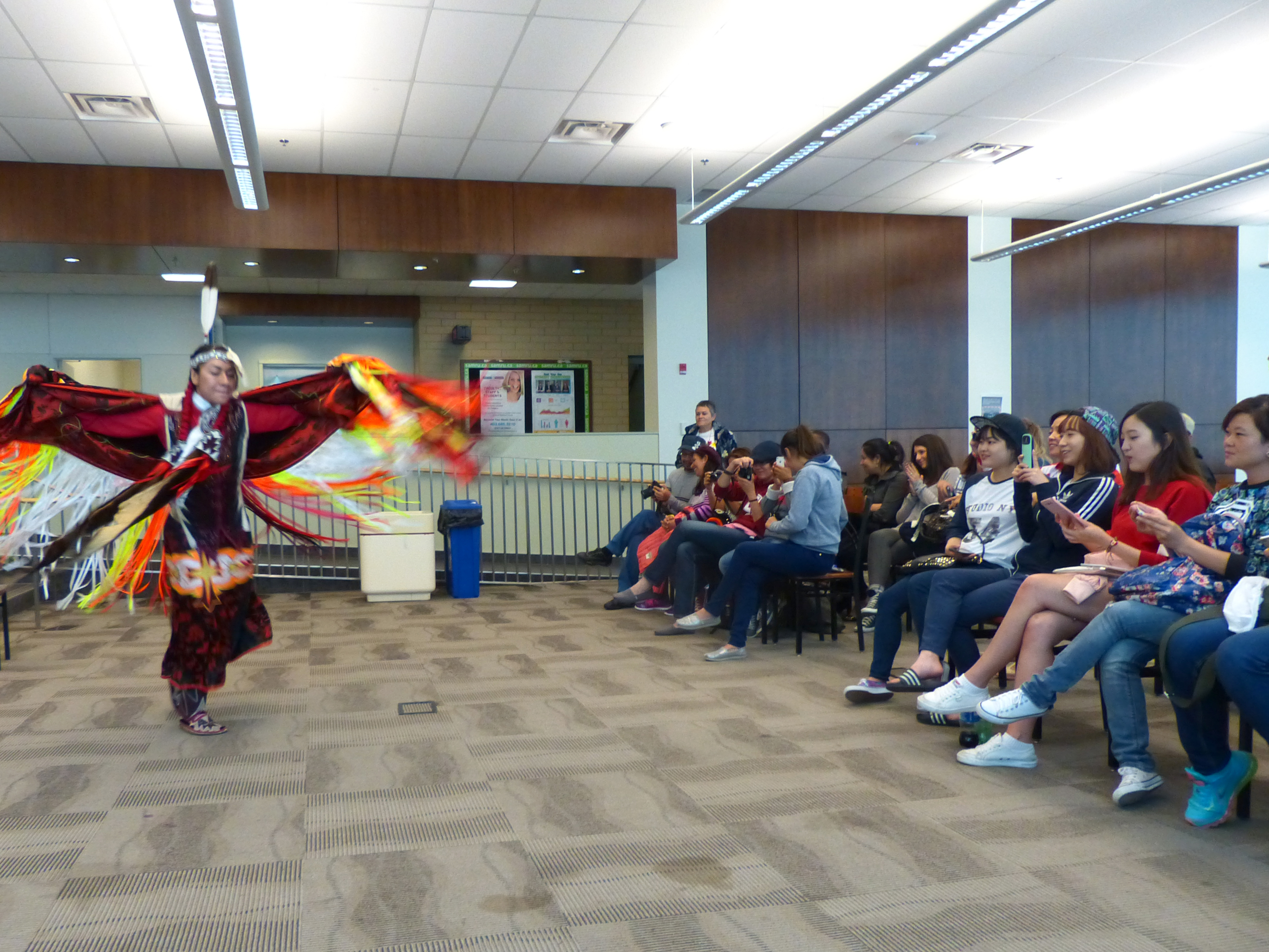 Fancy Dancer, Angela Glotto, performs for July Summer Immersion students
Jennifer's idea of sharing her aboriginal culture with the international summer students came to her well before she got hired into one of the CAL positions. She has always had a passion for sharing her culture with others and thought this would be the perfect opportunity to teach some aboriginal culture to those who may know nothing about it, or who don't have a clear understanding.
Connecting with Inner Mongolian Group
What Jennifer did not expect going into this summer job opportunity, was how much she would connect with and learn about other cultures from around the world. This was her first time meeting and getting to know international students, and she was surprised at the incredible relationships quickly made with these students. She made a particularly strong connection with a group of Inner Mongolian teachers studying in the program when they turned out to have many cultural similarities.
During the first Indian Summer's Night event organized in July, Jennifer had invited a friend and well known fancy dancer, Angela Glotto, to perform and demonstrate the Round Dance, an aboriginal friendship dance to bring everyone together as one. In the dance, dancers, depicting leaders of the tribe, pat their feet on the ground of a new tipi site. What was most impressionable to Jennifer was learning that the Inner Mongolians, aboriginals to China, have a similar dance, called the Grass Dance, whereby they do the same.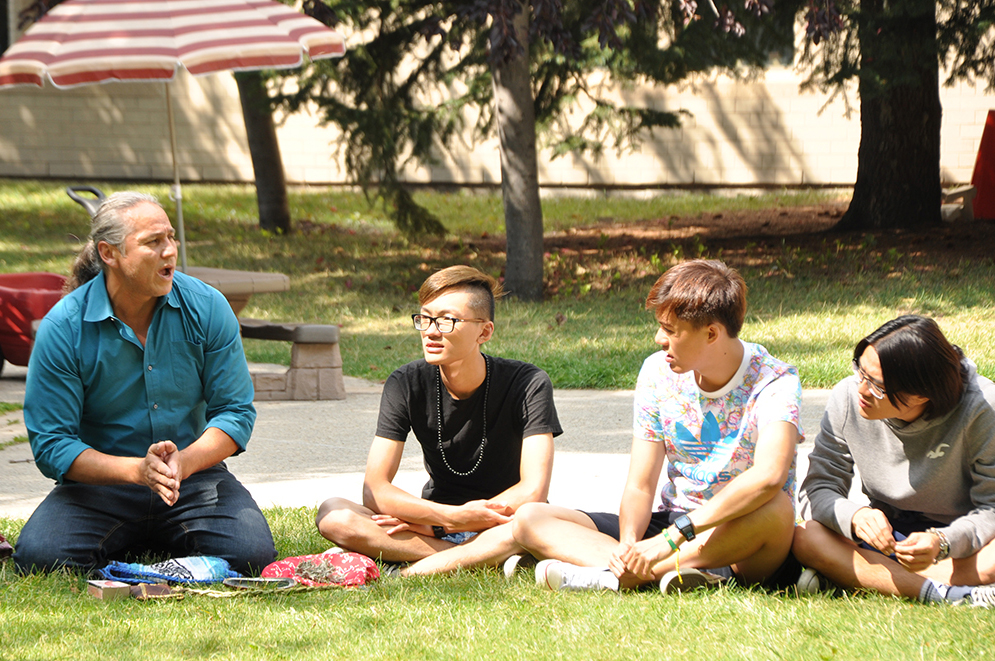 Dion Simon, Iniskim Centre, leads students through a traditional smudge ceremony
"Finding connections between people, such as this, rather than pointing out what separates them, has made my experience as a CAL this summer so enriching," explains Jennifer.
In August the Indian Summer's Night event began with a traditional welcome and smudge ceremony, a ritual cleansing of mind, body, spirit and emotion, offered by Dion Simon, Medicine Trail Coordinator with the Iniskim Centre at Mount Royal. Some more formal aboriginal teachings that Jennifer passed on from her elders followed. She taught students about the Medicine Wheel and its four directions representing the four corners of the world, each having a different gift and keeping the world in balance.
Students then went on to learn how to make traditional dream catchers that are believed to bless the "sleeping ones" with pleasant dreams, good luck, and harmony throughout their lives. The international students were very intrigued by these dream catchers and stayed late to finish making them.
The event closed with a comparison of real traditional aboriginal culture verses that which is depicted in pop culture.
To tie in with Indian Summer's Night, Jennifer assisted in another opportunity to learn about aboriginal culture during a group field trip to Heritage Park. As part of this trip, students visited an aboriginal section to the park and asked questions to native volunteers that had been prepared in advance with Jennifer's help. It was another wonderful opportunity for the international students to actively learn about native culture.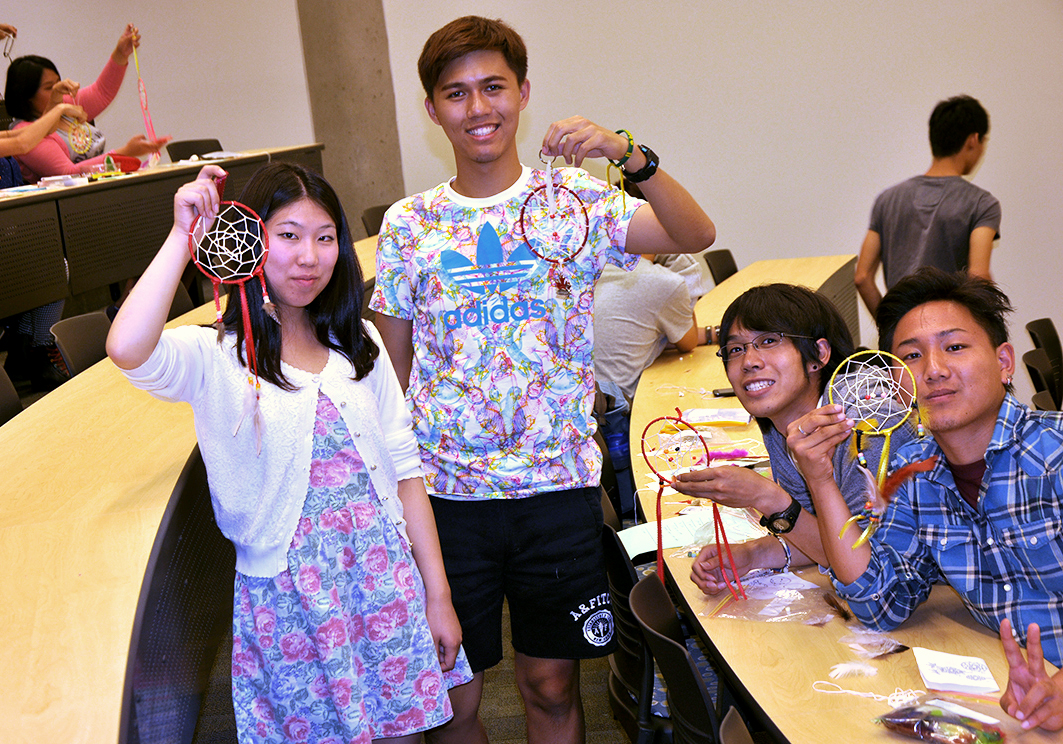 August Summer Immersion students show off their dream catchers
Sheri Rhodes, Curriculum Coordinator in the Office of International Education, commented on what a pleasure it was to have Jennifer assist with the Summer Immersion English Language Program this year.
"We have always tried to bring in a native component to our program, but this is the first time having someone working with us to represent it," says Sheri. "Jennifer had such an amazing rapport with our international students and helped them engagge in their learning."
Jennifer feels fulfilled to have shared her people with others through the Indian Summer's Night events, and thanks to the international students studying at Mount Royal, she has gained a wealth of international experience without even leaving home.
"I feel so proud of having shared my culture with the international students," says Jennifer, "and I will cherish forever how much I have learned and the strong bonds I have made with these students."
Summer Immersion English Language Program Background
Every year, Mount Royal welcomes over 200 students from up to 15 countries around the world to study English for a four week period in either July or August. In addition to formal language studies, many cultural activities and field trips are organised for the students, so that they can learn as much as possible about Calgary, and the surrounding areas. Visit our website for more information on the Summer Immersion English Language Program.
Marisa Norona, October 30, 2014.