Indigenous Strategic Plan set in motion while events connect campus cultures
Raising of the Treaty 7 and Métis flags - Nov. 1On the morning of Nov. 1, the Treaty 7 and Métis flags were both raised to their new and permanent positions on the Mount Royal campus. The event marked an important step towards raising awareness of the history of treaties and Indigenous rights, and symbolized MRU's obligation of reconciling with the past while building partnerships towards the future.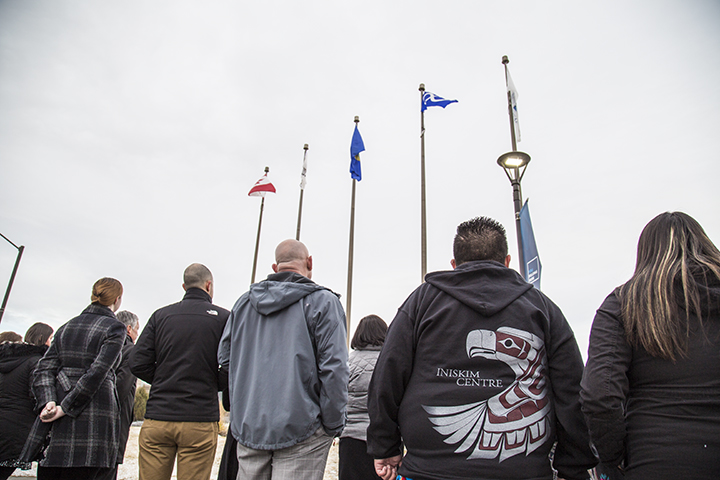 "At Mount Royal we really believe that Indigenous people have the right to meaningful success and access to post-secondary education," said Mount Royal's president, David Docherty, who began the ceremony by acknowledging that the flag-raising was in honour of all students and members of the Treaty 7 Nations.
"I can tell you that this is a great year with the writing and passage of the Indigenous Strategic Plan. The implementation plan is coming, and we are moving forward in so many important ways. We will continue to demonstrate our commitment."
The Treaty 7 flag was raised first by Treaty 7 member, Kelli Rea Morning Bull. MRU student Darcy Turning Robe of the Siksika Nation then drummed the Honour Song before laying an offering at the foot of the flagpole.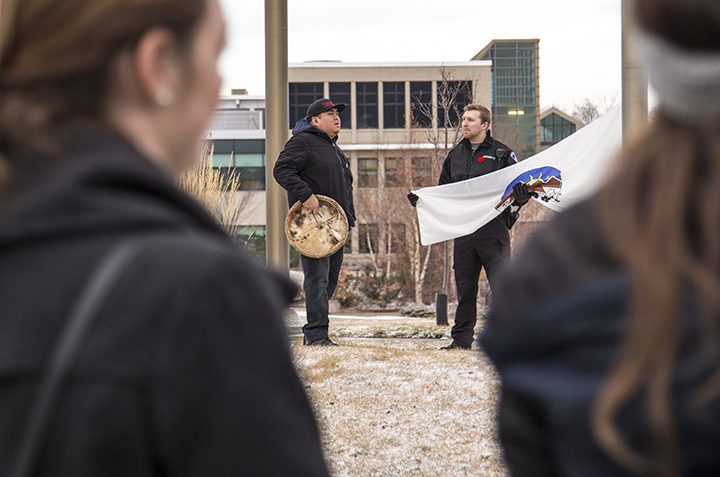 The Métis flag was then raised by MRU student, Micheal Broadfoot, while Breann Denby played two songs on the fiddle: the Red River Jig and Louis Riel, both significant to the Métis culture.
The ceremony concluded with Dion Simon, the Medicine Trail (Naato'ohsokoy) Program coordinator at Mount Royal's Iniskim Centre, who then invited Treaty 7 Nation members to provide remarks. Steve Kootenay-Jobin, events and housing coordinator at Mount Royal's Iniskim Centre, Melanie Parsons, Indigenous recruitment officer and Milton Born With A Tooth, a Blackfoot community member, all commented on the importance of this step the University is taking in forging and maintaining respectful relationships with Indigenous Peoples.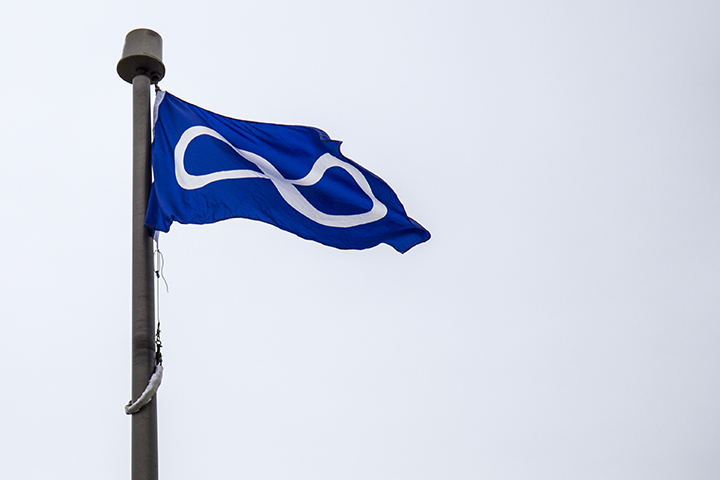 Indigenous Strategic Plan set into actionSituated on the traditional lands of the Niitsitapi, the Blackfoot Peoples and Confederacy, as well as the Treaty 7 Nations, which include the T'suu T'ina Nation, the Piikani Nation, the Kainai Nation, the Siksika Nation and the Nakoda Nations, as part of the University's mandate to provide learning opportunities in an environment of inclusion, diversity and respect, Mount Royal's new Indigenous Strategic Plan has been set into action.
Reflecting 18 months of intensive consultation within the campus and in the community, spelled out in the plan's contents is a clear commitment by the University to make, "space for reconciliation, Indigenous ways of knowledge, learning, ceremonies and culture and create cross-cultural opportunities for all students, Indigenous and non-Indigenous."
Indigenization of the campus one of five strategic priorities for Mount Royal over the next three years.
Honouring Graduates Powwow Saturday, Nov. 5 at 5:30 p.m. ― Wyckham HouseAll Mount Royal, students, staff and faulty are invited to Wyckham House on Saturday, Nov. 5 to celebrate our community and the achievements of Mount Royal's graduating Indigenous student body. The Iniskim Centre's annual Convocation Powwow will begin with a grand entry at 5:30 p.m. There will also be a dance competition, dinner for all guests, a traditional giveaway and 15 free vendor tables.
Held on campus for 22 years, Mount Royal was the first post-secondary institution in Alberta to host such an event. Steve Kootenay-Jobin, housing and events coordinator with Mount Royal University, has been hard at work to make Saturday's event a welcoming spectacle highlighting how Indigenous communities gather in cultural celebration through dance, food and music.
"I want the attendees to know that it is a family event open to everyone," says Kootenay-Jobin, noting that two years ago the powwow became part of Mount Royal's mandate. Hosted in partnership with SAMRU, Indigenous students fundraise, advocate and work hard to ensure the powwow happens each year. It has gathered so much traction that attendance keeps going up.
"We are expanding to the second floor of Wyckham House," says Kootenay-Job.
The event itself is an experience the entire community can enjoy. In 2016 there were 71 graduates total, with 60 from the June ceremony and another 11 from Friday's fall ceremony.
One of those graduates was Jenny Philbrick, who graduated with a Bachelor of Business Administration in Human Resources this past June and is currently working with the Iniskim Centre as an administrative assistant. She has also been helping plan this year's powwow.
"Last year it was packed with 175 attendees, and this year we are hoping to exceed that," says Philbrick.
"Its great community-building all around, you have young babies to elders. I think everyone can benefit from it. It's not just Indigenous culture … it's Canadian culture."
One of the special guests will be Clarence Wolfleg, better known throughout campus as Elder Miiksika'am, who will be the recipient of an Honorary Bachelor of Arts ― Sociology during Friday's Convocation ceremony.
When Philbrick says everyone is invited she absolutely means everyone is invited.
"People can see what our culture is, it's about giving, eating, loving and lots of laughter."
With 15 food vendors, all-you-can-eat bannock and stew, traditional art and beadwork on site, the event promises to be a memorable experience, and you can also expect more than a few chuckles.
"Powwow emcees are always hilarious," says Nicole Misener, a Bissett School of Business graduate from June 2016, who as a student participated in several volunteer initiatives through SAMRU and sat on panels for the Indigenization of the campus. She was also the Indspire representative for the University and part of the BMO Peer Mentorship Program. Upon graduating she received an internship in Nunavut for the summer and is now working in Calgary with local government.
"Humour is a big part of our culture, anyone can benefit from that. And when the dancing begins, I suggest joining."