Faculty, staff and students at Mount Royal University have caught Olympic fever.
Mount Royal will be well represented at the games - participation ranges from athletes going for gold to torch runners as well as musical and engineering contributions.
Here is a rundown of some of the MRU folks involved with the 2010 Winter Olympics: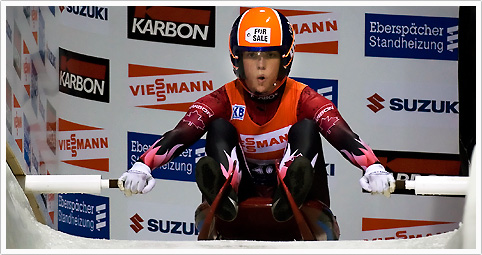 Athletes
Regan Lauscher - alumna, Women's singles luge
The 2005 Journalism graduate and participant in two previous Winter Olympics, lost a year and a half of preparation and competition leading up to the Vancouver Games.
During the last month of racing before departing for BC things finally began to click for Regan Lauscher. The speed still wasn't top-end, but she had four solid races, capping off her pre-Olympic run with a ninth-place finish in Oberhoff, Germany.
"All the fanfare and buzz around the Olympics, sometimes seems like a little too much. Sometimes you just want to go and you want to race and you want your four minutes on the ice. Sometimes you just wish you could just go there, put your sled on the ice and go," says Lauscher.
Check out her website and read her blog.
Mike and Chris Moffatt - alumni, double luge team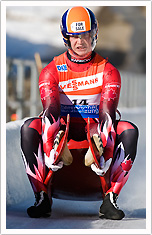 Brothers, Mike and Chris Moffatt(http://www.moffat-moffat.com/Home_page.htm) have both temporarily put their studies - Criminal Justice and Physical Education respectively - on hold to concentrate on their sport of choice, double luge.
The pair, who finished ninth at the 2006 Winter Games in Torino, have been building a name for themselves. As part of the Canadian luge relay team, the pair helped Canada to a bronze medal podium finish in Oberhoff, Germany in early 2010.
Check out their website.
Volunteers
Joey Kaler - student, Bachelor of Applied Business and Entrepreneurship - Sport and Recreation
Joey Kaler will be working with Right to Play - an organization that promotes sport and recreation in developing countries - to highlight the importance of children being involved in sports.
"Working for these events is something I want to do for the rest of my life," says Kaler. "This experience will be extremely rewarding and I'm sure it will help me move on to bigger and better things."
Kaler will be juggling school and the Olympics, but is ready for the challenge.
"The Olympics have a huge impact on the industry I want to work in," says Kaler. "Vancouver will have major benefits from hosting the event. I am really passionate about it, so it will definitely be interesting to be a part of."
Shannon Fera - alumna, Public Relations graduate (2008)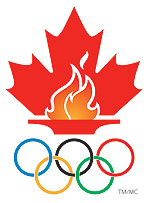 As a Vancouver native, Shannon Fera is thrilled to have the Olympics hosted in her backyard.
The Richmond Speed Skating Oval is where Fera will be volunteering as press tribune supervisor in the media centre, and she couldn't be happier.
"This is a great opportunity to expand my resume and work with international journalists," says Fera.
Anna Melnick - alumna, Public Relations graduate (2009)
Stationed in the Whistler Press Centre, Anna Melnick is ready to put her education to work volunteering in media relations.
"I am so excited to learn how to work at such a fast pace and deal with situations as they come up," says Melnick.
Melnick and Communications Professor Jeremy Berry have also arranged an eyes-on learning experience for his media relations class. Melnick will be Skyped into the classroom and producing a video segment for public relations students.
Leanne Armstrong - assistant professor, Bachelor of Nursing
Leanne Armstrong will be serving as an RN in Whistler in a special mobile medical "hospital" treating athletes.
"I will use my skills as a nurse, I will have a permanent huge smile on my face and I will have an experience of a lifetime!" says Armstrong.
To share her experience, Armstrong will write a blog while in Whistler.

Olympic jobs
Sean Maw - associate professor, Faculty of Science and Technology
Despite spending more than three years engineering and creating new crash pads for the speed skating events at the Winter Olympics in Vancouver, Professor Sean Maw, PhD, would be very happy if they never got used.
"Even though we put our blood, sweat and tears into the pads, ideally no one falls," says Maw, who is also a member of the Board of Directors for Speed Skating Canada. "Yeah, it would be anti-climatic if no skaters fall, but that's what everyone would like - I'd be just as happy if that happened."
It is not lack of confidence that inspires Maw to not want the crash pads that he and Clifton Johnston designed for the Olympics to be used - he just wants the skaters to skate at their best.
"The pads have tested well, but the bottom line is no matter how good the pads are someone can still get hurt. There is no perfect system.
"Athletes have their own stress about performing well and we have ours," says Maw. "I'll be more excited after the Olympics."
Check out the original story Crash Test Smarty, Oct. 2008
Maw will also be writing a blog.
Shelley Fried - Customer Service Supervisor, Recreation
When Vancouver was awarded the games Shelley Fried's boss at the time from Hockey Canada was hired as Director of Ice Sports, and she realized that this was her opportunity to be a part of the Games.
"My job is Sport Information Supervisor and I'll be working at the UBC Thunderbird Arena -home to many of the women's hockey games and practices and a few of the men's games and practices," says Fried.
Check out her blog.
Lesley Dovichak - alumna, Bachelor of Business Administration (2009)
Lesley Dovichak is the coordinator of inventory with the Vancouver Organizing Committee for the 2010 Olympic and Paralympic Winter Games (VANOC).
"Probably the biggest challenge was coming right from school and adjusting from student mode to work mode," says Dovichak.
"I'm used to working at my own pace, getting numerous projects done at one time, when in the real world things take longer because there are different processes things have to go through, different approvals that are needed and it doesn't always happen when you'd like it to."
Read Dovichak's story about working in Vancouver.
Dave Pierce and Donovan Seidle - alumni, Mount Royal Conservatory
These alumni have landed the prestigious Opening Ceremony jobs of music director (Dave Pierce) and associate music director (Donovan Seidle).
Check out our feature story MRU in tune with Opening Ceremony, February, 2010.
Cyndi Williams - regional catering and marketing support for Sodexo at Mount Royal University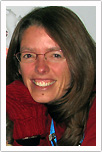 Sodexo beat out the competition to be selected to provide catering and housekeeping services for the Athletes Village in Vancouver and Whistler for the 2010 Olympic and Paralympic Games.
After two intensive rounds of interviews Cyndi Williams received word last year that she would be joining a select group of Sodexo employees from all over the world including, Australia, Dubai, England, U.S.A. and Canada to work at the Olympic Games as a Front House Supervisor.
"I've done events for hundreds of people before but nothing on this scale," says Williams. "To be part of a team that's selected based on our specific skills to coordinate thousands of meals, and have a hand in all the logistics that will be required to pull something like this off without a hitch will be a great learning experience."
Torch runners
Clearly, Mount Royal University carries a torch for the Olympics.
When the Olympic torch crossed the Saskatchewan-Alberta border last week, a Mount Royal University librarian, business student and a journalism alumna each carried it part of the way on its journey west.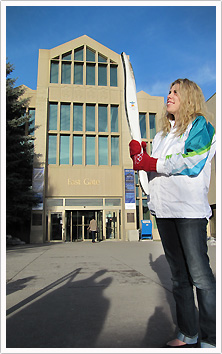 Barb MacLeod - Mount Royal librarian
"I'm thrilled because I'll never be good enough at any sport to actually make it to the Olympics so this is the next best thing."
Fadwa Khourieh - Bissett School Business student
"My family and friends drove out to Claresholm to support me and they all ran along with me. It was something I'll never forget it."
Chelsea Cook Davidson - alumna, Bachelor of Applied Communications, Journalism, (2000)
"I am so moved by this experience of a lifetime and so filled with national pride for our country."
David Legg -Coordinator for the Bachelor of Business and Entrepreneurship program
David Legg, PhD, will be carrying the Olympic torch for the Paralympic Games - March 12 to 21.
"Carrying the torch is a big honour and it's the first time for a Paralympic torch relay," says Legg of his Whistler run. "Part of the excitement is the potential for what it can do for people with disabilities through the coverage of the relay. It will ultimately increase awareness."
The associate professor will also be speaking at two conferences and his podcast is part of Intellectual Muscle: University Dialogues for Vancouver 2010.
Check out our feature story Flexing Intellectual Muscle, January, 2010, or read Legg's blog.