Capturing an International Experience of a Lifetime through an Anthropological Lens
Imagine spending three fascinating weeks submersed in the sights, sounds, aromas and tastes of Sri Lanka learning about its people, past, diverse ways of life and cultural practices; exploring prehistoric caves, UNESCO world heritage archaeological sites, museums, and observing primates in their natural habitat; attending lectures and training by leading Sri Lankan anthropologists and archaeologists, while connecting with and learning from like-minded Sri Lankan students.
Sound like a trip of a lifetime? How about a course of a lifetime!
This, and much more, was on offer to 13 Mount Royal University students who successfully applied to enroll in the inaugural offering of ANTH 2121 - Field Studies in Anthropology - a three credit course with Cluster 3, Tier 3 GNED (General Education) designation which took place in spring 2016.
The Sri Lanka Bio-Cultural Anthropology Field School is an incredible experiential learning opportunity led by Dr. Samanti Kulatilake through the Department of Sociology & Anthropology. The vision of an established international field school in Sri Lanka had been a dream for Kulatilake's since 2011 that began to take shape as a possible reality in 2014.
"Ever since I was hired as a full-time faculty member at MRU (2008), I felt the anthropology program here needed more experiential learning opportunities," explains Kulatilake. "I felt I could contribute by creating a field studies course - particularly to serve students interested in biological and cultural anthropology - and by running such a course in a region where I have scholarly expertise and familiarity."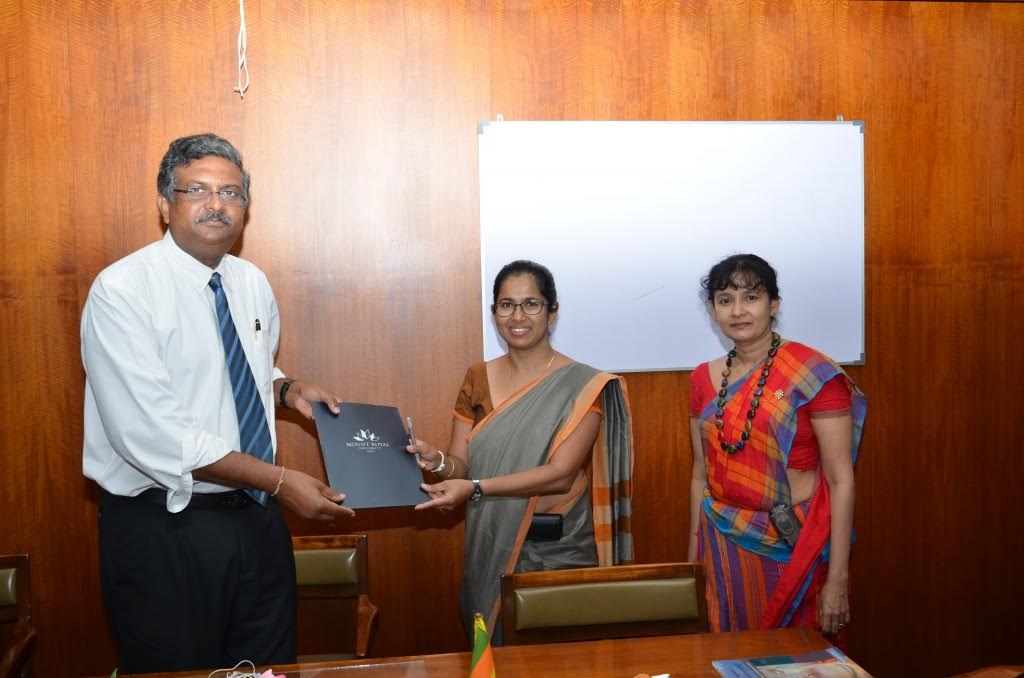 Samanti Kulatilake (centre) with University of Sri Jayewardenepura's Vice Chancellor, Professor Sampath Amaratunge (left), and Professor Charmalie Nahallage (right) during the signing of the Memorandum of Agreement for educational partnership between Mount Royal University and University of Sri Jayewardenepura, Sri Lanka

Establishing the Field School
Kulatilake spent countless hours, over a two year period, initiating, developing, and solidifying the Sri Lanka field school initiative. She began scoping the field school for feasibility in summer 2014, while on sabbatical. Over the two years that followed, she created a curriculum proposal, established and built partner relationships and agreements, informed, advertised and recruited students, and prepared program content and logistics for the spring field school. She also worked diligently on a proposal to assign GNED credit to the field school course and applied to secure grant money for participants.
Kulatilake's history as a past faculty member in Biological Anthropology at the University of Sri Jayewardenepura (USJP), Sri Lanka, allowed for points of contact in order to build a university partnership with Mount Royal, and gave a foundation for the field school. MRU students had an opportunity to connect with USJP prior to departure, were formally welcomed and inaugurated by their hosts upon arrival, attended lectures, and made strong connections with the USJP students through field trips and cultural exchange.
"Having been a faculty member in a Sri Lankan University as well as a practising scholar working in Sri Lanka meant that I had numerous contacts and colleagues who I felt could become wonderful resource persons," says Kulatilake. "I was excited about offering the benefits of an intercultural experience to students both from MRU and USJP."

Following the model of other already established field schools at Mount Royal, the Sri Lanka Field School was naturally set up for success.
"We highly encourage new internationally focused initiatives such as this one," says Dianne MacDonald, Manager of International Education,Teaching and Learning, "as a means to increase international learning opportunities for our students and further internationalize the curriculum and the university, as set out in our strategic plan."
Participants on the field school were attracted from diverse programs: Anthropology, Open Studies, Earth Sciences, and Communications, with the recommendation of having previously completed an anthropology course at the 1000 or 2000 level.
The field school covered a wide range of anthropological subject areas based on student interest. Topics included Sri Lanka's history and prehistory, archeology, biological diversity, indigenous populations, adaptations from the past, cultural practices today, political systems, moral imperatives, ideological perspectives, historical context and connection to globalization, and quality of life.
Students chose projects based on their interests, prior to their departure to Sri Lanka, and worked on a presentation and research paper throughout the international field school. They presented these projects to USJP students and faculty at the end of their time in Sri Lanka, as well as to the MRU community in a showcase this past fall.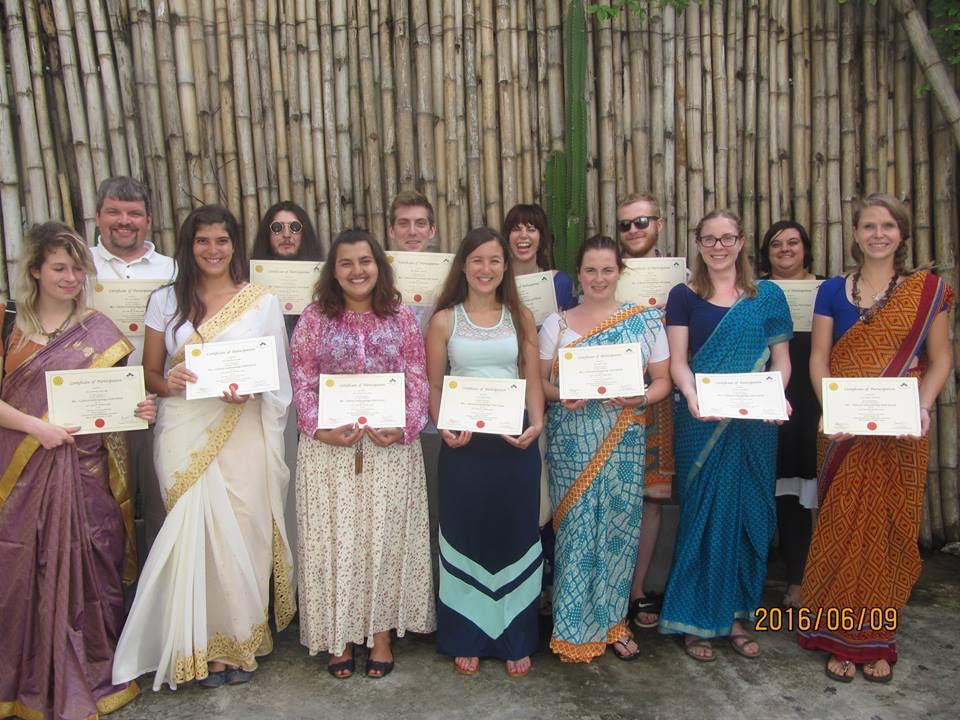 MRU students receive certificates of participation from the University of Sri Jayewardenepura upon completing their immersive experience and presenting their project reports

High Impact Student Learning
The 21-day field school was jam-packed with high impact learning experiences, with the occasional `lucky surprise` that the group happened to stumble upon during their travels.
"Serendipity describes our experiences in Sri Lanka," says Kulatilake. "You find something wherever you go."
Highlights of the trip include visiting six World Heritage sites, including Sigiriya, Polonnaruwa and Dambulla at Demala Maha Seya excavation site where they came upon an ongoing excavation, wildlife observation at Yala National Park, Pinnawala Elephant Orphanage, visits to temples, museums, cultural centres, and a marriage ceremony they observed, by chance, at the hotel where they lodged.
Looking back on their amazing adventures and learning experiences, students say that the Sri Lanka field school enriched them in many ways.
"The field school gave us a different perspective in anthropology," says Tessa Kostashuk, a fourth-year student currently doing an Honours degree in Anthropology, with a minor in Biology. "Our learning suddenly became much more tangible and personal."
Experiencing culture shock and being exposed to different ways of life in Sri Lanka has benefited the students by building resiliency and openness to others. After the experience, Tessa is now certain that she wants to live and work overseas.
"The Field School has opened up so many options for me," she explains. "I now realize how much there is out there to do, and I feel empowered to get out there and do it. These kinds of opportunities are no longer as daunting as they once were."
The students attribute the success of the field school to their professor, Dr. K, as they affectionately call her.
"She took care of everyone, held us together with her energy and enthusiasm," says Kostashuk. "Her insider perspective and passion for the people, language, food and culture of Sri Lanka, made the experience that much more enriching."
For Kulatilake, engagement among her students was top-notch; she really felt that they had grasped and experienced fully what was taught.
"Connecting theory to practice - I could see it happening in front of me," she explains. "There were no blank looks like I sometimes get in the classroom. I could see those light bulbs were on all the time."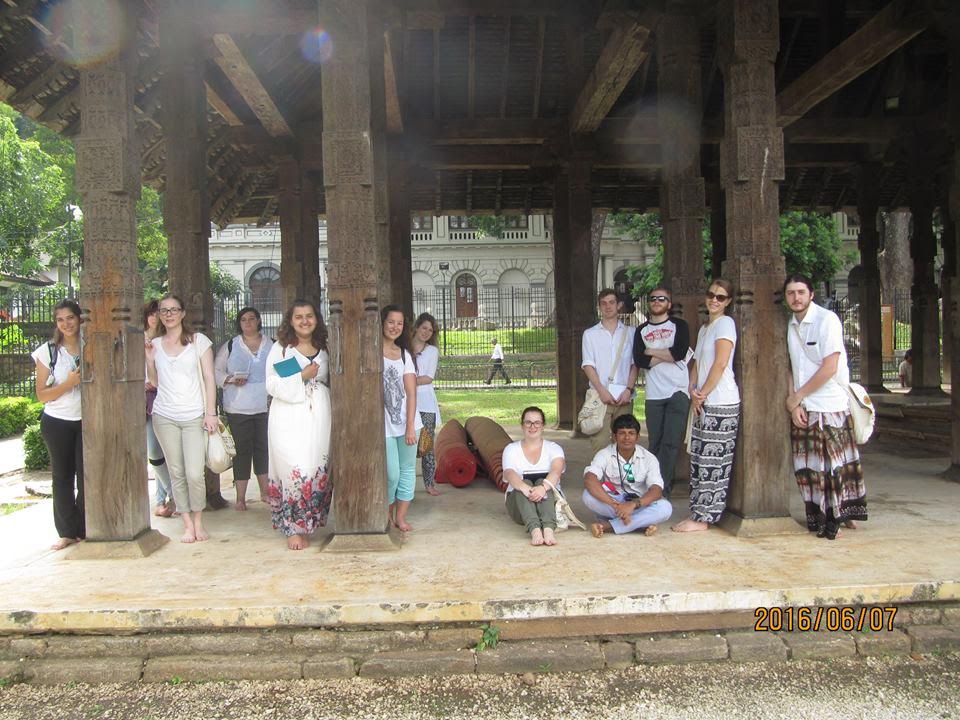 Students pose next to carved pillars with local Field School Assistant, Raveendra Withanachchi (seated right of centre) on the premises of Temple of the Tooth in the city of Kandy

Looking Ahead
Kulatilake is now enthusiastically working towards the next running of the field school in spring 2018.
"This inaugural field school has been a gift that has kept giving," says Kulatilake. "The connections made that continue to flourish between faculty, students and personnel in both countries are too numerous to list. It has been my passion for a long time and now a dream come true!"
Marisa Norona - December 2016