Bachelor of Health and Physical Education students make Olympic bid
Mock IOC panel rides Calgary's Games-hosting momentum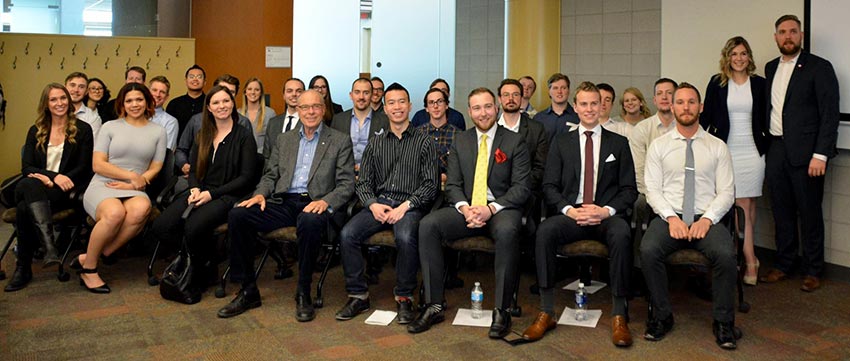 As the City of Calgary's Bid Exploration Committee (CBEC) works on their proposal to play host to the 2026 Olympic and Paralympic Games, a group of 27 Bachelor of Health and Physical Education students didn't hold back when pitching to a mock International Olympic and Paralympic Committee (IOC) April 5.

"It's so interesting to really have an understanding of what goes on in the background," says student presenter Tayler Delannoy. "I mean you see the moments on TV, but you never get to see the build up, the anticipation that goes into it."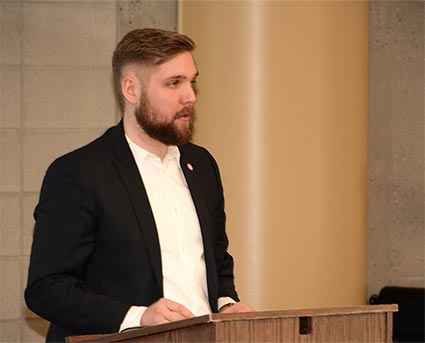 In attendance, and included on the panel, were members of the CBEC, Coun. Brian Pincott, past and current athletes, as well as other leaders from the sector including Frank King, the force behind the 1988 Olympics.

Held annually, the mock bid was facilitated by MRU Professor David Legg. The students were mentored through Skype by authorities from the Paris 2025 and Los Angeles 2024 Olympic Games, and prior to their presentation guest lectures by local colleagues included words from: Ken King (president and CEO of the Calgary Flames); Jeff Daniels (executive director of Sport, Culture & Major Events at Tourism Calgary); Patrick Jarvis (former Paralympian and current executive director at Canada Snowboard); Lois Appleby (former CEO of the 2000 Sydney Paralympic Games and board member of the New Zealand Rugby World Cup 2011); Russell Reimer (executive producer, CBC); Dawn Burke (City of Calgary) and Scott Robinson (CEO of the 2019 Red Deer Canada Games).


"I was so impressed with the work that the students did on the mock 2026 Olympic and Paralympic presentation," says Catriona Le May Doan, past Canadian speed skating gold medalist. "They had some great ideas, they made us as a panel think outside the box, and I love that so many of them will have this background and experience when done their schooling they can bring to any community who is proposing to stage a large event"
"I am currently on the CBEC (Calgary Bid Exploration Committee) and just finished touring and being a part of the 2021 Canada Games Bid Evaluation Committee, and the work that these students did, was first class."
"What was done back in the '80s was not necessarily sustainable, but we as a community should be proud because we're the only winter city that uses every single Olympic facility."

Students were privy to tours of Winsport, Repsol, Mount Royal's Bella Concert Hall and the Scotiabank Saddledome. Much of their presentation was made on the assumption that the CalgaryNEXT project would be completed; however, currently it is unclear how the project will be funded, and if it will even move forward as proposed.

"If there wasn't a project in the pipeline like CalgaryNEXT, I don't think we'd stand the chance with our bid," said Delannoy. "It addresses all of the city's current needs. We have aging facilities in McMahon Stadium and the Saddledome and are still without a field house. This deters other major sporting events or organizations from coming to our city.

"But the question still is - is it the right time? Can we do it better at another location? Or more cost-effectively?"

This is the fourth year that Legg's HPED 3400 - Facility and Event Management class has undertaken mock bids for major sporting events, including the 2022 Olympic and Paralympic games and the X Games.

"The value of this project is found from learning about what an event of this magnitude would take to run," says Legg. "And perhaps, more importantly, is the process of how to work with 25 peers on one project fraught with tension, and then the added pressure of having to present in front of the who's who of Calgary sport.

"That being said they rose to the challenge and I couldn't have been more proud."

April 18, 2017 ― Brendan Greenslade