Former Mount Royal student and The Kids in the Hall funnyman Bruce McCulloch will be at the Bella Jan. 27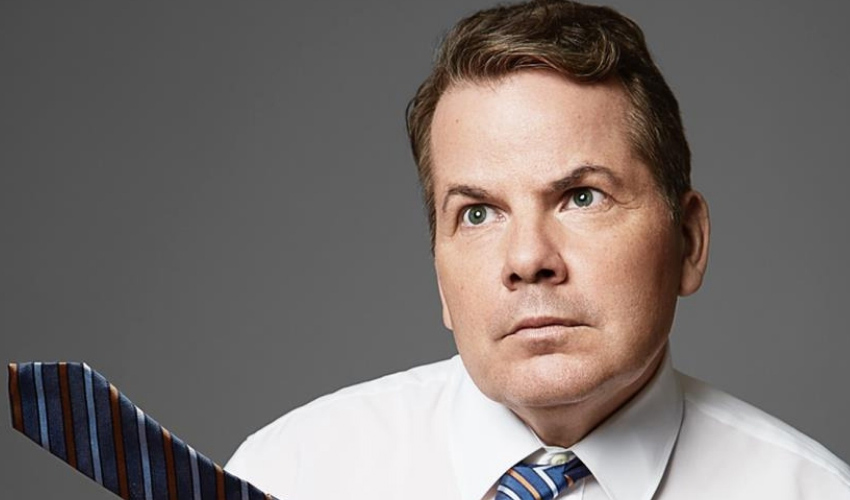 Bruce McCulloch with special guest Cathy Jones
Sunday, Jan. 27 at 8 p.m. - Bella Concert Hall
Mount Royal alumni receive 25 per cent off when checking out. Just look for the alumni option in the drop down!
Growing up in Calgary during the 1980s, Bruce McCulloch's wacky - but deeply observant - sense of humour flew in the face of his hometown's conservatism, which McCulloch describes as "an oilman's and businessman's playground."

His unique outlook led to McCulloch being labelled kind of weird. But he didn't run from the label. He revelled in it. The member of the iconic The Kids in the Hall says his personality leads him to get into trouble "just for the sport of it." He's bringing that impetuousness to the Bella Concert Hall on Jan. 27.
"(The show is) part of a group of stories I'm writing that will be my next book, called Tales of Bravery and Stupidity, which are really about how I get myself into situations, in some ways, almost to create material or to test society's boundaries," McCulloch said in an interview. (His first book, Let's Start a Riot, was released by Harper Collins in 2014.)
"I throw myself into situations for the hell of it and always have. I was talking to my sister about Bagels and Buns in Calgary and how I put my grad suit out the window on a fishing line above the street high enough that no one could grab it, and I just kept it there for weeks until someone stole it. For no other reason than it was interesting to me."
Human nature can be a combination of audacity and irreverence that results in high comedy, and McCulloch is an expert in its examination. After getting his start doing improv with Calgary's Loose Moose Theatre Company, McCulloch moved to Toronto along with Mark McKinney. The pair joined Dave Foley and Kevin McDonald, who were already going by moniker The Kids in the Hall. Scott Thompson was the final piece of the comedy troupe that went on to have its own self-titled show on the CBC. The series, which also aired in the U.S. on HBO, CBS and Comedy Central, ran from 1989 to 1995.
In addition to working on that second book, McCulloch writes and produces shows for network and cable television, including Brooklyn Nine-Nine, Schitt's Creek and Trailer Park Boys. Young Drunk Punk was a popular biographical series celebrating McCulloch's interpretation of growing up in Calgary, a place where fisticuffs were thrown often, but also where it was easy to explore your individuality. McCulloch went so far as to shoot part of the made-in-Calgary series in Brae Glen, where he grew up.
His show biz resume also includes one-man shows such as Two-Headed Roommate, Jazz Stenographers, Slightly Bigger Cities and The Pink Dot Stories. On his latest swing through Calgary, he's sharing the bill with Cathy Jones. Audiences are familiar with Jones' signature gender-bending, side-splitting comedy through her long-running stint as a performer and writer on This Hour Has 22 Minutes.
"I've been a huge fan of Cathy's forever, and a pal of hers, and it just felt like our senses of humour work great together, so we each do a slightly shorter show. There are two people, so it's more interesting," McCulloch said, laughing. "And it's just fun to have another great comedian out on the road with me."
The Mount Royal campus is familiar territory for McCulloch, who took public relations, journalism and business courses while attending college here. The journalism courses ended up being "profoundly important for what I ended up doing," even though he didn't realize it at the time.
"I remember having a teacher ask, 'Well, what's interesting about that? Why should I care about that?' " McCulloch said. "And that's sort of one of the tenets as I write or oversee shows as I do. It's like, 'OK, well, why is that interesting, why is that important?'
"Just because it happened to you doesn't mean it's important. It doesn't mean it's important in terms of fiction or creativity. It has to resonate with people or be funny to people, whatever that is. So, it's not really about you."
While he did manage to absorb that life lesson, McCulloch said, "Mostly I wandered the halls of Mount Royal with all of my work in a green garbage bag because I was such a mess."
Not such a mess that he didn't form lifelong friendships, though. Some of his best friends are in Calgary, past and present denizens of the highly respected One Yellow Rabbit (OYR) Performance Theatre. In a 2014 Swerve magazine article he penned, McCulloch wrote that OYR has "created some of the wildest and sweetest theatre the world has ever seen."
So, even though he spends the vast majority of his time in Los Angeles, it's clear McCulloch still has a soft spot for Calgary … whether it deserves it or not.
Dec. 20, 2018 ― Michelle Bodnar
Media request contact information.
Have a story idea? Please fill out this form.