MRU hosts Canadian youth national volleyball team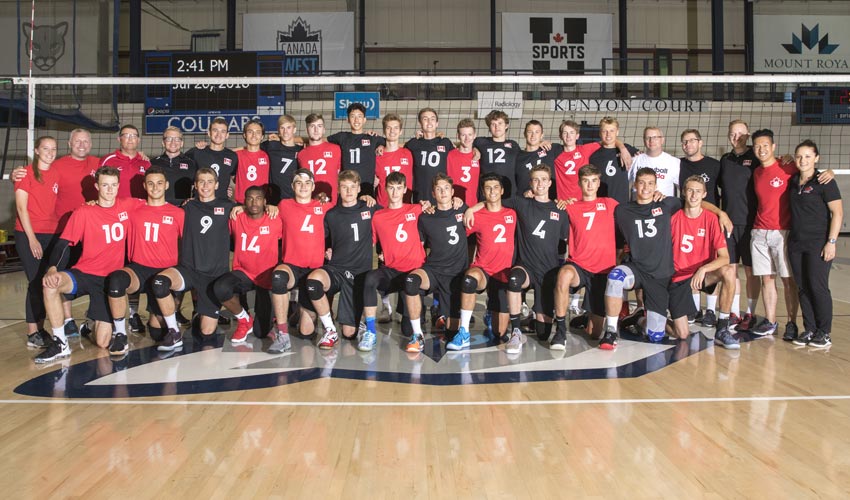 Twenty-eight high school athletes from across Canada came to campus recently to train for Team Canada's youth national volleyball team.

One of the organizers was Shawn Sky, who in 2018/19 will be dedicated full time to his role as head coach of Mount Royal's men's team and co-head coach and program lead for the national squad.

"The week was a great way to showcase what an incredible institution MRU is," said Sky.

Matt Harris, who is also head coach of Ryerson University's team, shares head coaching duties. He said, "Calgary has a really rich volleyball community: it's definitely a high-performance environment."

Sky said there was no way he could have organized the camp on his own. Mount Royal alumni and varsity volleyball athlete Reid Bilben, who now works for Alberta Sport Development, helped set up the week, along with a dedicated crew on campus.

Sky added, "Mark and Blaine at Residence were amazing: they really exceeded our expectations. Bill at Spot On was also awesome to work with, showing that it truly is a community-wide effort."

Alexander Mrkalij from Niagara Ontario was one of the standouts, all of whom are between 15 to 18 years of age. He said with six coaches, there was lots of individual attention. He had compliments for Mount Royal too.

"Having an indoor track and bikes to warm up on right above the courts was really nice," said Mrkalij. "The people here were really friendly and flexible too."

Mrkalij's said his goals were to work on his leadership and build good team relationships. Collaborating as a team is certainly core to Mount Royal hosting Recreation-focused events.

Facilities Usage Coordinator Kim Marchand's job is to generate revenue for the University and most of that money comes from Recreation bookings between May and August.

Marchand said, "We've hit our stride over the past three to four years, with people knowing about our facilities. They like that our gym, fitness equipment and running track are all together."

There are other reasons, beyond the bottom line, to bring groups on campus. Karla Karch, director of Cougars Athletics and Recreation believes those include engaging with community and showcasing our facilities to people beyond Calgary.

Every other year Fit Rendezvous uses Recreation's facilities for its conference, bringing fitness professionals from around the province to MRU. Recreation learns about new trends and technology and makes connections with fitness professionals who may become instructors.

Often the first point of contact for groups looking for Recreation facilities is Event and Theatre Services (E&TS). Brent Mann, director of E&TS sees bookings increase and attributes it to outstanding facilities, central location and a model where you only speak to one person, have one contract and get one invoice.

"We have an incredible culture of "yes" on campus. All the departments work together to ensure everyone who comes to Mount Royal has the best possible experience," said Mann.

There was no rest for Team Canada after the final Friday scrimmage. The next day they were off to Oklahoma to represent Canada among youth teams from around the world. Just like all those that support Recreation groups coming to campus, it's another round of bump, set, spike.
Get more information about MRU Recreation.

July 24, 2018 ― Andrea Ranson

Media request contact information.
Have a story idea? Please fill out this form.