Mount Royal signs Calgary Play Charter in crusade against sedentary behaviours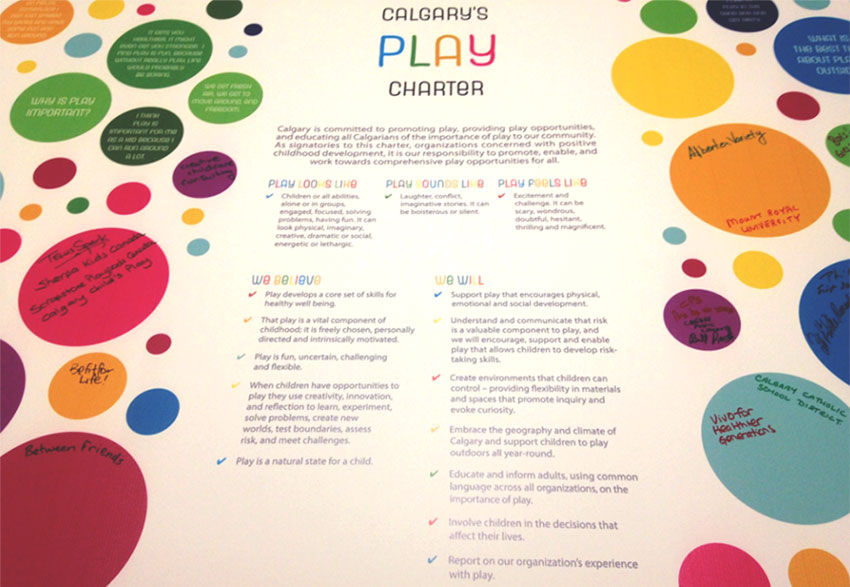 "All work and no play makes Jack a dull boy" is an old proverb that suggests that without time off from work, a person becomes both bored and boring.
In this day and age when children and adults alike are at risk of health complications due to the alarming trend of sedentary behaviors (during the week, Albertans sit for an average of nine hours per weekday and eight and a half hours per weekend day), new actions are being taken to ensure that we kick the risk of becoming physically and socially "dulled".
On Sept. 15, Mount Royal University's dean of the Faculty of Health, Community and Education,Stephen Price, PhD, joined the City of Calgary in making a commitment to support a child's "right to play" by signing the Calgary Play Charter. Mayor Naheed Nenshi and Minister of Sport and Persons with Disabilities Kent Hehr were present for the announcement and joined in signing.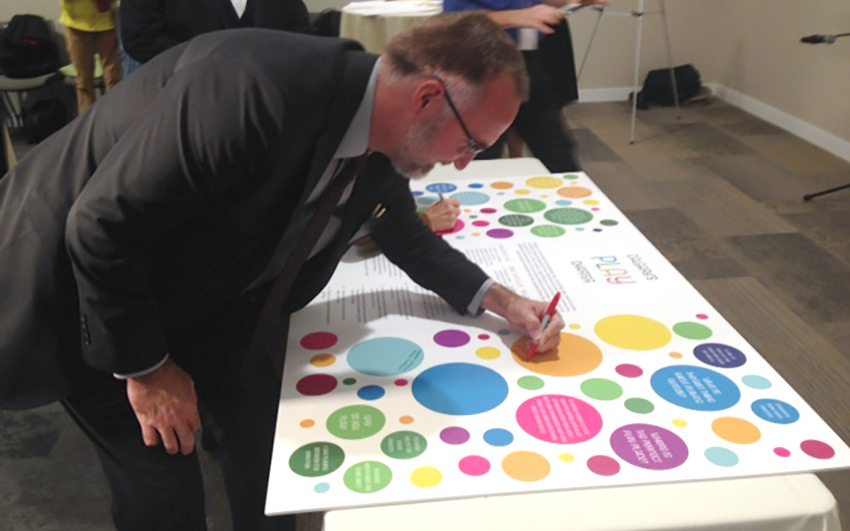 Nenshi says that by endorsing this agreement, the City commits to three things in support of play.
"Firstly, we will continue to lead our YYC play sector team for one more year through November of 2018, when we will host a one-day play charter summit," said Nenshi. "The second is programs and spaces. We will continue to expand the offering of our mobile adventure playground in 2018 and we'll continue with our development of more natural play spaces."
The third tackles training frontline staff across the city in play - best training ever, right!? More than 30 organizations, including MRU, have made the pact and will promote play over the next year.
"As a signatory to the charter, it is our responsibility to promote, enable and work towards comprehensive play opportunities for all," says Price. "By creating opportunities for active play, we are helping children to build the fundamental physical literacy skills that will support active and healthy lifestyles as they age. By facilitating play, we are not only helping to promote physical wellness, but helping to build social skills and create the opportunity for broader social inclusion in a fun and engaging way."
The Charter signing comes on the heels of the Triennial International Play Association conference held at the Telus Convention Centre.
The conference attracted more than 450 delegates from around the world and featured presentations on subjects like the importance of play in nurturing social and emotional well-being and how the design of urban environments help or hinder children's natural drive to simply go outside and play.
Proud to support Calgary's Play Charter to protect and promote 'play', which is integral to helping our kids stay active and healthy. #yyc pic.twitter.com/HRAhA6Gaeq

- Kent Hehr (@kenthehr) September 15, 2017
Price collaborated with both the City of Calgary and Vivo for Healthier Generations for a session that featured close to 30 young students from Vista Heights School "Playshop: Collaborating to Build Active, Playful Cities" where conference participants and children became civic visionaries for the future of Calgary.
This initiative is an extension of past collaborations between MRU, Vivo and the City, including the Leadership Roundtable and Leadership Roundtable 2.0.
"Making play the easy choice requires designing spaces and solutions in our city that are shaped to fit the people that live in it," says Cynthia Watson, CEO of Vivo for Healthier Generations. "Our collective impact work with Mount Royal and the City has seen great evolution over the last five years - from developing evidenced-based solutions in the heart of a community to scaling them at city level."
"Now it's really about co-creating with people in their neighbourhoods to develop local play solutions so they see and experience their community in a new light; feel ownership for their own health; take an active part in "hacking" and changing their city; and measuring the generational impact."
Read more about physical literacy in the Fall 2015 issue of Summit.
Play looks like...


Children of all abilities, alone or in groups, engaged, focused, solving problems, having fun.

It can look physical, imaginary, creative, dramatic, or social.

Play sounds like...

Laughter, conflict, imaginative stories. It can be boisterous or silent, energetic or lethargic.

Play feels like...

Exciting, scary, wondrous, challenging, doubtful, hesitant, thrilling, wonder
Sept. 27, 2017 ― Brendan Greenslade
Media request contact information.
Have a story idea? Please fill out this form.