Transformational thinkers come together for healthier generations
Raising the Bar Leadership Roundtable based on first-of-its-kind research project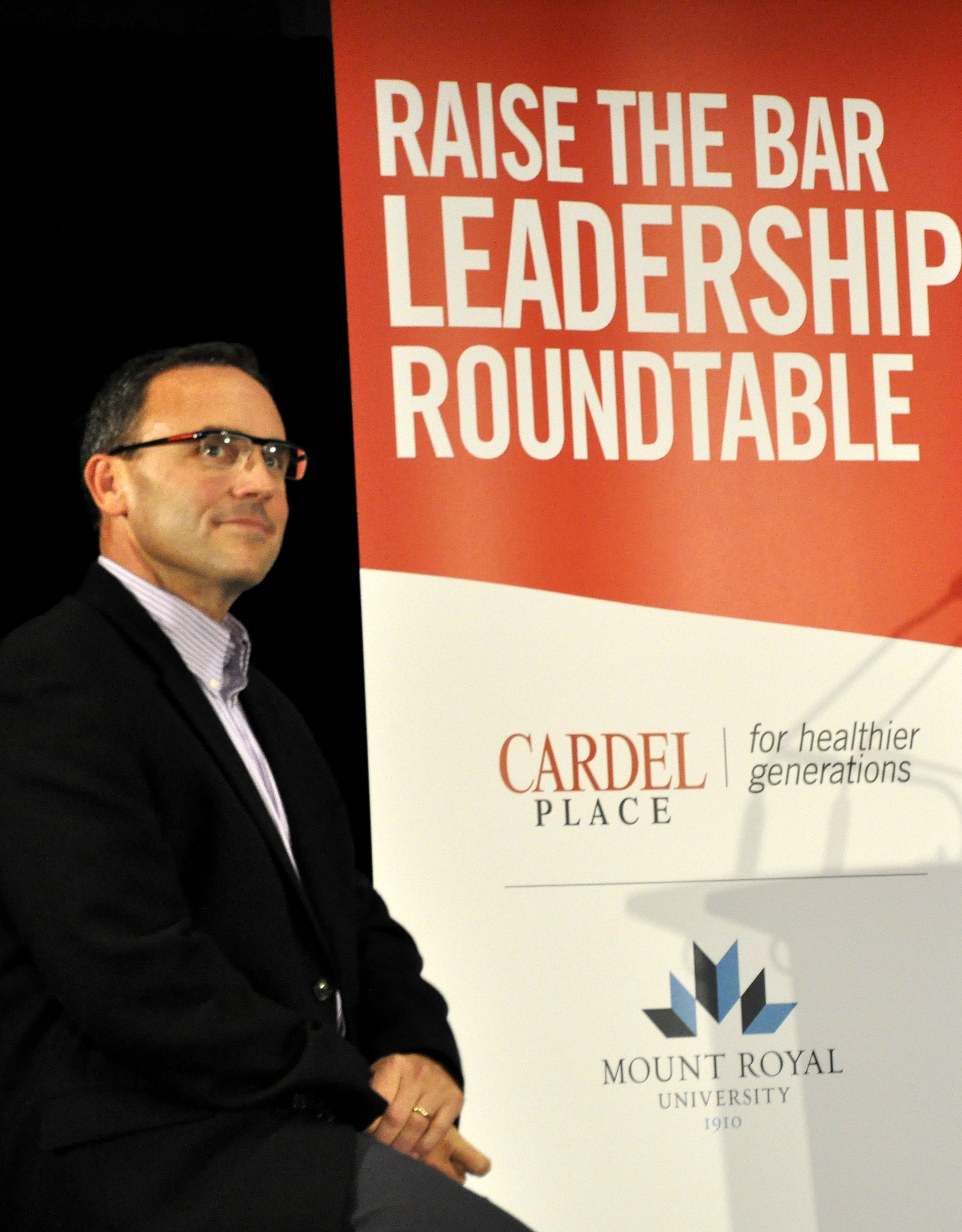 Dean of the Faculty of Health and Community Studies, Chad London, PhD prepares to introduce the "upstream collaboratory"
The detrimental effect of physical inactivity and sedentary lifestyles, especially among children and youth, is a national crisis. One in three Canadian children is either overweight or obese and at risk of health complications normally found only in adults.
It was this staggering fact that brought transformational thinkers to Mount Royal University on Oct. 16 for the Cardel Place/Mount Royal University Raise the Bar Leadership Roundtable to discuss potential made-in-Alberta solutions to curb physical inactivity and sedentary lifestyles in future generations.
"Every Albertan has the right to a healthy life," said Premier Jim Prentice, who spoke on behalf of the province.
More than 110 participants took part in the roundtable, including representatives from federal, provincial and municipal governments, nonprofit organizations, post-secondary and K-12 educational institutions, community groups and recreation centres.
Discussion topics built upon the results of a multi-phase 10-year collaborative research study, The Child and Youth Action Research Project, launched in 2012 between Cardel Place, Mount Royal University, the Flames Foundation for Life, the Alberta Lottery Fund, Allan Markin and Calgary communities. The first phase established baseline fitness levels of children and youth. Moving forward, its evidenced-based work will inform the future business model, design and programming of Canada's public recreation facilities.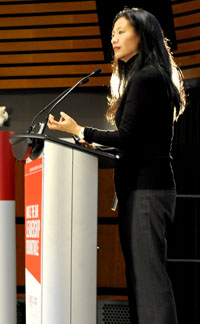 Dr. Karen Lee makes her keynote about adapting infrastructure to encourage more active lifestyles
"The result is what we believe to be the first research partnership between a Canadian public university and a Canadian public recreation social enterprise," said Sue Scott, CEO of Cardel Place, a charitable organization dedicated to healthy living, innovation and community building.
Dr. Karen Lee, a longtime proponent of healthy community design, stressed the need to encourage policy makers to break out of current infrastructure design patterns, "to create desirable places to live, work and play." A longtime proponent of healthy community design, she stressed in her keynote address that it does not necessarily cost a lot of money to make changes with impact.Lee cited a successful campaign in Bogota, Colombia that encourages physical activity such as biking and walking. Labelled "pedestrianism", main streets are closed to vehicles on certain days such as Sundays, open only to pedestrians and cyclists. These closures have resulted in up to 1 million people walking or biking on these routes each week, and the benefits are not just to the health of the population.
"Benefits seen from this simple, relatively inexpensive change are an increase in community gatherings and safety as large groups of people are out in urban areas and there is also a positive economic impact as local shops see retail sales go up as a result of an increase in foot traffic," Lee said.
Chad London, PhD and Dean of the Faculty of Health and Community Studies, noted in his presentation with Cynthia Watson, director of Cardel's Canadian Academy for Healthier Generations, that this research is creating a blueprint for future generations that requires making a commitment to look upstream for solutions to a generational issue, namely, the effects of a sedentary lifestyle. Positioned as an "upstream collaboratory", the MRU/Cardel partnership will be a platform for further cooperation between the two organizations and included an open invitation for participation from all other industries and sectors.
Co-chairs of the roundtable were the Honourable Michelle Rempel, MP, Calgary Centre-North and Minister of State (Western Economic Diversification), and David Docherty, PhD and president of Mount Royal, who closed the day by encouraging participants to "continue the collaboration to find new and innovative ways to help future generations live healthier lives."

October 17, 2014 - Melanie Veriotes