Mount Royal celebrates Employment Preparation graduates
Student success stories highlighted at ceremony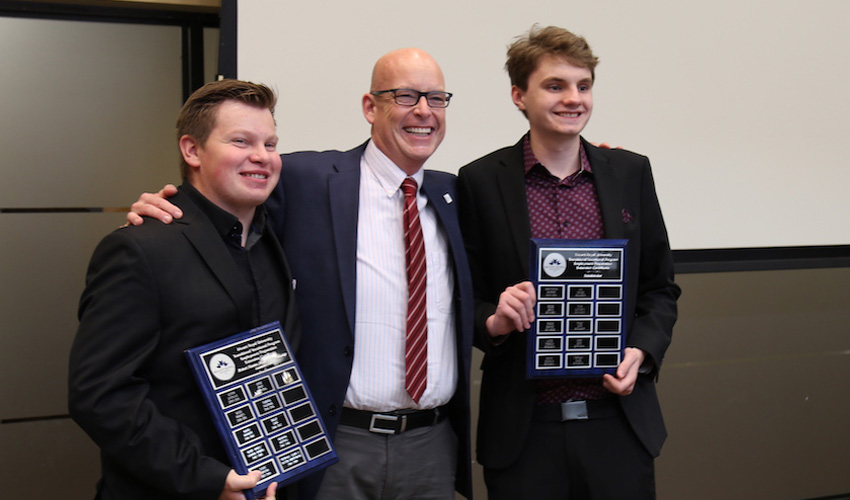 Proud parents, relatives and friends joined staff and faculty from Mount Royal University in honouring 20 graduating students of the Employment Preparation Certificate program this weekend.
The year-long program - offered through Mount Royal's Transitional Vocational Program (TVP) - prepares adults with developmental disabilities for competitive employment and community living. TVP combines on-campus instruction with community-based work practicums.
"Life is a journey, with many different paths. We are leaving one and moving on to the next as our journey continues," said valedictorian Nicholas Slade. "We will continue to grow. The experience we had through our program will help us to choose our paths wisely. . . . TVP provided me the skills to thrive at my new job and I intend to make the most out of this opportunity."
Slade, 19, is a labourer with Attabotics. He moved into a full-time position with the Calgary company after completing his work practicum with the business that supplies robotic logistics.
"It's a very interesting place to work. The people are really friendly and helpful, too," he said. "I build structures and robots. I enjoy the work. There are workplace events, too, that are great."
He enrolled in TVP after graduating from James Fowler High School. Slade's family - father Bob, mother Sherri and brother Matthew - were in celebration mode at the graduation ceremony in the Lincoln Park Room.
"We've seen a great improvement in him socially (since starting the program). He's more confident and outgoing," Sherri said, while Bob added his son is more expressive and now has a group of friends from Mount Royal. "From work, I want him to get a sense of independence. It's also about recognizing that he is an active member of society, that he is contributing - and can continue to contribute - to the community."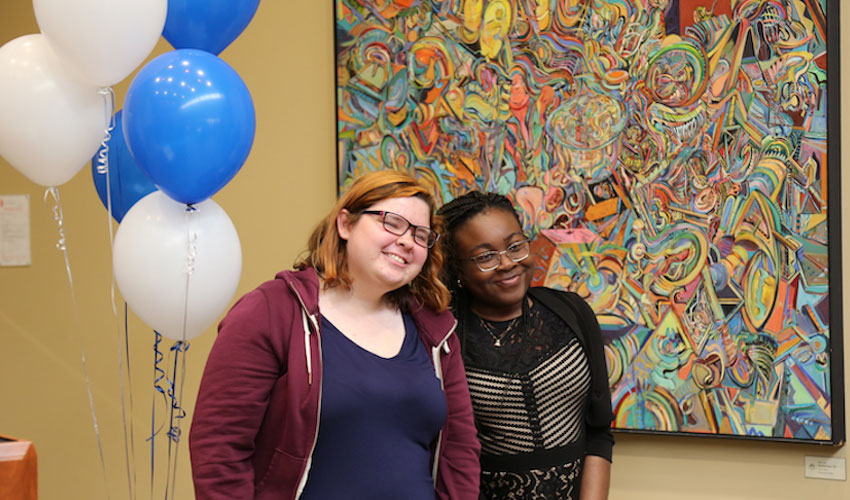 Mount Royal University President and Vice-Chancellor Tim Rahilly, PhD, congratulated the graduates on their commitment and determination over the course of the program that combines on-campus instruction with community-based work practicums.
"You have kept going, even when it was hard. The experience you gained during your work practicums will serve you well in the future," Rahilly said. "You have new skills and knowledge, and a community that believes in you, that believes you can achieve what you set out to do."
Austin Repetwoski, this year's co-recipient of the Robert Hunter Award along with Slade, said his time in the program helped him "be a better version of myself, has given me the tools to help others and understand my strengths and what I need to work on."
Students in the program voted for their choice for the memorial award, which recognizes leadership. Repetowski, who volunteered at the Trico Centre for Family Wellness over the course of the summer, is now employed at the Centre's after-school care program.
"Leadership to me isn't really about leading, but giving support to the people around you with positive energy, helping the best you can, including people in what you do and always putting your best foot forward," Repetowski said. "Taking my experience from this year, I am excited for what is to come in the future."
Brad Mahon, PhD, dean of the Faculty of Continuing Education and Extension, said he is "incredibly proud" to be part of the group that supports the TVP program. In addition to the employment skills and knowledge the students gained, he celebrated the friendships they forged during their time at Mount Royal. Mahon also thanked staff who support the students in their achievements and wished graduates the best on their next journey.
"You're a more independent person than you were a year ago. You navigate the world with more confidence. You know you have what it takes to succeed in the workplace," Mahon said. "Take what you've learned here at Mount Royal and at your job placements and use it to reach your goals at work or in your personal life."
Alberta's Minister of Community and Social Services, Rajan Sawhney, also attended the event. This year's recipient of the Greatest Improvement Award was Brendon Lockhart.
Learn more about the Employment Preparation Certificate, part of Mount Royal's Transitional Vocational Program.
Sept. 16, 2019 — Ruth Myles
Media request contact information.
Have a story idea? Please fill out this form.