International Education Day Brings Smiles to Students and Staff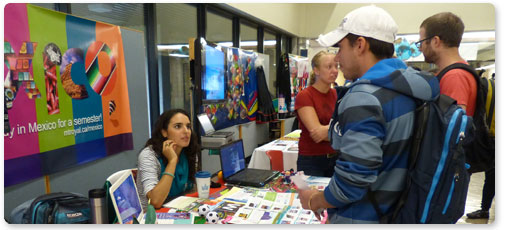 On Wednesday, September 18, 2013, the Office of International Education transformed Mount Royal's Main Street into an international avenue in an attempt to highlight the various international opportunities available to Mount Royal University students and staff.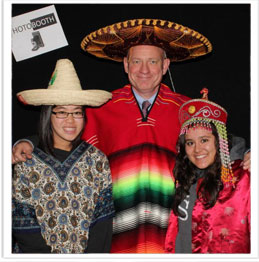 MRU's President, David Docherty, dresses up and poses with students for the International Education Day photobooth.
Several past exchange students came out to share their stories and help interested students. For Amber DeKam, participating in IE Day brought back many fond memories from her time studying at Massey University in Palmertson North, New Zealand.
"I wanted to volunteer for International Education Day so that I could share my experiences with other students who may have just recently been on an exchange, or others who were curious about leaving for an exchange."
Amber says she wouldn't have followed through on her exchange had she not been reminded by the Office of International Educations outreach events like these.
"Participating during IE Day was really great. It reminded me that my trip was not just a dream and I got to share a really meaningful experience with others from MRU. My study abroad experience has given me the chance to have lifelong friends from many different countries."
Amber and other MRU students were joined by many international exchange student currently studying at Mount Royal University. These students talked about their country and universities and brought many items from their country to display. Jose David Arroyo Holguin and Mónica Real from the Universidad de Colima in México spent all day on Main Street at the México booth promoting their University.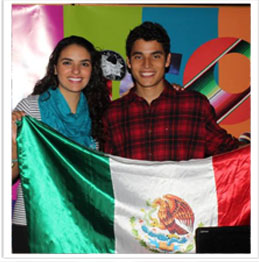 Jose David Arroyo Holguin and Mónica Real promote their University at this years IE Day.
"I wanted to bring more than just academic information to the day. I wanted people to see there are exchange students here interested in other students going abroad" said Jose.
In addition to the study abroad information booths the Students Association's Cultural Mosaic Center hosted a World Trivia Challenge and information booths for the Japanese English Teaching Program and AIESEC Chapter were set-up to showcase the variety of international opportunities available to the Mount Royal Community.
Traditionally, International Education Day has been celebrated in November as a part of Canada's International Education Week; however the Office of International Education decided to create smaller events throughout the year in an attempt to celebrate and engage all students.
This year the Multi-Faith Chaplaincy and the Office of International Education will celebrate Canada's International Education week with a Ten Thousand Villages sale on Main Street. For more information about International Education events, click here.
- Andrea Morrow, October 2013