MRU involved with CIDA project in Ethiopia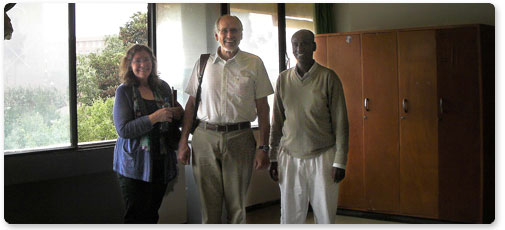 Susan Jacoby, Dr. David Zakus and Ethiopian partner christen their new office.
In February 2013, the exciting new project "Protecting the Health of Pregnant and Delivering Mothers and Newborns in Ethiopia: A Systems Approach to Strengthening Skilled Birth Attendance and Referral" funded by CIDA, received the final approvals and was officially announced by the Federal Minister at the University of Alberta, the lead partner for the project.
MRU is involved in this 5 year project through the Midwifery degree program in the Facult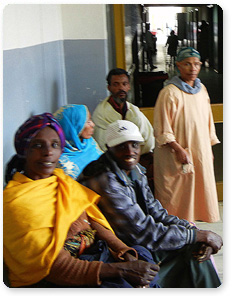 Patients wait patiently in Ethiopia hospital.
y of Health and Community Studies. Associate Professor, Debbie Duran-Snell took part in the initial needs assessment mission to Addis Ababa in late February and the MRU team, led by Vince Salyers, Associate Dean and Dianne MacDonald of the International Education Office has been actively involved in the final development of the Project Implementation Plan (PIP) which was submitted to CIDA at the end of May. In June a team of three MRU faculty members will return to Ethiopia and together with Ethiopian counterparts, the foundation will be laid for the establishment of the program, working relationships to enable strong collaboration will be established. The needs assessments and inventories will be carried out to provide the needed
background information and networking for the development of the curriculum and the planning of the first course, to be started in the first half of 2014.

-Lorna Smith, May, 2013