Leaving a lasting legacy of passion
Twice a year, Mount Royal University says farewell to a new group of students, eager to begin their lives and careers. Although these new alumni move ahead in a new direction, these remarkable individuals will always be a part of the University's rich history.
To honour this growing network of more than 85,000 alumni who are leaders in their lives beyond campus, Mount Royal hosts its annual Legacy Awards Dinner. Legacy Award recipients are outstanding graduates, students and, above all, citizens - individuals who understand the importance of using their knowledge, expertise, time and energy to give back to their families, communities, professions and employers.
This year's Legacy Awards dinner will be held on Thursday, Sept. 20 and will celebrate four alumni and one current student who have made significant contributions and achieved remarkable results from their endeavours.
Horizon Award
Amanda (Whelan) Hamilton, Bachelor of Applied Interior Design, '05
Hamilton's passion for design extends beyond the studio into all aspects of her life.
The Horizon Award recognizes the outstanding achievements of alumni early in their careers, and Amanda Hamilton has shown exceptional drive and commitment to her work and to making Calgary's spaces beautiful.
In just six years, Hamilton has launched her own business and carved a niche for herself and her team of fellow Mount Royal graduates in Calgary's interior design marketplace. The same combination of self-direction, energy and focus that she has dedicated to pursuing her craft and qualifications has also helped to promote the integrity of the profession as a whole.
"I am so passionate about my work and design," says Hamilton. "Design is an integral part of our lives - the jewelry you wear, the chair you sit in, the countertop you cook on, the road system you drive on, the city you live in - every single thing is designed."
Hamilton takes her business and responsibilities to the profession seriously. She thrives on pushing the boundaries and creating a motivating, fun environment in her studio. Her "design like you give a damn" motto sums up her professional philosophy and is reflected in her many well-known bar and restaurant projects in Calgary, including her pride and joy, the newly opened 80th and Ivy as well as homes in Aspen Estates and Britannia.
Outstanding Alumni Award - Professional Achievement
Timothy (Tim) Morris, Broadcasting Diploma, '97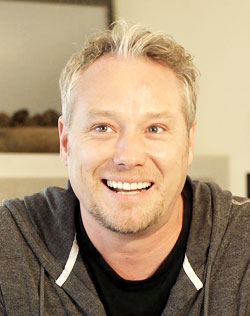 Tim Morris' passion for music has driven his incredible career.
For many people, finding what you love and turning it into what you do for a living is the secret to a successful career . Tim Morris is indisputable proof of that belief put into action, working for some of the biggest artistic and creative organizations in the world and starting his own business.
"My career path was always driven by my love for music, from the time I was ten years old," says Morris. "Naturally my jobs have all kept me close to music."
Morris' career began in Calgary radio stations, but his transition to the marketing realm led him to New York, Chicago, Los Angeles and Cannes, France. He became the director of marketing, Western Canada, for Universal Music Group in 1999, where he worked with global artists including U2, Elton John, Diana Krall and The Black Eyed Peas, among others.
His expertise in social media and online partnerships, advertising and marketing was instrumental in his success as vice-president, Business Development, Consumer Marketing for Getty Images - the world's leading imagery provider. His efforts were key to the launch of the company's consumer division, and he worked closely with Time Inc. to develop and launch Life.com, seeing the marketing potential of Twitter well before others in his field.
Morris co-founded Mega Music Canada in 2010, which provides Canadian artists with dedicated digital platforms for marketing on radio stations across the country.
His personal philosophy is to live life with purpose and fulfillment - bringing his passion for music and children together by contributing hundreds of CDs to the Alberta Children's Hospital to support the music library.
Outstanding Alumni Award - Community Service
Roland (Rollie) LaHaye, Correctional Careers Diploma, '70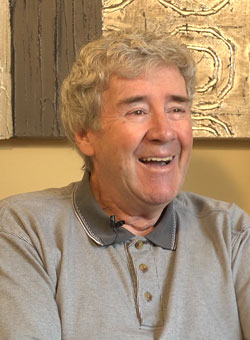 Rollie LaHaye's commitment to Mount Royal and justice in the community has inspired thousands of students.
For the last four decades, few people have been as committed to their community and Mount Royal as Rollie LaHaye. LaHaye has spent the last 50 years making Calgary a better place as an advocate for victims of crime, youth crime and policing.
His continuing 35-year tenure as a highly respected instructor in the Justice Studies program began at Mount Royal in 1976. He has taught an estimated 5,000 students who now serve the community in their own way.
For LaHaye, working in the community defines what it is to be alive. "If you go to your grave without having contributed something back to your community, I think you've missed the greatest part of what you could become," he says.
His commitment to student-centred instruction is reflected every day in the support he offers and in the efforts he makes to enrich learning. For 20 years LaHaye led the world-class biennial Realities of Life and Justice conference and workshop that brought some of the most respected names in the criminal justice and support services fields to Calgary.
LaHaye is a member of the Calgary Social Workers for Social Justice Committee, volunteer director with the Calgary Police Association House and was recently named president of the Canadian Criminal Justice Association. He was also an advisory board member for the LifeLine program which helped people with life sentences successfully reintegrate into society once they were paroled.
The recipient of the Guardian Angel Award from the Mount Royal University Students' Association and a Distinguished Faculty Teaching Award, LaHaye continues to be an inspiration to students.
Lifetime Distinguished Achievement Award
Colleen Abdoulah, Public Relations Diploma, '79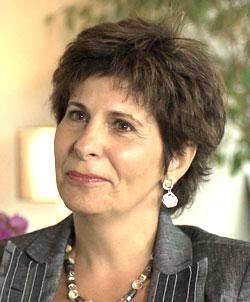 Colleen Abdoulah has testified in front of U.S. Congress on behalf of cable providers.
Colleen Abdoulah has blended her professional abilities and personal style to reach exceptional heights, and today is the only woman leading a top-nine U.S. cable company.
As CEO and chairperson of WideOpenWest (WOW!), - an internet, cable and telephone company headquartered in Denver, Colo. - Abdoulah has guided corporate growth of 800 per cent since 2002, while simultaneously creating an organization that has earned an impressive 12 J.D. Power & Associates awards for customer satisfaction.
Abdoulah employs a philosophy that sees management actively serving on the front lines and engages employees in decision-making initiatives, which have made WOW! a model in the industry.
"I think it's incredibly important as leaders that you build trust," says Abdoulah.
"We all know how we feel when we trust somebody. They're consistent, they're dependable, they're honest. They walk their talk. I know that the reason we have a very high level of trust at WOW! is that we mean what we say and it applies to everybody at all levels of the organization, starting with our core values."
Abdoulah currently serves on the boards of the American Cable Association, C-SPAN and the Women's College of the University of Denver. She also supports the Women's Global Empowerment Fund.
Outstanding Future Alumni Award
Julia Pasieka, Bachelor of Arts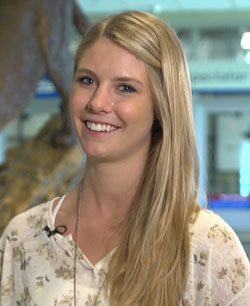 Julia Pasieka's passion extends to every aspect of her life.
While every Legacy Award winner is undoubtedly passionate about what they do, only one of them has gone the extra step to make it permanent, Pasieka sums up all that she does with one word - passion - which she has tattooed on her leg as a reminder to give 100 per cent to everything she does. Pasieka is in her final year of the Bachelor of Arts - English, and has consistently maintained a 3.9 GPA.
"I love being challenged and exceeding people's expectations," says Pasieka. "You have to be passionate about everything and I'm putting 100 per cent into everything I do."
Pasieka is a stellar athlete and is a member of the Cougars women's volleyball team, who are the reigning provincial and national champions of the Alberta Colleges Athletic Conference (ACAC) and the Canadian Collegiate Athletic Association (CCAA). After graduation she plans to continue her education in a post-graduate program, with the goal of becoming a teacher. She dreams of helping children grow into who they are meant to be.
- Colin Brandt, Sept. 20, 2012