Liberal Education Conference looks for truth amidst the noise
Department of General Education co-hosts second annual event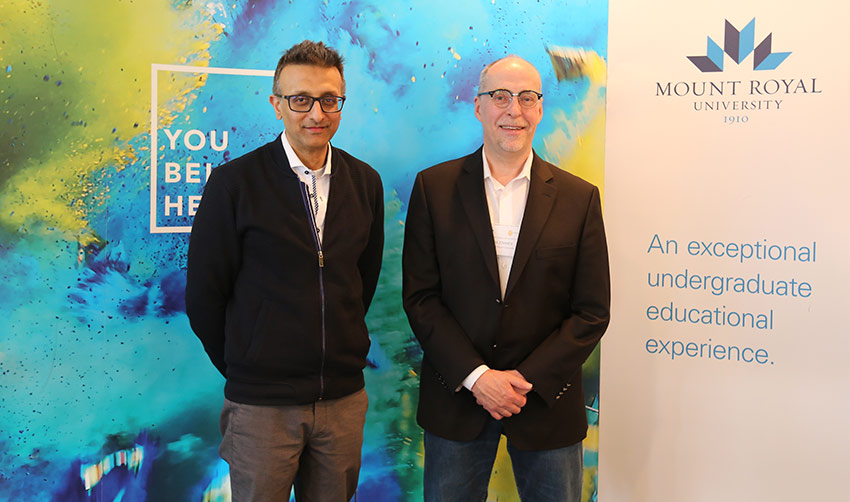 As we are bombarded by more and more information, much of it just a click away on our phones, the credibility of that information seems less and less reliable. What is true? What is fake?
While traditional media has been brought to its knees by the economic might of Facebook and Google, the Internet has also meant anyone can "publish" whatever they want. And while social media has helped foster positive social change, it has also led to a morass of biased information disguised as news with the intent of misleading citizens.
In the midst of this digital sea change, the Department of General Education at Mount Royal University and the General Education Department at Medicine Hat College held the second Liberal Education Conference May 3 to 5 at The Westin hotel in downtown Calgary. This year's theme was: "Can a liberal education make you a better discerner of truth?" The conference featured a variety of paper presentations and discussions, many focusing on the nature of truth, threats to truth and how truth relates to a liberal education.
General education is a foundation of the undergraduate experience at Mount Royal and a requirement for graduation from any program. The intent is to produce well-rounded graduates who are prepared for more than a career. An arts grad, for example, might take science or math courses while a math graduate may emerge well-versed in political theory. This cross-pollination is more than electives, it is a requirement for graduation, and stems from a belief that while a university education should lead to a career, it also prepares graduates to "lead the dignified life of a citizen."
The conference built on last year's event that explored the very "idea" of the university.
"What we're hoping is that academics, colleagues and students who come to the conference will try and make a case for or against whether there are some intellectual virtues in a liberal education that help us better discern what is true or false," said Karim Dharamsi, PhD, and chair of the Department of General Education at Mount Royal. "Perhaps the underlying assumption that the conference committee wishes participants to interrogate is whether more education is better for you and whether a liberal education, that includes scientific and mathematical literacy, will make you better able to discern what is true or false."
Part of that is combatting the echo chamber effect found on social media where people tend to speak, or rant, to others who already share their views, but, says Dharmasi, is also found in academic over-specialization.
"People generally, it seems to us, will tend to gravitate towards information ecologies that feed into their own prejudices. We're trying to suggest that that's not the healthiest approach to higher learning or to preserving our democratic, pluralistic order," said Dharamsi. "It's good to know your interlocutor, to understand her or his position and to give that position a full hearing even if you disagree with it. It's crucial to understand what you're disagreeing with. It is important to recognize that rational people of good will can have beliefs that differ. Of course, others may reveal that the case they're making is weak but you'd only know that if you're patient and take some time to figure out what the other side is trying to say."
The conference attracted 57 presenters from as far away as Iceland and the Philippines, as well as the U.S. and Canada. They included many from traditional liberal arts disciplines like philosophy, English, journalism and Indigenous studies, but architects, mathematicians and musicians also attended.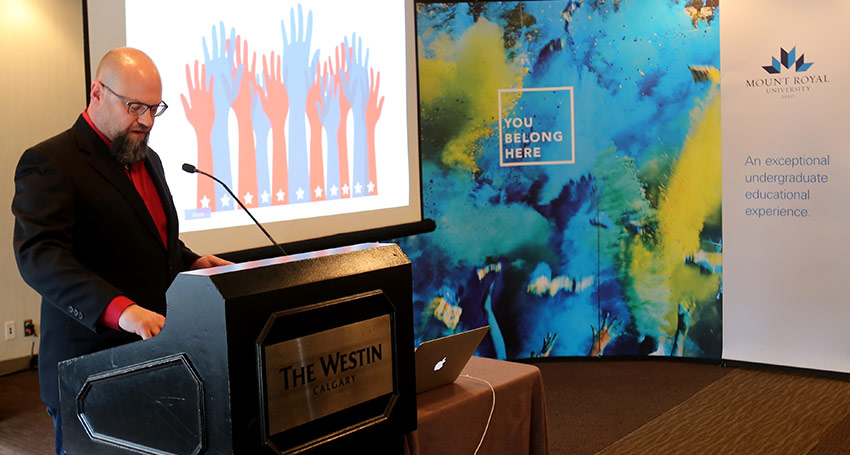 First up was Jason Openo from Medicine Hat College who presented a paper called, "The Discourse of Crisis in Higher Education: Fake News or Real Emergency?"
Openo said the popular discourse of crisis in post-secondaries is alive and well and propagated by news media in areas ranging from cost to students, to lack of jobs for liberal arts grads, too many contract faculty and poor teaching methods. Evidence suggests, however, that reality is rosier with grads enjoying good jobs and satisfied with their advanced education.
Keynote speakers included Tracy Friedel, PhD and Canadian Research Chair in Indigenous Studies at Mount Royal University, and Andrew Moore, PhD, professor and director of the Great Books Program at St. Thomas University.
Dharmasi said the partnership with Medicine Hat College has been valuable and supportive with the college offering a general education program in co-operation with Mount Royal.
"In a world where facts are willfully ignored or conveniently dismissed, questions of citizenship are diluted to consumerism and truth is manipulated to suit certain ends, liberal education can play an important role in correcting the problems," said Navneet Kumar, PhD, instructor in Arts, Education and Business and co-ordinator of General Education at Medicine Hat College and a member of the conference's organizing committee.
"We in Medicine Hat or Calgary are not immune to the vagaries of such truth claims and hence the need for our students to be a part of the global community armed with intellectual resilience and ethical considerations becomes all the more timely and necessary. The value of liberal education lies in a broadening of perspective and vision, discerning dogma and incredulity towards unquestioning acceptance of facts."
Mount Royal's Department of General Education ensures a well-rounded degree.
May 8, 2018 ― Peter Glenn
Media request contact information.
Have a story idea? Please fill out this form.