Turning personal stories into professional acclaim
For many people active online, writing about yourself and what's happening to you has become a natural extension of the medium. In the age of the constant Facebook update, the blog and the tweet, more people are writing about their personal experience than ever before, and the signal-to-noise ratio has become overwhelming for many. How, then, do you take a personal experience and write about it in a way that cuts through the chatter - turns a story about your own life into something more universal?
Faced with this task, two students from Mount Royal not only found a way to write meaningful pieces of personal journalism, they were nominated for the Alberta Magazine Publishers Association's 2013 Showcase Awards for Best Emerging Writer, presented on Thursday, March 14.
Devon Jolie's "History Denied" and Melissa Molloy's "The Accuser and Us" - were featured in the Summer 2012 issue of Profiles West, a magazine created by Janice Paskey, Professor in the Faculty of Communication Studies. Molloy took home the Gold against an extremely competitive field for her intensely personal account of the family court and social work systems.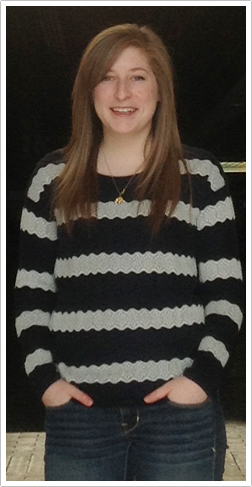 Devon Jolie is finishing her third year in the Bachelor of Communication - Journalism program.
Providing inspiration after personal loss
The Alberta Magazine Awards recognizes, supports and celebrates outstanding magazine content throughout Alberta. The annual Showcase Awards honours the best in the industry and gives the region's publishing elite a chance to network and commend the work of their colleagues.
The Amber Bowerman Foundation award for Best Emerging Writer is named after a Calgary journalist who died tragically in a domestic homicide nearly five years ago. By providing scholarships, bursaries, monetary awards and other forms of financial assistance, the Foundation aims to foster the achievement of excellence and to broaden scholastic opportunities for emerging western Canadian journalists and artists.
In-house magazine helps foster new talent
Profiles West is published online and in print each year. All the stories are written by journalism students from Mount Royal, highlighting Western Canada's people, passions and pursuits. For Paskey, the aggregation of material comes largely out of her course on specialized writing, with the option of writing a personal account one of many options for her students.
"I wanted to give my class an opportunity to be creative; you really have to work hard to help the stories stay on track and not become too tedious or indulgent," says Paskey. "We spend a great deal of time looking at award-winning human experience pieces, trying to parse out what makes them special and helps them rise above the blog post.
"When I saw the work by Devon and Melissa, I knew I had a couple of really elevated examples of profile journalism. They took their personal story and did the necessary research and rewrites to really bring the work to another level."

A look into family history
Jolie's piece focuses on her grandmother and her troubling relationship with National Socialism and Hitler. A teenager in Hamburg during the Second World War, Ursula Rogers (née Schroder) Married a British soldier after the war but never disavowed her allegiance to the Third Reich.
Reckoning with the disparity between her loving grandmother and her allegiance to the perpetrators of some of history's greatest horrors was a difficult task.
"I'm proud of my grandma; she was a survivor and a loving woman," says Jolie. "How do I reconcile her beliefs with the person I knew?
"Janice really helped me shape it into something more. She encouraged me to do research and to understand the perspective of not only myself, but my Grandmother and the whole of Germany during that time. Eventually my piece found its way to Facebook and I received messages of support not only from friends and family, but strangers who understood what I was trying to say."
With a year left in her program, Jolie is looking forward to continuing her writing career. This summer, she plans to work with Alberta Health Services on a number of different communications projects.

A winning account of family's challenge
Molloy's award-winning entry is a profoundly personal account of living in a blended family. Her stepdaughter's maternal grandmother, whose mental illness profoundly impacts her perspective on her grandchild's welfare, drags Molloy and her family through the family court system, with police visits to their home and trips to social services and the courthouse.
Written in taut, compact prose with a dual lens both toward the people and circumstances around her and her own internal turmoil, Molloy articulates the frustration, worry and love for her family that draws the reader in while also delivering a sobering look at the system that does its best to protect Alberta's children.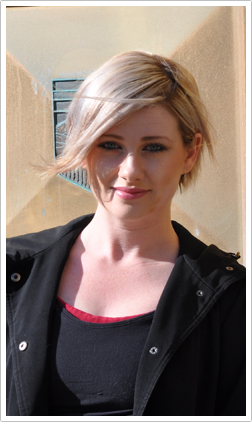 Melissa Molloy's work took home top honours and reinvigorated her writing career.
"Of all the assignments I had throughout my time in the program, this was my favorite," says Molloy, who completed the one-year Journalism Certificate program in 2012. "Having a background in English, I felt comfortable with creative writing and I knew that my experience would be something that I could craft into a meaningful story."
A photographer by trade, Molloy used her training to help her gain perspective as events unfolded in real time. "Having the assignment was like having a camera in my hand; it gave me distance and forced me to see beyond myself and my own experience," she says. "I really wanted to concentrate on keeping the piece concise and short.
"I focused on just paying attention and cataloguing every detail. It allowed me to take my personal account and make it a story about the justice system, mental health, and socioeconomic circumstances."
Molloy's win was a validation of the hard work and challenge of writing such a personal account, and has inspired her to continue writing now that she has left Mount Royal.
"As a Mom with three kids in the house, there are a lot of distractions. Attending the awards ceremony - and having the chance to buy a new dress and not feel bad about it - feels pretty great.
"When Janice nominated me for the award, it was the best thing she could have done; this win reaffirms that I'm on the right path."
- Colin Brandt, March 21, 2013