MRU contingent to join thousands in annual Pride Parade
New Provost to take part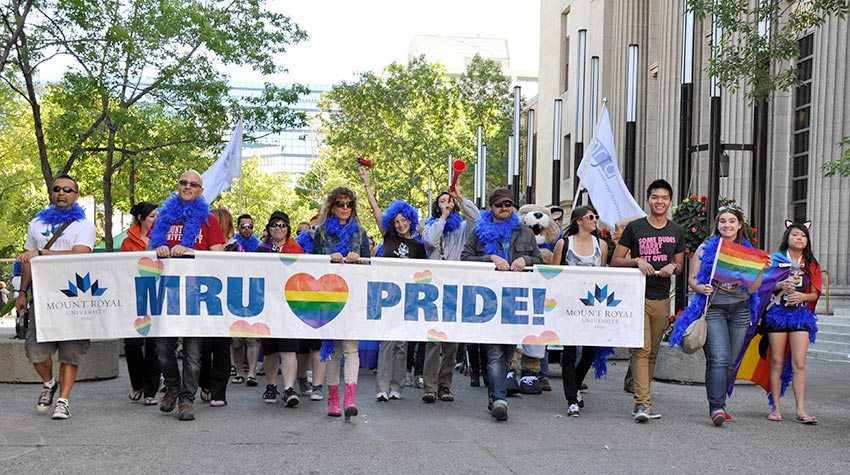 Again this year, a delegation of enthusiastic staff, faculty and students from MRU will take part in Calgary's annual Pride Parade, beginning at noon on Sunday, Sept. 3. About 150 groups and tens of thousands of people are expected to take part.
Mount Royal University President David Docherty says participating is an opportunity for the University to show its commitment to creating a safe, inclusive campus and demonstrates its responsibility to the city of Calgary and its people.
"Pride Parade is a day of celebration, but it's also a day of reflection," Docherty says. "It's about being proud of how far we've come, but without ever losing sight of the distance yet to go.
"You simply can't speak about the importance of citizenship without embracing every member of your community."
Lesley Brown, Mount Royal's new provost and vice-president, academic, is also walking in the parade this year and hopes to encourage as many MRU community members as possible to join her.
"I marched in my first gay pride march in Toronto over 30 years ago, when homophobic slurs could be readily heard as we walked by. Although homophobia still exists, tolerance, acceptance and social equality are more commonplace, and today I am marching in celebration of that change," says Brown.
"As the provost of Mount Royal University, I am proud to be part of an institution that respects diversity and champions equality. Mount Royal University is working hard towards being a safe and inclusive place, and I invite everyone in the MRU community to walk in this parade and help us share our message of pride."
Brown officially began her tenure as provost in August after more than 20 years at the University of Lethbridge, where she was vice-provost and associate vice-president, academic.


I am looking forward to marching with @mountroyal4u at @CalgaryPride #MRUpride https://t.co/WwJBST4XUh

- Lesley Brown (@lesleyabrown) July 19, 2017

In addition to her professional responsibilities, Brown is looking forward to immersing herself in Mount Royal's vibrant social communities and activities on campus. She attended Spring Convocation and the Indigenous Convocation in June, and sees the Pride Parade as another way to get to know campus colleagues by participating together in an initiative that is important to the University community.
A cross-campus working group has toiled over the past year to plan and promote MRU's participation in the parade, with primary support coming from the office of Student Affairs and Campus Life, explains Stephanie Stone, director and advisor with Diversity and Human Rights.
Stone says she loves seeing students and alum along the parade route. "They always look so happy and proud when they see us coming down the street. I have had students approach me during New Student Orientation to tell me that it made them feel less nervous coming to MRU after seeing us in the parade… like they knew they would belong here. That really says it all."
As well, in the coming academic year, a $500 scholarship will be awarded to two Mount Royal students who meet the criteria and who make positive contributions in the LGBTQ2+ community. Students can find out more about the scholarship online (scroll down to "Pride").

If you are interested in participating in this year's Pride Parade, you can sign up now.You will need an MRU sign-in and password.

Aug. 14, 2017 — Melissa Rolfe
Media request contact information.
Have a story idea? Please fill out this form.