Mount Royal University and WestJet enhance pilot training through mentorship and resource sharing
Mount Royal University's aviation training program is soaring to new heights, thanks to a first-of-its-kind agreement with WestJet.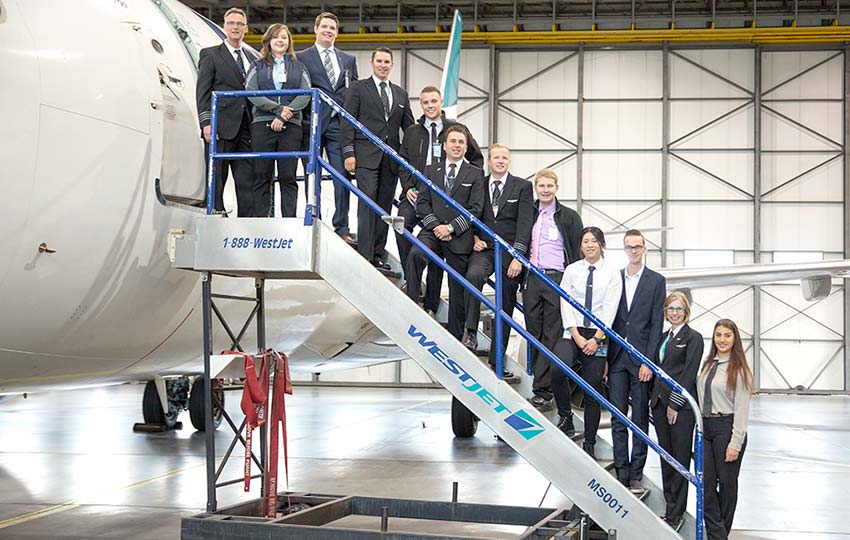 Today, leaders from both organizations are meeting at the WestJet campus to sign a letter of agreement that creates a partnership program setting out ways that Mount Royal and WestJet will work together to advance aviation training in Calgary.
"Our students can learn from the professionalism demonstrated by WestJet pilots and staff," said Elizabeth Evans, PhD, Dean of the Faculty of Business and Communication Studies at Mount Royal University, which includes the Aviation department. "WestJet has long supported our flight training school, and this new agreement can only strengthen the relationship between our organizations."
"It is extremely important to support our neighbours here in Calgary as well as the next generation of aviation professionals and this partnership program lets us do both," said Scott Wilson, WestJet Vice-President Operations. "WestJet has the best pilots in the world and we are proud of the knowledge, experience and professionalism the students from Mount Royal University's aviation training program will be able to take advantage of."
WestJet currently provides a yearly scholarship and bursary to first-year Mount Royal aviation students.
Under the new partnership program, WestJet pilots will share their operational and training expertise with Mount Royal students and instructors. The agreement allows for mentorship and professional development opportunities through the use of company's facilities and access to resources such as training manuals.
The partnership signed Monday could be expanded in the future to include recruitment programs.
"It is important to support our neighbours in Calgary and next generation of aviation professionals" says @WestJet of partnership w/#MRU pic.twitter.com/cHsRuur9T9

— Mount Royal U (@mountroyal4u) June 19, 2017
"Many of us share the dream of working for a major commercial airline," said Taylor Jackson, who is entering her second year of the Aviation program. "Learning from seasoned professionals and first-class organizations will bring us closer to meeting that goal."
Mount Royal is committed to meeting the growing needs of the airline industry by creating a deep pool of professionally trained aviators. More than 112,000 new commercial airline pilots are needed in North America over the next 20 years, according to the 2016 Boeing Pilot and Technical Outlook report.
The University's nearly 40-year-old Aviation program combines flight training with university-level courses in business management, mathematics and wilderness survival techniques. Students gain more than 200 hours of flying experience on their way to earning a Commercial Aviation Diploma.
In 2015, Mount Royal became the second educational institution in Canada to be certified by the world-leading Aviation Accreditation Board International.
June 19, 2017 — Bryan Weismiller

Media request contact information.
Have a story idea? Please fill out this form.