A world of learning is just a library card away
Mount Royal University is pleased to announce the official ground breaking of the Riddell Library and Learning Centre (LLC)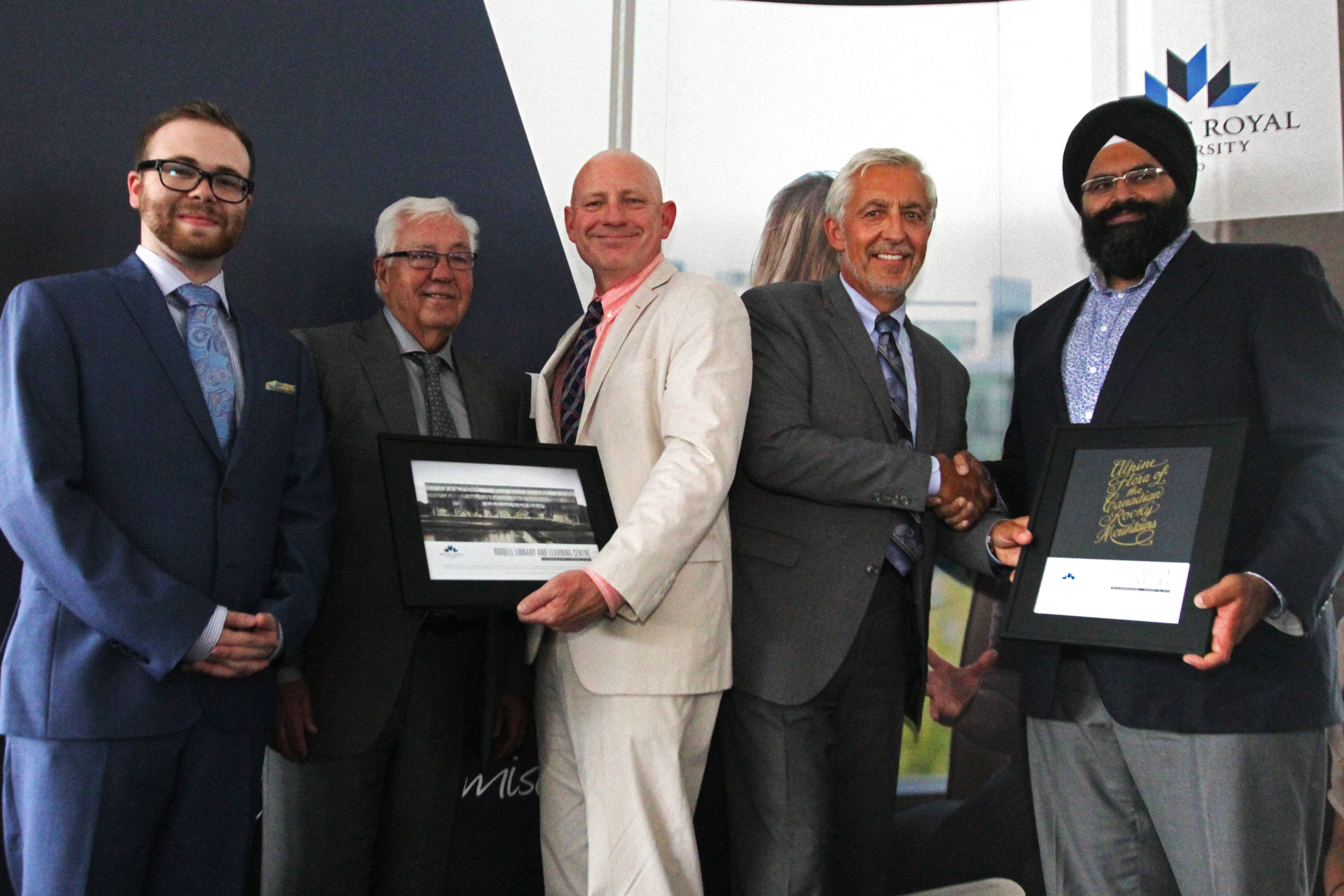 (L-R) SAMRU Vice-President, Academic Affairs Tristan Smyth, donor Clay Riddell, MRU President David Docherty, MRU Board Vice-Chair Bryan Pinney and Minister of Human Services Manmeet Bhullar celebrate the beginning of construction on MRU's brand new library. ~Photo by Bryan Weismiller
Government, donors and university officials gathered on August 19 to unveil the design concept and site of the stand-alone facility set to open in 2017.
Mount Royal's current library opened in 1972, and throughout the past 42 years, the University itself has changed and grown. To accommodate this growth, a new stand-alone library has been a priority for more than six years. This announcement marks a beginning and an ending. It is the beginning of construction of a new facility and the end of Phase I of a Campus Master Plan.
"The library is the busiest place on campus," said University Librarian, Carol Shepstone. "With 90,000 visitors a month, it is busier than the recreation centre and the student pub."
To accommodate this volume of students, faculty and the Calgary community, the Riddell LLC will be four times larger than the current space at nearly 16,000 square metres. Group-use rooms will increase from three to 34. The number of student stations will nearly triple from 570 to 1500. The new building will also be the third Leadership in Energy and Environmental Design (LEED) standard building on campus and Mount Royal's second LEED Gold standard facility.
Minister of Human Services Manmeet Bhullar attended the ground breaking on behalf of Premier and Minister of Innovation and Advanced Education, David Hancock.
"Ensuring Campus Alberta continues as one of the best post-secondary systems in the world means we must continually make strategic investments in the facilities and infrastructure that give our students a clear advantage," said Bhullar, who studied at Mount Royal early in his education. "These improvements will directly enhance learning, introduce new educational technologies and in turn, will truly elevate the overall student experience at Mount Royal."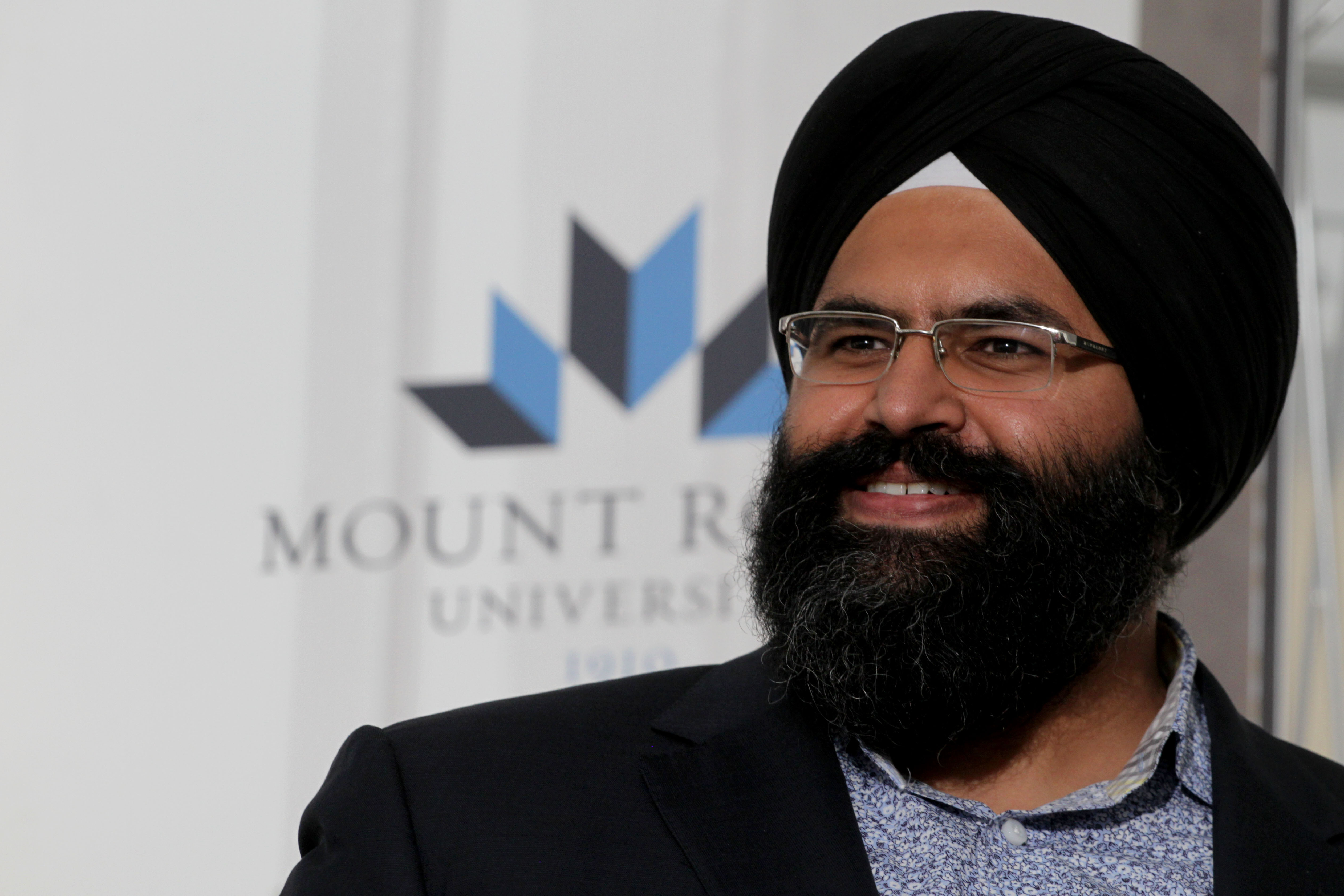 Minister of Human Services Manmeet Bhullar was once a Mount Royal student. ~Photo by Bryan Weismiller
He added, "Alberta will forever foster some of the brightest minds, most intellectual minds, some of the most compassionate citizens around, and they will get that inspiration here ... On behalf of the Government of Alberta, congratulations Mount Royal. We're proud of you and every single student that walks out these doors with a zest for learning, a zest for life and a zest for making the world better."
The Riddell LLC will also showcase the new world of libraries as innovative, creative hubs for research, creativity and engagement. Some of the technologically advanced, not to mention just plain cool, new components of the new Riddell LLC include:
An expanded physical collection in support of Mount Royal programs and research including enhanced data files and GIS, streaming video/audio collections.
Treadmill desks, stand up desks and other healthy (physically and mentally) options for different work styles.
A creator space that provides students, faculty and community users with tools and equipment for tactile learning.
An innovation lab that will feature a high-end visualization wall to allow students to engage with information in new ways.
Approximately six fully equipped soundproofed media/digital project rooms that allow students to record, edit and manipulate sound and video to create media rich presentations.
A 360 Degree Data Visualization Studio, which is a collaborative space for students and researchers to explore and interact with visual data. Multiple projectors are used to display the contents of a single computer screen 360-degrees around all four walls of this black box space.
Facilities for bike commuters, such as bike storage lockers and showers.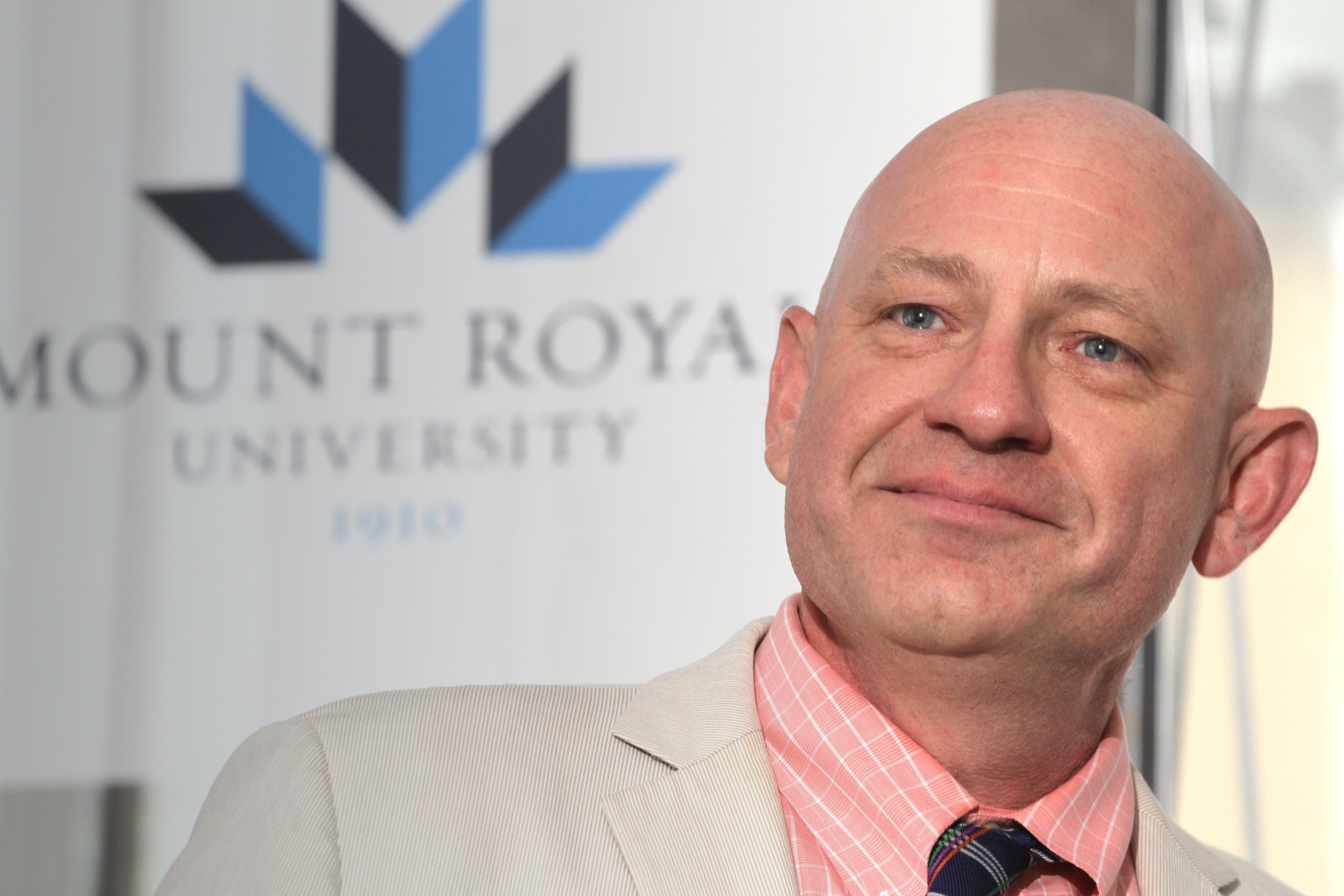 MRU President David Docherty says that the new Riddell Library and Learning Centre will be the heart of the university community. ~Photo by Bryan Weismiller
The world of learning is still a library card away - it's just digital now.
"Students need a space that is flexible - where they can study, think, exchange ideas and create new ones, where they can experiment and fail before they succeed," said Mount Royal University President, David Docherty, PhD. "The library is where it happens and the Riddell Library and Learning Centre will meet the needs of 21st century students, providing better access to resources in spaces designed to inspire learning, exploration and collaboration."
The Riddell LLC is named in recognition of the significant donation from the Riddell Family Charitable Foundation to Mount Royal's Changing the Face of Education campaign. During his speech at the groundbreaking event, Clay Riddell emphasized that the library will not only benefit students and faculty, it will be a place that is accessible to all Calgarians.
"It will be a community space - a place where intellectual debate is encouraged and welcomed," Riddell said. "I have no doubt that once complete, the Riddell Library and Learning Centre will be the heart of Mount Royal and a popular destination for the community to gather."
Alyssa Berry - Aug. 19, 2014