Learning about Business in Brazil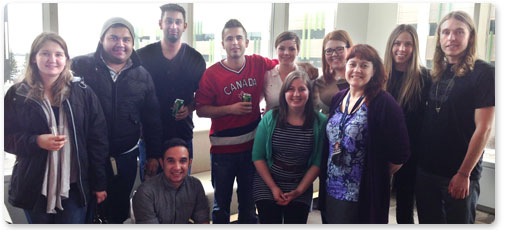 This spring, the Bissett School of Business will be travelling to Brazil with 12 students to explore the diversity of Brazilian society, its unique values and attitudes, and those impacts on contemporary culture, sport, business and brand excellence.
While travelling to MRU partner institutions in Campinas, Recife and Rio de Janeiro and experiencing the Brazilian culture, students will receive two MRU credits; MKTG 3399: "The Brand Face of Brazil" and MGMT 3399: "The Brazilian Economy and Business Context". MRU Professor Patti Derbyshire, will lead the group through the three-week journey.
For 2nd year business student, Nicole MacDougall, travelling to Brazil was a spontaneous decision.
"One of the Business Professors, Paul Varella, came into my class to talk about leadership, building rapport and mentioned the opportunity to go to Brazil." Nicole said after class she immediately went to the office to sign up to participate.
Having lived in Spain, Italy and Mexico before, Nicole knew that this opportunity would increase her understanding of an emerging market and would diversify her resume for future career opportunities.
"We are doing some prep work beforehand and have been assigned some readings to prepare us for our trip."
Brazilian exchange student, Wagner De Sousa, will also accompany the group and act as the cultural leader and translator.
"I think it will be great to have Wagner to help us understand the culture."
In addition to helping lead the group, Wagner will begin teaching the group some basic Portuguese to help when they arrive in Brazil.
Students also have the opportunity to conduct their own research on marketing and branding in Brazil while they are in the field. Nicole is planning on exploring the work of Os Gêmeos (translated as twin), who have become famous for their branding in graffiti.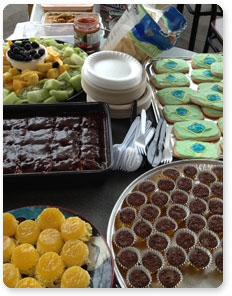 Students baked a variety of Brazilian treats.
"They have become famous around the world and have done projects all over the world."
Nicole and fellow classmates will work together to showcase their findings on a collaborative canvas. The group will present their findings and reveal the canvas in the fall.
A Brazilian Experience
To raise funds for and awareness about their trip, the students hosted a Brazilian Experience on April 4th. Students baked Brazilian pastries and brought in other Brazilian themed treats for guests to taste. The students also rounded up offering a silent auction for bidders.
"We raised close to nine hundred dollars at the event. We are also selling chocolates and I think we are getting close to the thousand dollar mark."
-Andrea Morrow, April 2013