Massage Therapy Research Day ties into real-world practice
Students create unique treatment plans for patients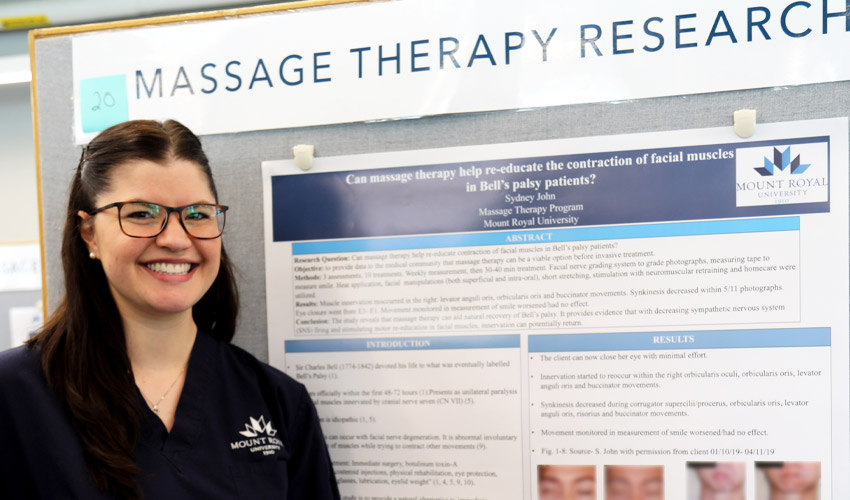 As massage therapy becomes more integrated into the health-care realm, research is playing an increased role.
The Case Study course for Mount Royal University's Massage Therapy Diploma program challenges students to apply research skills in creating and implementing a treatment program tailored to a patient's condition. At the program's recent Research Day, 51 second-year students presented their findings to their peers, instructors, industry members and the public.
"What a wonderful process this was, although it was an intense one. I would like to continue research," says massage student Sydney John, 27, referring to her Case Study project. John was among the students tasked with creating a treatment plan for a client with a specific condition to discover how massage would affect presenting symptoms. John's 10 treatment sessions - which included heat hydrotherapy, facial manipulations and tapotement (rhythmic tapping) - were conducted over the course of three months. By the end of treatment, her client had experienced an improvement in her symptoms.
Case Study instructor Laurie Fisher, PhD, is part of the team that evaluated the student's presentations, which included an oral component. As a former student in the program, Fisher knows what a difference the course can make in a student's career trajectory.
"Even when I came into the program with a Master's degree, I was 100 per cent sport-focused. It was all about utilizing massage therapy into manual therapy for sport athletes," Fisher says. "And I still do that, but, through the Case Study program, I actually learned that there are a lot of other conditions that can be greatly affected by muscle therapy. This course can really open a therapist's eyes to other realms."
Fisher followed that new avenue to the University of Southern California, earning a PhD in clinical research. In addition to being an instructor at Mount Royal, she is the owner/operator of Calgary Muscle and Soft Tissue Clinic, which focuses on therapeutic assessment and treatment of soft tissue injuries.
Graduates of the 2,200-hour Massage Therapy Diploma achieve the highest level of training required to work in Alberta and across Canada. In addition, they're eligible for transfer credits towards the Thompson Rivers University's Bachelor of Health Science. Students learn therapeutic and relaxation massage techniques in an integrated curriculum that features academic content alongside practical, hands-on skill development. They study anatomy, physiology, pathology, business and research during in-class and online sessions.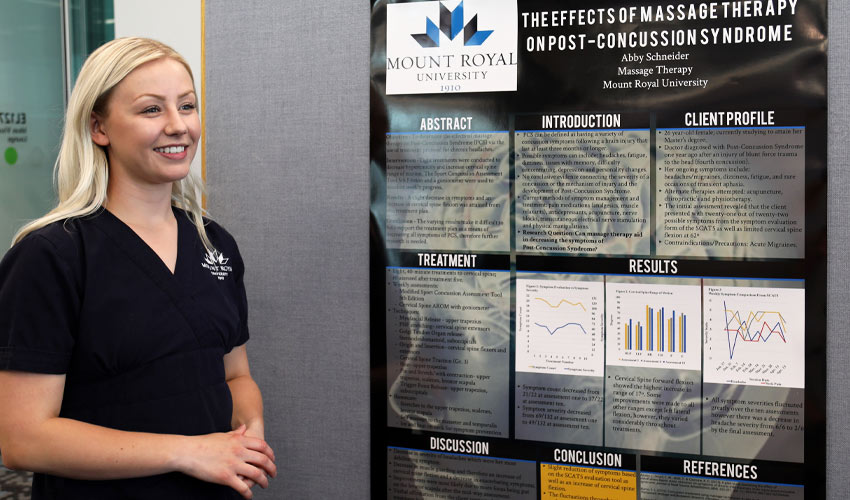 Student Abby Schneider will continue on the path of learning after graduating from the Massage Therapy program. The 22-year-old from Leduc plans on applying some of her coursework towards a health science degree. Schneider's treatment plan focused largely on her client's neck area, adjusting her approach as the sessions progressed. By the end of the treatment, the client was still experiencing symptoms, but reported a decrease in severity. "The severity went from six out of six, to two out of six," Schneider says.
Experiential learning is at the heart of the two-year massage therapy program, says Gillian Lebel, program coordinator with MRU's Faculty of Continuing Education and Extension.
"The research and the Case Study course itself allows the student the opportunity to practice these new skills before they graduate," Lebel says. "They realize what type of research might be involved when they get a new client come into their clinic when they're practising massage therapists."
The emphasis on research dovetails into where the practice of massage therapy is headed, adds Fisher.
"There are specialists in every other muscle organ system except muscles," she emphasizes. "There is a real need in the health-care world for very good muscle therapists who know what they're talking about. Who are able to work in interdisciplinary environments. Who are able to cross-reference. Who are able to accept references. Who are able to read radiological images. Who are able to have a conversation with a physician and with a physical therapist and with a surgeon and be part of the individual's health-care team."
During their studies, Massage Therapy students take part in the student-run clinic in the Roderick Mah Centre for Continuous Learning. The supervised learning environment offers relaxation and therapeutic massages, with proceeds going to student scholarships. A one-hour massage treatment is $30, with MRU students, staff, faculty and alumni receiving a $10 discount with their Campus Card. Call 403.440.6866 or visit the clinic webpage to learn more or book an appointment.
For more information on Mount Royal's Massage Therapy Diploma, visit mru.ca/Massage.
June 12, 2019 — Ruth Myles
Media request contact information.
Have a story idea? Please fill out this form.