Writing project intertwines lives of the young and the elderly
Students tells seniors' stories in creative collaboration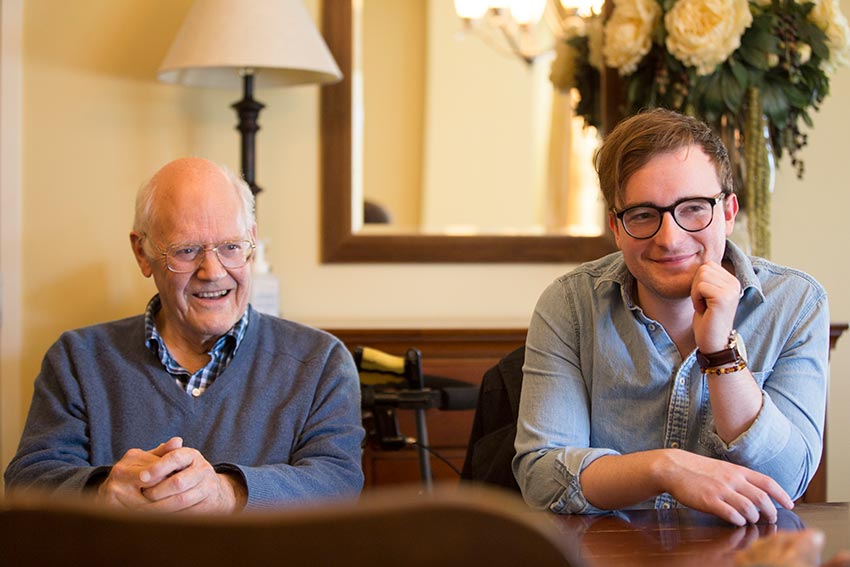 The walk between MRU and a nearby seniors' residence at Garrison Green is a mere two blocks, but the generational divide between students and the elderly, in both age and lived experience, can be vast.
Yet MRU English students and residents of the seniors' home have bridged that gap through an innovative project in which students are matched with elder partners to write their life stories. What started out as a creative writing assignment for students has become a successful experiment in memory and relationships that is attracting local and national attention as a way to improve both students' learning and care for the elderly.
The Life-Writing Project, a capstone assignment for third- and fourth-year English students, pairs students with residents at United Active Living's Garrison Green residence. Over the course of a semester, the pairs each produce a work of creative nonfiction that tells a story from the resident's life.
David Hyttenrauch, chair of the English department, says it began in 2015 as an idea to help residents capture their life stories for themselves and their families. United Active Living approached the University looking for help with a writing program for residents. The idea to involve students was seen as an opportunity for community service learning (CSL) and one-on-one writing experience outside of the classroom.
Hyttenrauch says the project, which in its first year was managed "off the sides of our desks," has since grown to include a residency, in which a student lives on site at Garrison Green for a semester and provides weekly workshops for residents.
The collaborations so far have produced stories, poems, music and visual art pieces. Two small anthologies of the written projects have been published, with plans for a third that includes photography. One student and her partner produced a children's book with illustrations created by residents in their onsite art studio.
In addition to the stories and art that have been created, Hyttenrauch says the project has affected the participants in ways no one anticipated. "We knew we were giving students a new experience, that this was new ground with new risks, and it felt a bit scary for all of us. We did not know it would be life-changing in the way it has been."
"We're all just people"
Logan Pollon, a recent MRU graduate and a writer-in-residence at Garrison Green last fall, says he, too, was nervous at the beginning of the project. "There is a bit of a barrier when you start," he explains. "I think in our culture there's this great divide between age groups. But I learned right away that we're all just people. Everyone wants to have a feeling of community, a feeling of worth, and everyone wants to create in some form or another. I don't think it's hard to relate once you get past that barrier." Pollon was paired with an acclaimed composer and violist.
Hyttenrauch says he's seen students' confidence grow. "Some were very reserved and shy, unsure. Now they're leaders. We got to watch that happen." Some found their life's calling through their experience in the Life-Writing Project and have chosen careers in gerontology as a result of their time at Garrison Green.
One such student is Monica Schmidt, who graduated in 2016 and has since mentored two other students working with residents. Schmidt, together with another recent graduate, submitted a proposal to work part-time at Garrison Green leading a writers' corner. She also volunteers as assistant choir director.
"This was definitely a life-changing experience for me. It gave meaning and purpose to my entire degree, and it was my favourite part, hands down," she says. Schmidt is now planning a career in working with seniors, and credits the faculty in the English department as being very supportive on a personal level.
Time takes on new meaning as memories start to decline
Kim Coulter, community outreach co-ordinator at United Active Living, taught students how to work with someone whose memory is fading. The wife of Schmidt's second writing partner was declining rapidly with Alzheimer's, so he and Schmidt wrote about the couple's life together.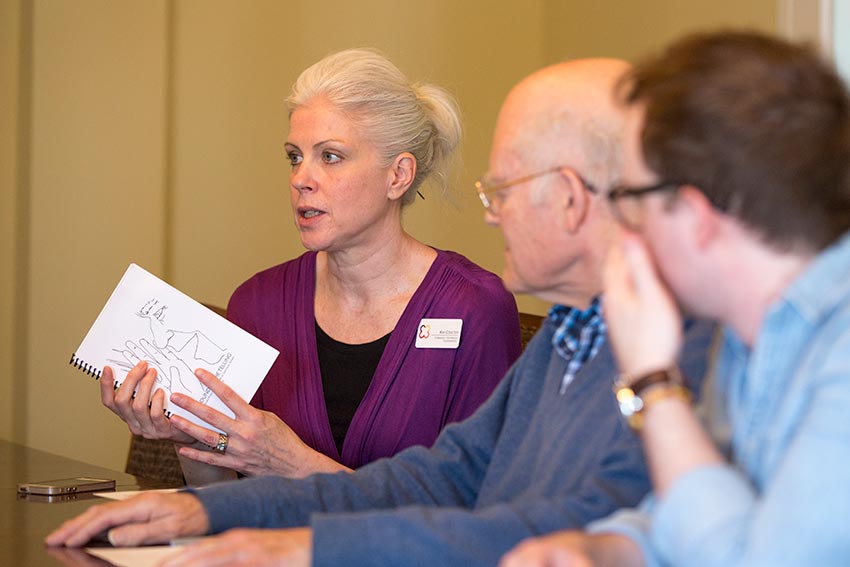 "The residents were ready to dive deep," Schmidt says, and talk about difficult topics. Her partner's wife died earlier this year, thankfully after he was able to share the collaboration with her.
That challenge of coping with memory loss has presented some of the most poignant experiences of the project so far, according to Hyttenrauch. "We've lost some of the residents since we started this project, and some others have gone through cognitive decline. We've seen how quickly some have declined. We have invested in them deeply and it's difficult to see ― for the students and all of us."
The project has caught the attention of other groups and agencies focused on aging well. The Alzheimer's Society took an interest and asked to be involved last fall. Ali Cada, director of adult day and creative programs, says one student was paired with a client who was a lifelong fan of Johnny Cash. The student had a difficult time communicating with the client until she starting talking to him as if he were the country music star. "She became the voice of his wife, and then they were able to communicate. It was the breakthrough."
Experiences like these have helped the students become more empathic, according to Professor Natalie Meisner, who supervised many of the projects. "We have seen their growth as people and as creative writers who show empathy ― which is such an important soft skill," she says.
"A beautiful thing to see"

At Garrison Green, residents Jim Dolph and Wendy Martin have only praise for the project.
"This was a wonderful idea that made me write again," says Martin, 87, who now writes poetry almost daily. "I've continued writing and I've realized how important it is to let my family know about my life, about all that happened before they were born. It's important for them to know."
For many residents, whose families may have grown tired of the stories, this is a reminder that they are valued, says Coulter. "Some of our residents thought they didn't have any stories worth sharing. It was really empowering for people to know that what they had to say, people found valuable."
Coulter took the time to appropriately match the student and the resident, and Dolph says that was critical. "The connection was so important. We had to be compatible, otherwise they would have been dry, boring interviews. But it wasn't. It was fun."
The benefits go both ways, Coulter says. Students grow, gaining confidence in their writing and improving their presentation skills with a little coaching and encouragement from their elder partners. And residents feel valued and appreciated.
"Students themselves are interesting," says Martin, who participated over two semesters. "They talked about situations in their own lives. They had tales to tell, too. The students wanted to sort of get things off their chest, their views about things. They felt safe talking to us, I think, if they had a problem or something they wanted to share."
Like many other residents, Dolph, 82, has kept in contact with his student partner. "We're good friends. She comes for lunch and we catch up, and I find out how she's doing now." A cautious participant at first, he says the project had many positive spinoffs. "It's a very creative thing, isn't it? Along the way it blossomed, which is a beautiful thing to see."
Generational similarities discovered
Many of the stories uncovered and shared along the way include dark moments from the past, such as growing up during the Depression, surviving the Second World War … including, for one resident, time in an internment camp for Japanese Canadians. But there were light moments, too. Talking about the past helped residents recall memories they'd lost, happy stories and moments from childhood with parents who died long ago.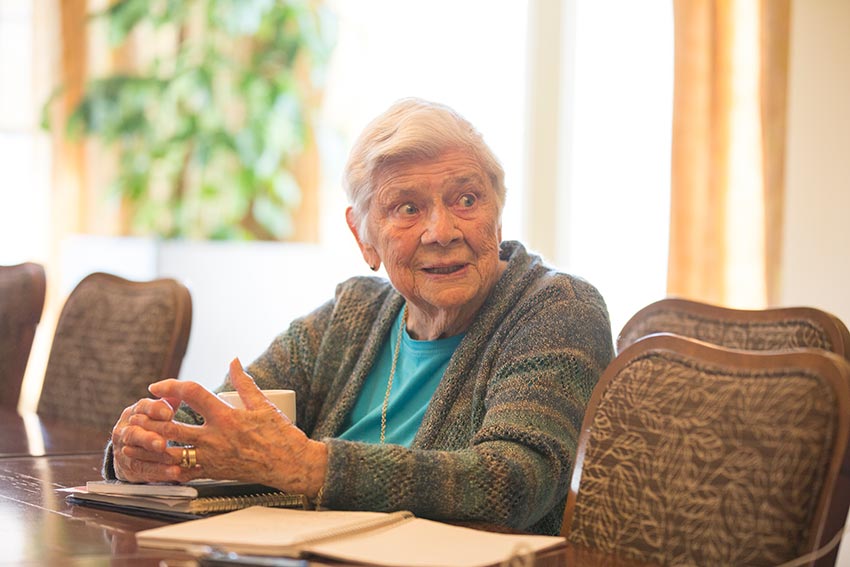 "One of the things that made me say 'yes' was the laughter I heard," says Martin, remembering the moment she decided to participate. "I can remember coming in that front door and there was a roar of laughter and I thought, oh that's the place to be. We have laughed our heads off at some of the stories from the past."
Hearing those stories changed the way Pollon, 24, sees the elderly. "In society there's kind of a common perception that as you get older, quality of life goes down. And I don't think that's true at all after being here," he says. "I like seeing them, becoming their friend, hanging out with them, eating with them. To me they represent hope, friendship, love ―lots of love. They smile a lot when they see me. It brings a lot of warmth to me."
Coulter believes the generational gap was actually a key reason for the project's success. "Both generations seem marginalized in society, pushed off to the side. This project showed that commonality. It was empowering for residents to know they could support students as well. It's a beautiful community here, very open and welcoming."
"I've grown a lot from being here," notes Pollon. "The residents have become part of something that I love and cherish, too. Many, many of them I would consider my friends."
Schmidt agrees: "Going to Garrison Green was like going to visit a friend. I kept thinking, 'I get to do this?'" Both she and Pollon describe the experience as life-changing.
Meisner, too, believes the Life-Writing Project has exceeded everyone's hopes. "It has an incredible amount of forward momentum and lots of interest from the community," she says, adding that she is particularly proud of the positive influence it has had on the students.
Expanding community involvement and improving care for seniors
The student in residence now, who will live there until May 2018, will collaborate with residents on a variety of projects, says Hyttenrauch. "Writing, but also historical research, how Calgary has developed over the years, the residents' stories as builders of the community and how they have seen it change."

In addition to the Garrison Green residence and the Alzheimer's Society, which will both be involved again next fall, a third community partner may be added, says Hyttenrauch, who has also been asked by his peers at other universities to share the Mount Royal experience after he presented recently to the national English Chairs Conference.

"A lot of universities are looking for CSL programs, how to develop, resource and sustain them, and how to engage communities in a new way," he says.

Meisner says the project is expanding within Mount Royal, too. "We're now working with the journalism program to share resources and to open up spots in journalism classes for our creative writing students to help them learn interview techniques. And we're making room for journalism students in a creative nonfiction course that we offer. In addition to becoming better writers, "students are really developing their interdisciplinary thinking through this project," she adds.

Everyone involved has benefited, Hyttenrauch believes. "Every person who has touched it has made it what it is. It's constantly moving. It's stimulating, emotional, rewarding and difficult. It has been amazing to watch," he says. "Faculty here and staff at United Active Living have become close colleagues," he adds. "We talk every week."

For Pollon, it has made him slow down. "I think I lived my life quite fast, in the sense that between work and school I didn't have time for the things that meant a lot to me, like friends, family, even just time to myself. And living here taught me to really value and cherish those things. They might not always be here."

Martin says through the Life-Writing Project she came to reflect on her own life differently. "I looked back at the little things that we did together, the closeness we had as a family, and later in my life with my husband," she recalls thoughtfully. "This project made me look back at that and see I didn't have a dull life. I had a fun life. I met all sorts of people, and I did all sorts of things along the way."

It is capturing those stories through a project like this that can ultimately improve care for the elderly, particularly those who lose their ability to remember and tell their own stories, says Cada. "More person-centred care: that's what I want to achieve with this. Knowing the life story of the person, how accomplished they were. The families appreciate it too."

Cada wants to involve as many Alzheimer's patients as possible, and have their stories move with them into long-term care. "Sometimes healthcare workers don't know why a person is behaving in a certain way because they don't know enough about the person. Knowing the life story of the person, how accomplished they were, is important," he says. "I hope that healthcare workers will see that the elderly in general have rich life stories. I hope that they see them not as people who receive care, but as people who were accomplished individuals."

Hyttenrauch says that's really the point of the Life-Writing Project. "For the students, this is a one-on-one relationship with a person, capturing their life experience in a meaningful way," he says. "It has connected the energy and skill sets of our students to a community that needed them. That's the core of it for me."

Learn more about Mount Royal's English, Languages and Cultures department.

May 24, 2017 ― Melissa Rolfe

Media request contact information.
Have a story idea? Please fill out this form.