Athletic therapy student finds her calling through adversity
Jinan Daqqa establishes communities through sport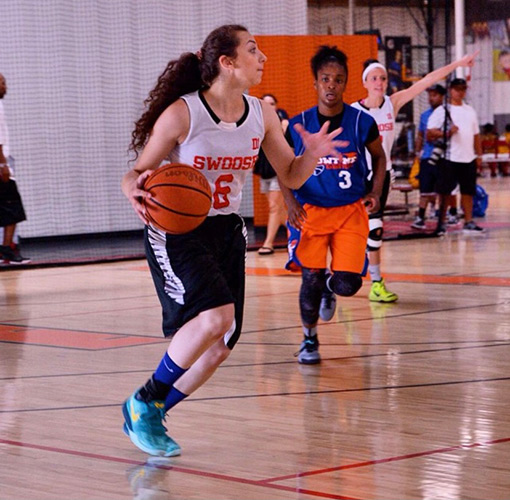 Jinan Daqqa applies the qualities of a point guard to real life.
---
An unwavering belief in silver linings led Jinan Daqqa to see her career-ending basketball injury as a sign something positive was about to happen.
"After my injury, I asked why this was happening. I remember telling myself there has to be something good that comes out of it. And something great came out of it," recalls the third-year student.
It was the help she received in recovering from her injury that opened her eyes to a possible career in athletic therapy. And that led her to Mount Royal University's highly competitive athletic therapy program in the Faculty of Health, Community and Education.
"I absolutely love the program," she says, adding that  it has helped her "grow as a person, not just a student."
That growth has been evident to Dr. Mark Lafave, PhD, who first taught Daqqa in her second year in a course called Professional Practice in Athletic Therapy. Students are asked to identify the values they bring to the program and how those values will shape their professional identity and development as an athletic therapist. "It's a soft skills course," he explains.
"She stood out right away because she scored very high on advocacy," he recalls. "All of her advocacy is around children, around sport, around women, cultural minorites and mental health."
Daqqa was 10 years old when her family emigrated to Canada from Palestine. A few years later, her Grade 8 gym teacher in Fort McMurray encouraged her to try out for the basketball team as a point guard. She didn't know what a point guard was, so she researched it.
"I took it upon myself to not just carry the characteristics of a point guard on the court but also in my real life — like leadership. So I thought, 'I get to be a leader in other parts of my life as well.' I found a community and it led me to a lot of other opportunities, thankfully."
Daqqa continued to play through high school. She coached local teams in Fort McMurray and created new clubs for girls of different ages and abilities who also wanted to play. Her skills and leadership got noticed and she was scouted by several colleges and universities and ultimately recruited to the Lethbridge College Kodiaks.
Two years into her varsity basketball career, she was injured and met her first athletic therapist.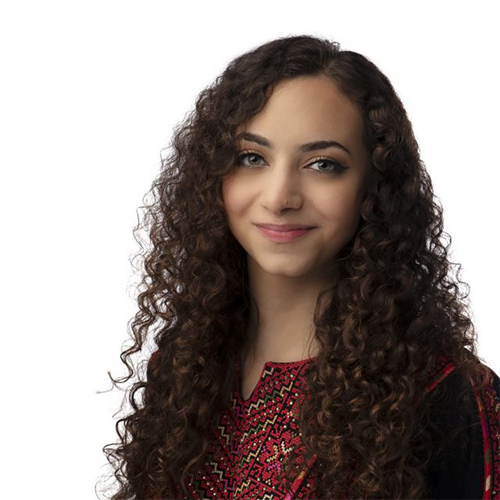 Daqqa is considering different options after graduation: a master's degree in sports rehabilitation and opening her own clinic in the future, or going into sports medicine. Photo courtesy Your McMurray Magazine.
---
"Having not only the team therapist but another athletic therapist who specialized in concussion management, I was fascinated," she says. "Every time I was there, two or three times a week, I just wanted to hear all about AT, and then thought 'where do I go from here?' "
She learned about the Mount Royal program, applied and transferred. "It's been a great decision, for sure."
Daqqa continues to coach basketball, with the goal of building community. During the summer breaks, she has returned to coach the Northern Trailblazers in Fort McMurray, where she also helped start up the Northern Wolves U18 girls' team. She also now volunteers with a club in northeast Calgary that coaches girls of colour.
As an athletic therapy student, Daqqa enjoys the clinical and field work. Last fall she was placed with the University of Calgary football team and the sports medicine clinic there, where she is doing clinical work again this semester. It's a demanding schedule.
"Pretty much every student in our program has straight As," Lafave says. "It's kind of like nursing. The GPA to get into this program right out of high school is just below nursing, the highest. So they're highly driven people." The Mount Royal program is one of only eight accredited programs in the country.
Given the small size of the program, with a cohort of only 30 students, Lafave gets to know the students well, and says Daqqa has the qualities and drive to be successful at whatever she strives for.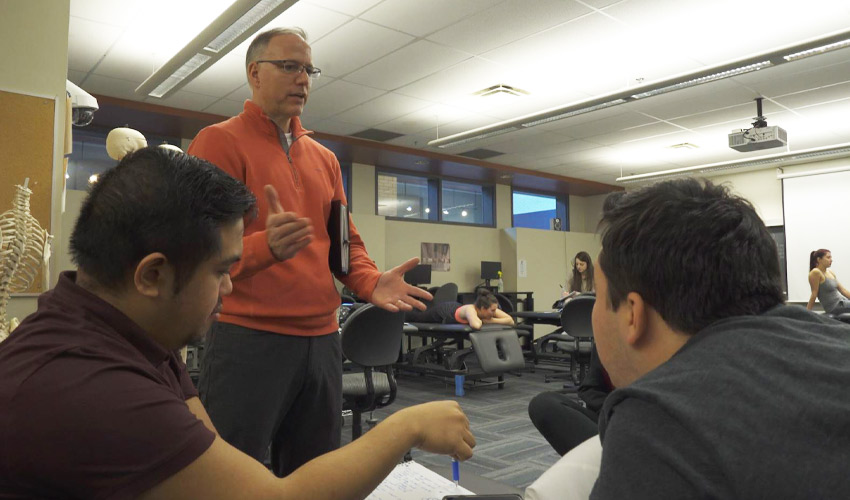 Dr. Mark Lafave, PhD, first taught Daqqa in her second year in a course called Professional Practice in Athletic Therapy.
---
Motivated to help others, Daqqa is considering different options after graduation: a master's degree and opening her own clinic in the future, or going into sports medicine. Her goal is to explore how organized sport can address health inequality among minority populations. She's also working on some non-profit projects that she plans to continue with, now and in the future.
"In 10 years, I want to open up a centre in Palestine where counselling is provided, and organized sports, mentorship and resources. I have seen how organized sports have really helped me grow. It's character building," she explains.
"I want to provide that opportunity for children. Rates of depression, PTSD and anxiety are so high among youth in impoverished communities and war-torn countries. To be able to go back and set up this non-profit organization — hopefully in more than one country — will allow children to develop more optimally and overcome the obstacles they're facing every day."
Daqqa believes adversity can turn into opportunity, like it did for her. "It happens to all of us. We go through a hardship and there's always a silver lining."
How to cope if you're missing team sports

Staying connected, even if it has to be virtually, is important, Daqqa advises.

"A couple of friends and I created a group called WomEnpowerment," she says, "to empower women through sport and physical activity with in-person events — pre COVID. Once the pandemic hit, we used our social media platform to encourage people to continue being physically active."

She and a group of friends started online activities, like live workouts and exercise challenges, to encourage each other to stay active and fit. Using Google Meet or a Skype call, they work out with people all across the country and even some from the United States.

Apps for spin bikes that connect the rider with others in a virtual environment are another option, Lafave explains. "Sport participation has always been a microcosm of society in many respects," he notes. "The fact that people are both physically and socially isolated due to COVID has also prevented sport participation and all of its benefits."

Those benefits span many dimensions of health beyond the obvious physical gains, Lafave says, adding that "the social and emotional pieces … could arguably be even more sorely missed."

Daqqa agrees. "Part of organized and team sports is that social interaction. And so when you're missing that you have to find other ways to get it." She and her roommate and friends also work out together using FaceTime.

"The best thing you can do right now is find a community of supportive individuals who are like-minded and encourage each other, keep each other accountable. Motivate each other to set goals and stay physically active," Daqqa says.
Feb. 16, 2021 — Melissa Rolfe
Media request contact information.
Have a story idea? Please fill out this form.