Machine learning transforming supply chain industry
MRU to lead workshop sharing knowledge in new field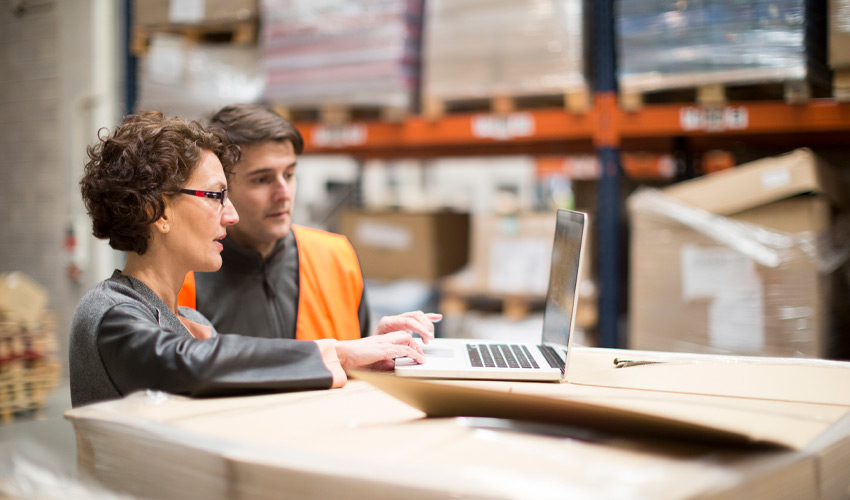 Canada's supply chain has not remained unscathed through the COVID-19 outbreak.
---
You may not think about it as you sit in front of the TV, but when Netflix suggests a show for you to binge watch, machine learning is at work.
Machine learning is a subset of artificial intelligence (AI) that enables computers to act without being explicitly programmed. Essentially, they program themselves by using statistical models and algorithms to analyze and draw inferences from patterns in data.
"Machine learning has given us self-driving cars, practical speech recognition, effective web search and a vastly improved understanding of the human genome," says Dr. Rajbir Bhatti, PhD, associate professor in the Department of Supply Chain Management at MRU. "It is so pervasive today that you probably use it dozens of times a day without knowing it."
Amazon, for example, uses natural language processing models in machine learning to offer up the next product you might buy. Email systems, meanwhile, use machine learning to filter out phishing emails and spam.
To disseminate knowledge in this exciting field, Bhatti and fellow MRU supply chain management faculty member Dr. Parminder Singh Kang, PhD, will lead an online applied machine learning workshop from May 13 to 14 with funding from Alberta Innovates and supported by MRU's Institute for Environmental Sustainability.
A pre-workshop panel discussion will be held on the morning of May 13, which will feature Bhushan Ivaturi, senior vice-president and chief information officer of Enbridge as the keynote speaker. This will be followed by panel discussions on AI-related topics and is focused on allowing government, businesses and academics to address the needs of current and future supply chains. The (by invitation only) workshop will provide hands-on training using the Machine Learning Operating System (mlOS) created by BrainToy, along with background theory, issues and concepts around the system. Amit Varma, CEO of BrainToy, a Calgary-based technology company already providing technology-based solutions to the oil and gas industry and well known in the supply chain sector, will lead the workshop.
Twenty spots are also reserved for current supply chain management students from MRU, focusing on skills required for jobs in the area of supply chain analytics, supply chain improvement and supply chain optimization.
Big data comprehension
Applied machine learning is the application of machine learning to a specific data-related problem. Using machine learning to optimize, predict and understand hidden patterns in complex data is a powerful tool to analyze various aspects of supply chain data — from procurement to transportation to sentiment analysis in business strategy planning, Bhatti says.
"Supply chain applications of machine learning are immense and have the power to turn a business into a success story by identifying hidden data patterns, insights and help plan the way ahead, especially in COVID-19-induced uncertain times."
Supply chains are complex systems with lots of known and hidden mappings between the input and output variables, Kang says. "In modern supply chains, organizations collect very large quantities of data from non-traditional data sources, such as qualitative data from social media, customer reviews from websites, weather, and special events and trends on Twitter."
The idea, Kang says, is to use this data along with a company's internal data from manufacturing, procurement, sales and marketing and inventory in the decision-making process. This can result in optimizing supply chains, reducing costs, improving planning and forecasting, reducing freight costs and improving delivery performance, and can ultimately improve customer response.
The data from these non-traditional sources is regarded as "big data." It is not clean, is biased, has hidden patterns and in most cases is very inefficient. Applied machine learning plays a key role when it comes to analyzing big datasets, which are a combination of structured and unstructured data flowing in at a very high rate.
"The benefits are immense as machine learning becomes more accessible, especially for the smaller players who don't have the resources and capital to invest in IT infrastructure."
The workshop will promote research collaboration by showcasing the application of machine learning to real-world problems. A similar machine learning project is currently underway at MRU in which Bhatti's team is collaborating with the City of Calgary's Goods Movement Strategy team (led by Madhuri Seera, senior transportation engineer). The project aims to build an AI-powered "Digital Twin" of trucks for the benefit of local trucking companies. Counsellor George Chahal is the patron of the Digital Twin Project, which was unanimously approved by city council for $50,000 support for students.
Bhatti has designed a capstone course (LSCM 4411) on applied machine learning for final year Bachelor of Business Administration students who are majoring in supply chain management. Students in this course work on real data sets donated to MRU by long-standing industry partner Bison Transport to predict tire failure, failure of air pressure systems and "empty miles" in a trip.
"The unique aspect of this course," Bhatti notes, "is that students do not need to learn coding to be able to use machine learning for their machine learning modelling projects."
The Institute for Environmental Sustainability (IES) is supporting the workshop as supply chains figure prominently in the environmental sustainability concept of life cycle analysis, says IES director Dr. Connie Van der Byl, PhD.
"Optimization of supply chains through technology, especially data analytics and AI, has the potential to reduce environmental impact while improving overall performance. The Institute for Environmental Sustainability is excited to collaborate with the Bissett School of Business and Alberta Innovates in exploring ways to use technology in supply chain management," Van der Byl says.
"COVID-19 has certainly highlighted the importance of supply chains as well as the need for resilient systems — another critical construct in sustainability."
Read more about MRU's Bachelor of Business Administration — Supply Chain Management.
April 28, 2021 — Peter Glenn
Media request contact information.
Have a story idea? Please fill out this form.