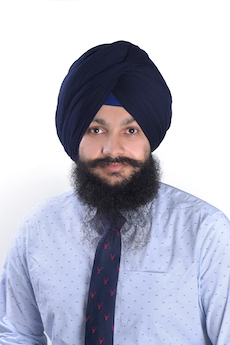 Parminder Kang
Assistant Professor
Supply Chain Management

Office: EB 2056
Phone: 403.440.8727
Email: pkang@mtroyal.ca

Degrees
PhD, Manufacturing Science 
MSc, Information Technology
BTech, Computer Science and Engineering
Biography:
Dr. Kang is an Assistant Professor of Supply Chain Management at Bissett School of Business, Mount Royal University. Dr. Kang also holds honorary senior visiting research fellow position at De Montfort University's (UK) School of Engineering and Sustainable Development.
Dr. Kang's research interests are in applied analytics, process improvement, and process optimization. His current and past research work are focused on cross-disciplinary approaches to address supply chain improvement and optimization problems. For instance, application of big data analytics, AI/ML, evolutionary algorithms, combinatorial optimization, simulation modeling, Lean/Six Sigma, autonomous decision making, etc. in industrial/service process improvement and operations/supply chain optimization. As Research Fellow, Dr. Kang successfully delivered three industrial projects funded by Innovate UK. During these Projects, Dr. Kang worked with Preactor International Ltd. – A Siemens Company, Costain UK Ltd., TATA Steel Europe, Unipart, Plessey Semiconductors Ltd., TDK-Lambda Corporation, BlueFrog Design, Zest Fresh Produce Ltd., Virtalis and the several UK based SMEs. Similarly, at his previous role in Winnipeg, Dr. Kang established a program advisory committee (PAC) for logistics and supply chain management program. Committee members include – Cabela's Canada, City of Winnipeg, New Flyer Industries, Manitoba Hydro, Standard Aero, and Winnipeg Airport Authorities. 
Currently, at Mount Royal University, Dr. Kang is exploring several projects focusing on supply chain improvement and optimization with the businesses.
Dr. Kang has a number of publications in peer-reviewed, indexed journals, and conferences. Dr. Kang is a reviewer for prominent journals in operations and supply chain management and is currently the program coordinator for the Administrative Sciences Association of Canada's Management Sciences Division. Dr. Kang also a member of the Canadian Operations Research Society (CORS), Supply Chain Management Association (SCMA), Project Management Institute (PMI), and APEGM.
Dr. Kang taught a range of courses at undergraduate/graduate/MBA levels in the areas of Analytics, Operations Management, and Supply Chain Management. Some of the courses include; Predictive Analytics and Business Forecasting, Operations Management, Total Quality Management, Lean Management, Advanced Supply Chain Management, Qualitative Analysis, Modeling and Optimization, Engineering Business Environment, Operations Management, Demand Forecasting, Inventory Management, Procurement and Project Management. At the University of Saskatchewan, Dr. Kang developed the Project Management course and was part of the committee developing the Business Analytics course.
Recognition and Awards:
Teaching Excellence Award Nomination - 2018 (by the student union of the University of Saskatchewan)   
Best Paper -  ASAC 2018 Toronto (Paper Title: Passenger Departure Process Modelling to Investigate the Effect of Variability for a Major International Airport)
Best Paper -  IWMA 2015 Germany (Paper Title: Comparative Study of Two Scheduling Approaches to Resolve Scheduling Problem for a Wire and Cable Manufacturing Process)
Laxton travel funding award, De Montfort University, UK